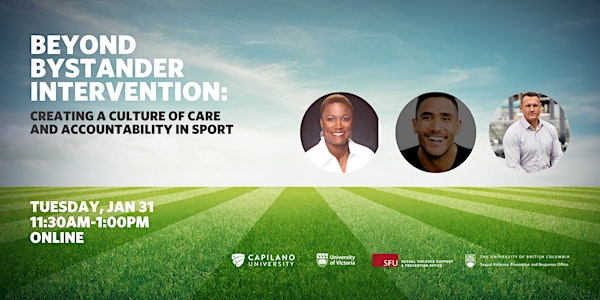 Beyond Bystander Intervention: Community Care & Accountability in Athletics
This virtual panel will address how to put active bystander intervention into practice within the context of athletics and sports teams.
By SFU Sexual Violence Support and Prevention Office
Date and time
Tue, Jan 31, 2023 11:30 AM - 1:00 PM PST
About this event
Hosted by the University of Victoria, Simon Fraser University, Capilano University, and the University of British Columbia
Join us for an online panel discussion with Brennan Bastyovansky, Georgette Reed, and Nangghaahlaangstangs about sexual violence prevention and intervention in sport. Panelists will share stories and perspectives on how we can take bystander intervention from one moment of action to an ongoing practice.
During this event, we'll discuss the following questions:
What can we do to overcome the discomfort of either intervening in the moment or providing ongoing support?
What can we do when a whole team is impacted by an incident or ongoing incidents of sexualized violence?
What is possible for teams when it comes to restorative practices such as accountability and community care?
Speaker Bios:
Brennan Bastyovanszky (he/him) is the Vice Chair of the Vancouver Board of Parks and Recreation, Director on the Board of BC Rugby and its Safe Sport Committee, and is an advisor on Diversity and Inclusion for businesses, sports teams and high schools. In 2021, Brennan re-ignited the Vancouver Rogues, an inclusive rugby team that plays in the Men's 3rd Division, and serves as its President and Head Coach. Brennan played rugby for 25 years growing up in BC and Ontario, and playing for clubs in France and Australia. In his professional career, Brennan has been a sales leader in technology for 20 years and completed his Executive MBA in Sydney, Australia.
Georgette Reed (she/her) has as had a keen interest in sport, fitness, health, and wellness all of her life. A certified track and field and strength and conditioning coach with 47 years of competitive experience under her belt in the sports of athletics, bobsleigh, swimming, and water polo, Georgette now puts all of the knowledge and expertise to good use as the Director of Athletics and Recreation at Capilano University. Before coming to Cap, Georgette was the Health and Wellness Coordinator for Edmonton Fire Rescue Services and Mental Health First Aid, Psychological First Aid and R2MR (first responder) instructor and master trainer for the City of Edmonton for over 10 years
During her athletic career, Georgette represented Canada in the Olympic Games, the World Athletics Championships, the World Bobsleigh Championships, the Pan American Games, the Commonwealth Games and many other international events. As a competitor, Georgette won 17 national titles (15 in the shot put and two discus titles). Upon retiring from competing, Georgette was the Head Cross Country, Track and Field coach for the University of Alberta for 10 years, and helped develop champions at the provincial, national and international levels and was a mentor/coach for Special Olympics Athletics athletes and coaches in Alberta.
Currently, Georgette competes as a masters' athlete in the throwing events and volunteers coaching Olympic and Paralympic hopefuls in the throwing events and is a mentor coach for Athletics Canada helping guide future high-performance coaches.
Nangghaahlaangstangs (he/him): For over 10 years, Nangghaahlaangstangs (Haida, Tlingit and Black) has been working with youth and Indigenous communities through basketball camps, workshops, school visits, keynote speeches, and facilitating talking circles.
By accompanying groups through sports and cultural exercises that focus on what we know today as self-empowerment, rising skills and growth mindset training, Nangghaahlaangstangs works with communities to enliven the timeless values present in ancestral knowledge - remembering and recovering the truth of who we are - resilient, brilliant and caring people.
Content Note:
In this event, we will discuss sexual violence within the context of athletics. We recognize that this is a difficult topic, so we invite all attendees to tend to their own well-being. A case manager from SFU's Sexual Violence Support & Prevention Office (SVSPO) will be available during and immediately after the event to offer confidential personal support to any attendees. A Zoom link for a private support room will be shared at the start of the event. If you have any questions or concerns about this event, please contact Belinda Karsen at SFU's Sexual Violence Support & Prevention Office at belinda_karsen@sfu.ca.