Join these virtual dialogues about revitalizing our city centres: Vancouver (June 14), Surrey (June 15) and Burnaby (June 16)
About this event
Many of us are anxious for this pandemic to be over. While we don't know what these next few months will bring, or exactly when our cities will open, there is a growing opportunity now to identify how they will open when they do.
Come join other residents and share your thoughts and ideas about how we can revive our city centres.
Hosted by the SFU Morris J. Wosk Centre for Dialogue, SFU Public Square and our community and campus partners, Beyond COVID: Reimagining Our City Centres will be a fun, creative virtual dialogue, where you get to play the role of city planner and share ideas for restoring and revitalizing your city centre.
This is a chance to dream the possible—for ourselves and for generations to come.
This event is free, and no experience is necessary. Just bring your imagination! Don't want to join alone? Bring a friend.
Schedule
We are holding sessions for the following cities at the following times. You will be prompted to select your session during registration.
Vancouver: Monday, June 14 from 10:00 a.m.–12:00 p.m.
Surrey: Tuesday, June 15 from 10:00 a.m.–12:00 p.m.
Burnaby: Wednesday, June 16 from 10:00 a.m.–12:00 p.m.
If you'd like to be kept in the know about more events from SFU Public Square, sign up for our newsletter!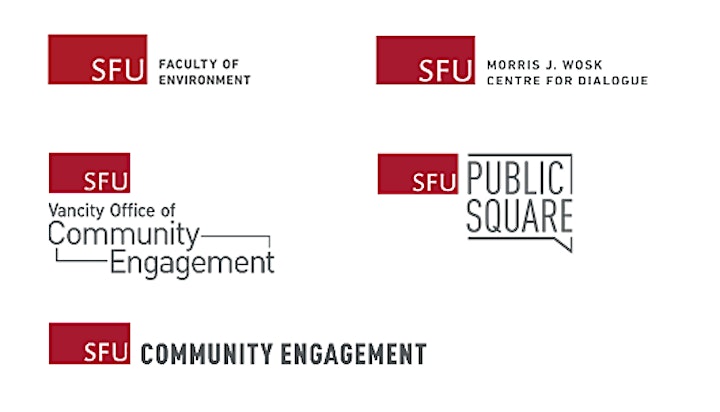 ACCESSIBILITY, TECHNOLOGY AND PRIVACY
Accessibility
Closed captioning will be available for this event.
If you have other accessibility needs, please contact us at psqevent@sfu.ca.
Registration and password
A password to access this session will be sent to all registrants via email in the days and hours preceding the event.
Technology requirements
This event will be presented in a participatory online meeting format. To engage fully you will need:
A laptop, computer, or smartphone
A webcam
A microphone
Speakers or headphones
Protecting your privacy
To ensure that we are using online meeting technology in a privacy-conscious way, we are following best practices for this online event series:
We will only circulate the meeting link to those who are registered for the event
We will password protect the meeting
We will enable end-to-end encryption
We will not use attention tracking
We will ask that participants use their first and last name as their display name at the event, so we can check incoming participants against the event registration list
To protect your own privacy we suggest that:
You use a unique email address to log into the event. This is so that the event platform can't cross-reference your profile with the rest of your digital profiles under your email address.
We suggest you do not use your Facebook profile to log into the event. This is so that the event platform can't cross-reference you with your Facebook account.
We remind you that whatever you say in this event is public and recorded, so please do not share sensitive information about yourself or others, and do not say anything you do not wish to enter the public domain.
To protect the privacy of others we ask that:
You do not record or photograph yourself, other participants, or the hosts during the event, unless permission is requested and given.
If you have any questions, concerns, or comments regarding this event's accessibility or privacy, feel free to connect with us at psqevent@sfu.ca.
Commitment to community guidelines and social accountability
All participants are asked to participate as socially accountable community members. We ask that you provide your full name as your display name during the online meeting and that you review our community guidelines ahead of your participation in the event. This is to ensure the safety of our guests and speakers as well as foster honest and accountable dialogue between people in this space. Thank you for respecting our community guidelines!
Above all, there will be zero tolerance for those who promote violence against others on the basis of race, ethnicity, national origin, sexual orientation, gender identity, religious affiliation, or different ability. Anyone who incites harm towards other participants (be it through the chat, video or audio functions) will be removed at the discretion of our technical team and moderator.
Don't assume pronouns/gender/knowledge based on someone's name or video image. We can refer to people using the usernames and/or pronouns they provide!
Step up, step back: if you've asked a question or shared a comment, ensure that new voices are heard before you contribute again.
Practice self-care: if you need to get up or take a break, please feel free.