Description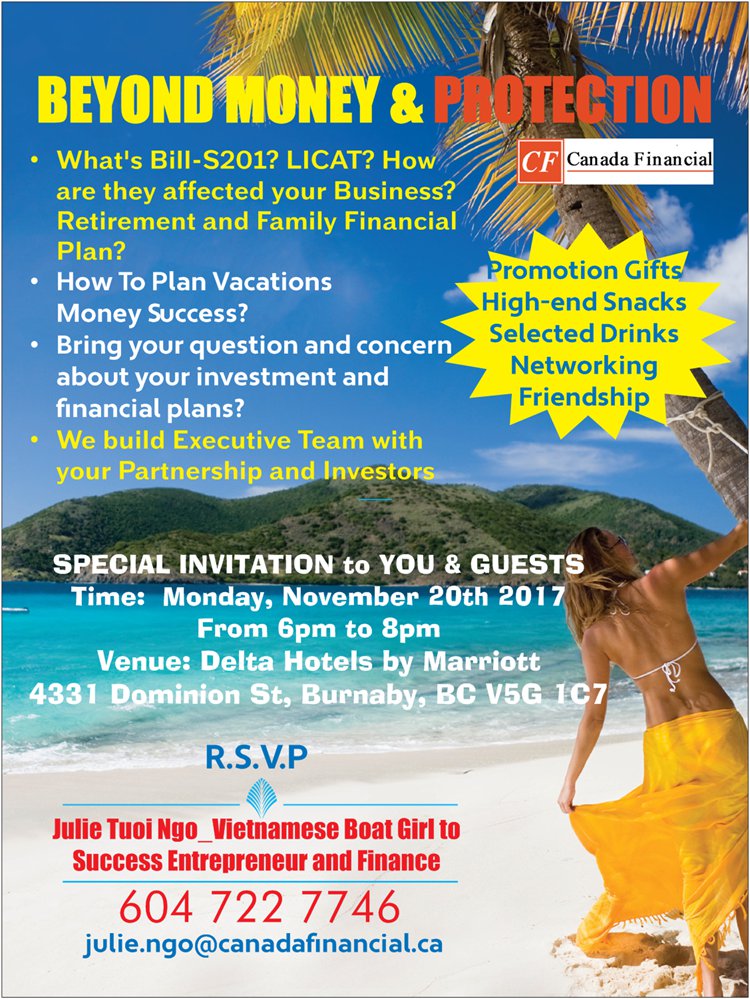 Beyond Money and Protection is one of the most priority and important events that CF Canada Financial as Julie Tuoi Ngo and her team work tireless in training and get the knowledge to follow the Bill _S201 and LICAT as long as much other Government and Rule change in this January 2018.
What's Bill-S201? LICAT? How are they affected your Business? Retirement and Family Financial Plan?
How To Plan Vacations Money Success?
Bring your question and concern about your investment and financial plans?
We build Executive Team with your Partnership and Investors.
Bring your question, concern about your own Financial Freedom, Retirement, Investment and Insuanduance to share with us. We are partnered with many professional and financial institutions to build successful communities in our serves.

Please review our Poster and register for your convenient
Your present is our best happiness, mutual respect to get to know each other, help us grow, believe, success and more.
Do not miss out the Fun Part of Conversation land Networking to Best Communities we build with you.

High-end Snacks, selected drinks and many Promotion Gifts and more coming.
SPECIAL INVITATION to YOU & GUESTS
Time: Monday, November 20th 2017
From 6pm to 8pm
Venue: Delta Hotels by Marriott
4331 Dominion St, Burnaby, BC V5G 1C7
Julie Tuoi Ngo_Vietnamese Boat Girl to
Success Entrepreneur and Finance