Sales Have Ended
Registrations are closed
Thank you for registering for the "Beyond the Lens: A Photo Book Launch"! Please visit our website www.empoweredphunu.com and give us a follow on instagram @empowered.phunu
Join us in celebrating the launch of "Beyond the Lens," a photo book co-created by the Empowering Phụ Nữ Photovoice Project cohort!
About this event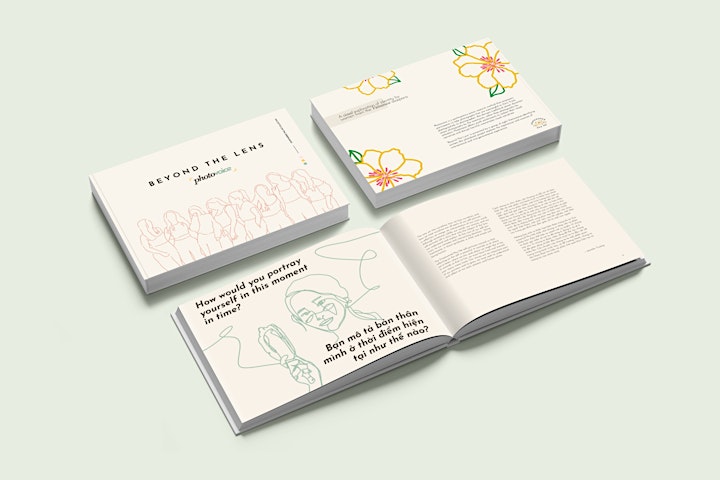 Empowered Phụ Nữ Collective presents:
Beyond the Lens: A Photo Book Launch
Wednesday May 25th 7-8pm EST on Zoom
Join us in celebrating the launch of Beyond the Lens, a photo book co-created by Monika Lê, Anna Nguyễn, Linda Pham, Vivi To, and Jennifer Trương alongside project co-facilitators Linda Bùi, Julia Huỳnh, and Michelle Nguyễn.
Over the course of 6 months, we met virtually via Zoom engaging in photovoice to discuss our cultural and gendered identities through photography and the power of storytelling.
Photovoice is a community-based participatory research action method developed by Caroline Wang and Mary-Ann Burris (1997). It's also described as "ethical photography for social change" (photovoice.org). One of its goals is to empower people to document and tell their own stories by putting the camera directly in their hands.
Beyond the Lens celebrates our individual and collective experiences and we can't wait to share that with you!
We will also be world premiering a short video created by the cohort with an open Q&A discussion to follow.
Make sure to register by May 24th for your chance to be entered to win an VBG (Viet Baby Girl) Starter Pack! This prize includes a copy of our photo book and will be raffled at the end of our event.
Read more about our photovoice project on our website!
Stay up to date with us on Instagram!
Photo book mock up and event brite graphics created by Monika Lê.
Event brite banner created by Anna Nguyễn and Monika Lê.