Online educational talk discussing strategies to enhance the overall quality of relationships
About this Event
Brain Injury Association of York Region is pleased to present Beyond the Self: Learning to Navigate the Complexities of Relationships.
Life is complex and as individuals there are many circumstances that create change in our lives. Whatever the situation (loss, trauma, brain injury) we are changed. However, it is through this change and uncertainty that we continue to learn and grow. Increasing our own self awareness and learning to understand not only our own perspectives but also those of our partners, our children and our friends is one of the first steps to improved relationships.
In this presentation participants will learn:
1. To identify key stressors in relationships
2. The key strategies for enhancing the overall quality of relationships
"Embrace every season of your relationship with empathy, kindness and affection" The Gottman Institute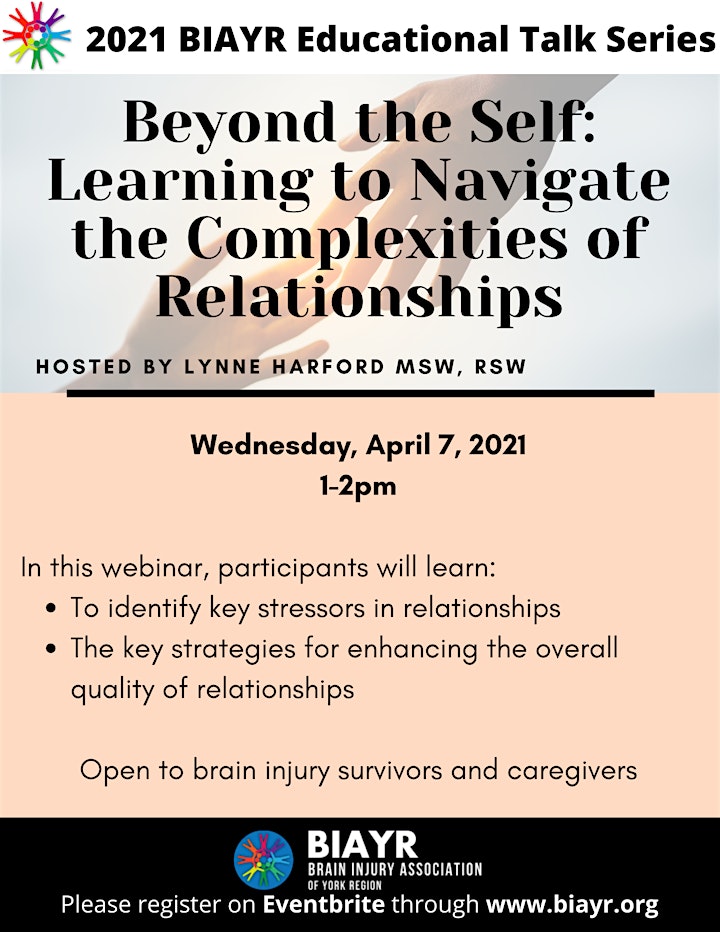 About Lynne Harford :
Lynne Harford MSW, RSW is a registered therapist with a Master of Social Work degree from the University of Toronto and is also a Clinical Traumatologist, Art Therapist and Yoga Teacher. She is the Director of Pediatric Services and is a Clinical Supervisor with The Social Work Consulting Group (SWCG) where she has practiced since 2008. SWCG is a private community-based practice serving individuals and families whose lives have been affected and altered by traumatic injuries. Our primary goal through social work intervention is to support, educate, advocate, re-connect and re-activate individuals and their families in order to help optimize recovery, personal success and overall quality of life. Lynne has been working in the field of ABI and neuro-rehabilitation for over 17 years and draws upon her extensive experience in the field to support and treat individuals whose lives have been altered by ABI, loss and trauma. She draws upon a multitude of treatment modalities including but not limited to Cognitive Behavioural Therapy, Art Therapy, Trauma Therapy and Mindfulness.
"You hold the compass, and together, we will navigate the path of recovery."