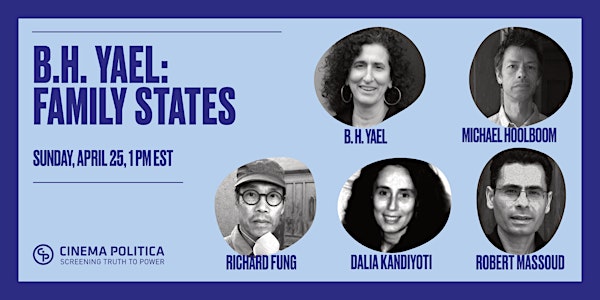 b.h. Yael: Family States - Book Launch, Screening and Celebration
Join us for a live-stream book launch of Michael Hoolboom's "b.h. Yael: Family States", celebrating the work of an acclaimed filmmaker.
Refund Policy
Contact the organizer to request a refund.
Eventbrite's fee is nonrefundable.
About this event
**This event has passed, but the b.h. Yael film collection remains available for streaming to new registrants until Tuesday, April 27th at 1PM EST, and will subsequently release on CP On Demand. To watch a recording of the live conversation, please follow this link.**
On Sunday April 25 at 1 PM (EST), please join us for a live-stream celebration and launch for b.h. Yael: Family States, a new book with 32 texts about acclaimed media artist b.h. Yael!
Family States, which editor Mike Hoolboom calls a "community place," embodies the creative and collaborative spirit of b.h. Yael's life-work, and as such this event will feature conversations with Richard Fung, Dalia Kandiyoti, and Robert Massoud, three of the book's contributors. This eclectic publication is sponsored by the ConverSalon collective.
The afternoon will feature two performances of poetry and music by the trailblazing spoken word poet Lillian Allen and renowned Egyptian-Canadian vocalist Maryem Hassan Toller.
A reception (digital mingling encouraged!) will follow the event and will be facilitated by Ashok Mathur, Dean of Graduate Studies, OCAD University.
The launch will also feature clips from FRESH BLOOD (1996), DEIR YASSIN REMEMBERED (2006) and TRADING THE FUTURE (2008). This selection of films examines questions of Arab Jewishness, Israeli denial of the Palestinian Nakbah (disaster), as well as the intersections of planetary and religious narratives.
The complete version of the films will be made available for free streaming on Cinema Politica On Demand for a week prior to the event and 48 hours after, and subsequently, a curated selection of Yael's films will live on the streaming platform.
This event is co-presented with ConverSalon , Another Story Bookshop, and OCAD University.
***
LIVE-STREAM EVENT: Sunday, April 25 at 1 PM (EST)
* You will receive a private link to view b.h. Yael's films (available in Canada only) on Monday, April 19th. A second link to the video conference with be sent on the day of the event.
* You will receive a free pdf of b.h. Yael: Family States via email by making a Solidarity Contribution or Donation to this event.
* Live captioning will be provided.
* Follow us HERE for Facebook event updates.
***
About the Book
B. H. YAEL: FAMILY STATES
This 140-page book brings together a collection of writings about the essential work of Canadian media artist b.h. Yael addressing issues of power and belonging, Palestine and remembering, gender roles and activism. The ideas and locations featured in Yael's films and videos reverberate through these responsive texts by fellow artists, filmmakers, writers, teachers, and activists, providing new and startling perspectives. The book also includes an interview conducted by editor Mike Hoolboom and pictures galore.
For full contributor's bios, please follow this link.
***
About the Speakers
B.H. YAEL
b.h. Yael is a Toronto based filmmaker, video and installation artist. She is Professor of Integrated Media at OCAD University and past Assistant Dean and past Chair of Integrated Media in the Faculty of Art. Yael's past film and video work has dealt with issues of identity, authority and family structures, while at the same time addressing the fragmentary nature of memory and belonging. Her work most often involves non-linear and hybrid forms, including dramatized and fictional elements combined with first person narration, autobiographical and documentary perspectives.
***
MICHAEL HOOLBOOM
Michael Hoolboom is a filmmaker and writer living in Toronto.
***
RICHARD FUNG
Richard Fung is a writer and video artist born in Trinidad and based in Toronto. He is Professor Emeritus in the Faculty of Art at OCAD University.
***
DALIA KANDIYOTI
Dalia Kandiyoti is Professor of English at the College of Staten Island, City University of New York and the author of two books and articles on Sephardic, Latinx, and other writing about migrations, diasporas, and the many ways in which people lose and make worlds. Dalia's current work includes an oral history project and an edited volume about Sephardi Jews and the citizenship laws in Spain and Portugal, both with Dr. Rina Benmayor.
***
ROBERT MASSOUD
Robert Massoud is Palestinian-Canadian. In 2004, he founded Zatoun, Fair Trade olive oil from Palestine to serve as a symbol of light, hope and peace. The oil is available in North America mostly through faith communities, the grassroots and fair trade network. Robert cofounded a worldwide project called "Trees for Life Palestine" which plants 10,000s of olive trees every year in Palestine. Zatoun is a major supporter of "Project Hope" providing "art as therapy" to help heal many thousands of children living in refugee camps in Palestine. Since 2004, Zatoun has contributed over $550,000 to these two projects.
***
About the Films
FRESH BLOOD, A CONSIDERATION OF BELONGING (1996, 55') is a hybrid documentary or video essay which includes questions around Arab Jewishness, negotiating Palestine, gender, belly-dancing and memory.
***
DEIR YASSIN REMEMBERED (2006, 28') considers the repercussions of a largely forgotten massacre of almost 100 Palestinians in 1948.
***
TRADING THE FUTURE (2008, 59') is a video essay that questions the inevitability of apocalypse and its repercussions on environmental urgencies. Starting with a personal memory, the fear of the rapture, the video addresses the Christian narrative for the end of times, and draws connections to secular apocalypticism and our ready acceptance of a cataclysmic end.
***