Description
Dandy-up, it's high-time for a Retro-Roundup of Smart Cocktails, Hard Swing, Rockabilly and Sexy Stage Acts.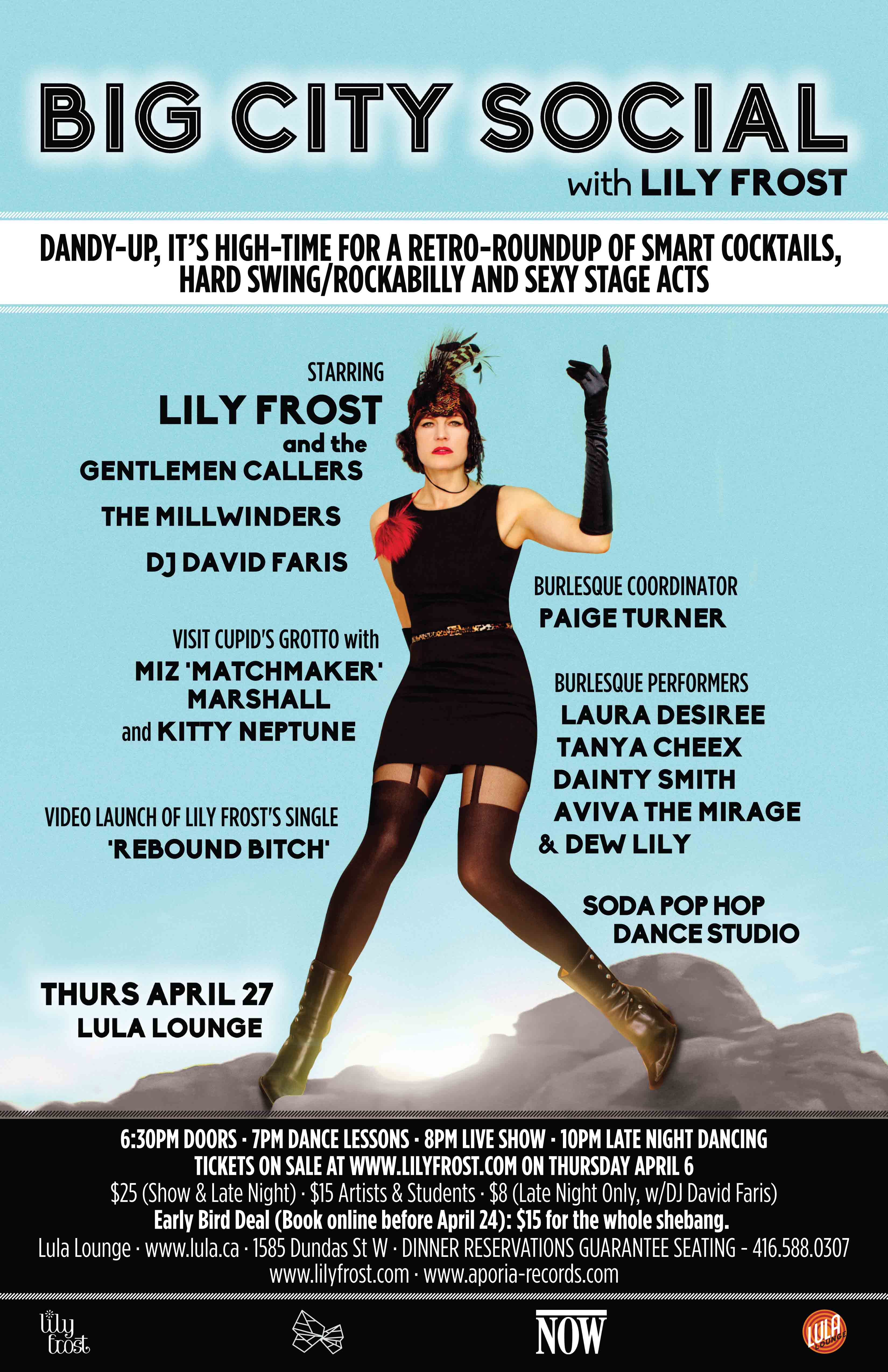 LILY FROST and Aporia Records proudly present, BIG CITY SOCIAL, a new performance series launching Thursday, April 27th at Lula Lounge. Lily headlines and curates the series with considerable experience under her belt, having launched a similar scene in Vancouver, think "Cocktail Nation".
AS CURATOR, LILY DRAWS FROM SWING, ROCKABILLY AND BURLESQUE TO CREATE AN UBER-SCENE… For the premier Toronto Edition, Lily is joined by her swing-band, THE GENTLEMEN CALLERS, a tight musical outfit featuring Eric St. Laurent, Teddy Hawkins, Kevin Walsh and Gene Hardy. Special Guests are country/rock 'n' roll group THE MILLWINDERS. Also on hand will be the ever-popular DJ DAVID FARIS, swing dancers from SODA POP HOP DANCE STUDIO who'll get you up busting new moves, and a burlesque programme coordinated by MS. PAIGE TURNER, and featuring LAURA DESIREE, TANYA CHEEX, DAINTY SMITH, AVIVA THE MIRAGE & DEW LILY.
Lily will also be screening the video for her single Rebound Bitch at BIG CITY SOCIAL – the single drops just days before the event on Tuesday April 21st, and will be available for download at www.lilyfrost.com.
Looking for Love? Visit Cupid's Grotto, where Miz 'Matchmaker' Marshall and The Scandelles' Kitty Neptune will be encouraging Cupid's arrow to do its thing.
Need to polish up your moves? Members of the SODA POP HOP DANCE STUDIO will be on-site to school you, pre-show at 7pm and intermittently throughout the evening, including a LATE NIGHT DANCE CONTEST (at the stroke of midnight) with DJ David Faris. The contest winner will receive: $50, a three course Dinner-for-Two chez-Lula Lounge and two Evening Passes to the June edition BIG CITY SOCIAL.
6:30PM DOORS / 7PM COCKTAILS & DANCE LESSONS / 8PM SHOW / 10PM DANCING
TICKETS $15 / $8 (after 10pm)
DINNER RESERVATIONS GUARANTEE SEATING – 416.588.0307
RELATED LINKS
www.lilyfrost.com / www.aporia-records.com / www.lula.ca / millwinders.bandcamp.com / www.sodapophop.com / www.nowtoronto.com / www.facebook.com/djdavidfaris / www.junia.ca