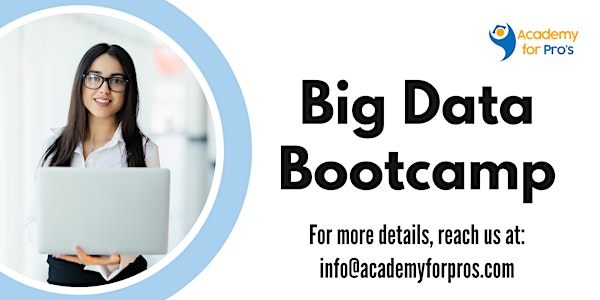 Multiple dates
Big Data 2 Days Bootcamp in Minneapolis, MN
Our classroom training provides you the opportunity to interact with instructors and benefit from face-to-face instruction.
Date and time
March 23 · 9am - December 21 · 5pm CDT
Location
For venue details reach us at: info@academyforpros.com +1 469 666 9332 Minneapolis, MN 55402
Refund Policy
Refunds up to 7 days before event
About this event
Certificate: Course Completion Certificate Language: English
Duration: 2 Days Credits: 16
Course Delivery: Classroom/ Virtual/ Onsite
Course Description:
This big data training course will provide a technical overview of Apache Hadoop for project managers, business managers, and data analysts. Students will understand the overall big data space, and technologies involved and will get a detailed overview of Apache Hadoop. The course will expose students to real-world use cases to comprehend the capabilities of Apache Hadoop. Students will also learn about YARN and HDFS and how to develop applications and analyze Big Data stored in Apache Hadoop using Apache Pig and Apache Hive. Each topic will provide hands-on experience to the students.
Learning Objectives:
Learn about the big data ecosystem
Understand the benefits and ROI you can get from your existing data
Learn about Hadoop and how it is transforming the workspace
Learn about MapReduce and Hadoop Distributed File system
Learn about using Hadoop to identify new business opportunities
Learn about using Hadoop to improve data management processes
Learn about using Hadoop to clarify results
Learn about using Hadoop to expand your data sources
Learn about scaling your current workflow to handle more users and lower your overall performance cost
Learn about the various technologies that comprise the Hadoop ecosystem
Learn how to write a simple mapreduce job from Java or your favorite programming language
Learn how to use a very simple scripting language to transform your data
Learn how to use a SQL like declarative language to analyze large quantities of data
Learn how to connect your existing data warehouse to the Hadoop ecosystem
Learn how to move your data to the Hadoop ecosystem
Learn how to move the results of your data analysis to Business Intelligence Tools like Tableaux
Learn how to automate your workflow using oozie
Learn about polyglot persistence and identifying the right tool for the right job
Learn about future trends in Big data and technologies to keep an eye on
Discover tips and tricks behind successful Hadoop deployments
Course Agenda:
Day 1
Introduction to Big Data
Introduction to Hadoop
Hadoop Distributed File System (HDFS)
MapReduce
YARN
Day 2
Course Outline:
Introduction to Big Data
Survey of Big Data technologies
Introduction to Hadoop
Introduction to MapReduce
Introduction to Yarn
Introduction to HDFS
Data Transformation
Structured Data Analysis?
Loading data into Hadoop
Automating workflows in Hadoop
Exploring opportunities in your own organization
Hands-on Exercises
Target Audience:
Anybody who is involved with databases, data analysis, and wondering how to deal with the mountains of data (anywhere from gigabytes of user/log data, etc to petabytes will benefit from this program). This course is perfect for:
Business Analysts
Software Engineers
Project Managers
Data Analysts
Business Customers
Team Leaders
System Analysts
No prior knowledge of big data and/or Hadoop is required for this class. Some prior programming experience is a plus for this class, but not necessary.
Note:
However, catering to the demands of busy professionals, our virtual training programs are as effective as face-to-face learning. Reach us at info@academyforpros.com for dates and details of Instructor Led Live Virtual Sessions.
If you would like to get this course customized and delivered exclusively for your group, we have an On-Site Training Option you can reach us at info@academyforpros.com for more details about on-site or corporate training.
Offers:
Groups of 3 people 10% Discount
Groups of 5 people 15% Discount
Groups of 10 people 20% Discount
About the organizer
We deliver training solutions to Corporate, Government Agencies, Public sectors, Multinational organizations and Private Individuals. Our Primary focus is to train in a wide range of areas from IT Technical, Personal Development, Human Resources and Management Courses to Project, Program and IT Service Management.
We have most experienced trainers in the Industry. Our Trainers are highly skilled in their subject areas and are uniquely positioned to provide participants with deep industry experience. They are motivated to transfer knowledge through practical support post and pre-training to provide participants with additional support outside the classroom.