Big Data en santé: Opportunités & défis/Big Data in Healthcare: Opportuniti...
Description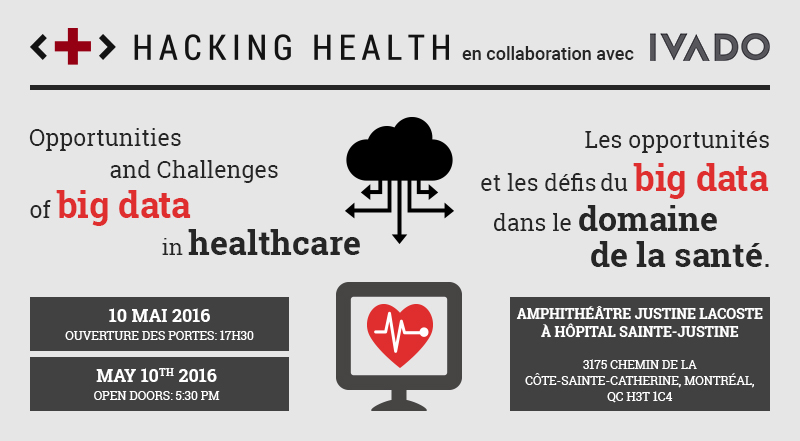 (English follows)
Les opportunités et les défis du big data dans le domaine de la santé.
Pour cette edition du Hacking Health Café, nous avons réuni des professionnels de l'industrie de la santé et des chercheurs universitaires pour discuter de l'innovation dans le domaine de santé possible avec le big data, les données ouvertes et de l'intelligence artificielle.
Ne manquez pas cette opportunité de témoigner des expériences des professionnels, vous aurez également la chance de leur poser des questions durant le panel de discussion!
Comment prendre avantages des données existantes dans votre organisation? Participez au Health Hacking Cafe le 10 mai pour découvrir toutes les opportunités et les défis du big data.

Nous sommes fier de s'associer à L'institut de valorisation des données (IVADO), le regroupement le plus performant en publications au monde sur la recherche opérationnelle et le deep learning.
Les présentations du HH Café auront lieu à l'amphithéâtre Justine Lacoste du CHU Sainte-Justine.
CONFÉRENCIERS
L'apprentissage automatique pour l'amélioration des soins de santé à domicile
Le vieillissement de la population ocasionne des coûts de santé croissants. Une proportion importante des personnes âgées de 65 ans et plus développe une ou de multiples conditions chroniques. Les soins de santé à domicile sont une alternative intéressante aux soins de santé traditionnel comme ils sont moins coûteux et souvent plus appréciés des patients. L'apprentissage automatique contribue au maintient de cette population à la maison en offrant une aide à la décison au personnel infirmier en priorisant les interventions, l'objectif étant de prévenir les réadmissions à l'hôpital qui sont souvent onéreuses et évitables. AlayaCare propose une approche basée sur les réseaux de neurones maxout pour la prédiction des événements malencontreux. Les résultats préliminaires suggèrent que la méthode fonctionne mieux que des alertes configurées manuellement par le personnel infirmier.

Jonathan Vallée, Directeur Données Scientifiques, AlayaCare - www.alayacare.com
Jonathan est titulaire d'un M.Sc. dans l'apprentissage automatique, il a travaillé comme chercheur en sciences de données avant de prendre la direction de l'équipe scientifique de données de JDA et maintenant AlayaCare. Jonathan est un inventeur et co-inventeur de quatre brevets et cherche à innover l'industrie des soins à domicile.

La science des données permet de créer un grand impact dans les soins de santé
En particulier, nous allons concentrer notre attention dans les zones où le vieillissement de la population va avoir un impact important, à savoir: le traitement du cancer, les services de soins à domicile, et de la logistique de l'hôpital.

Louis-Martin Rousseau, Professeur, Polytechnique Montréal
Louis-Martin Rousseau est professeur titulaire de recherche opérationnelle dans le département de mathématiques et de génie industriel à l'École Polytechnique de Montréal, et depuis Février 2016, il occupe la chaire de recherche du Canada en santé Analytics et de la logistique. Ses recherches portent sur dans la résolution de problèmes complexes de décision intégrés qui apparaissent à la fois dans la planification de la chaîne logistique et de l'exécution. Louis-Martin était aussi le fondateur de Pandora et conseiller scientifique en chef de Planora depuis 10 ans qui, avant son acquisition par JDA en 2012, proposer une solution SaaS de planification pour le secteur de la santé.
Les données ouvertes pour l'accélération du partage du savoir
CARTaGENE (CaG) est une plateforme de recherche du CHU Sainte-Justine visant à offrir aux chercheurs les moyens de faciliter leurs recherches sur la santé. CARTaGENE est constituée à la fois d'échantillons biologiques et de données sur la santé et les habitudes de vie de 43 000 Québécois et Québécoises âgés entre 40-69 ans. CaG a comme mission de créer et de maintenir à long terme une banque de données et une biobanque représentatives de la diversité génomique de la population du Québec et concurrentielles à l'échelle internationale, permettant de faciliter l'émergence de nouveaux projets de recherche et de nouvelles connaissances en matière de soins de santé pour le Québec, le Canada et la communauté internationale. CARTaGENE permettra à long terme d'améliorer la prévention, le diagnostic et le traitement des maladies chroniques telles que les maladies du coeur, le diabète et le cancer, et par conséquent, de contribuer à l'amélioration du système de santé du Québec. CaG offre l'accès aux données et échantillons biologiques depuis 2010 et plus de 30 projets ont déjà été approuvés. Ces partenariats, notre interopérabilité avec les autres biobanques nationales, et nos stratégies pour développer d'autres secteurs d'activité appuient notre mission de livrer des données et des échantillons biologiques de grande qualité pour les années à venir.
Joseph Tcherkezian, Chercheur Associé, Cartagene - www.cartagene.qc.ca
Joseph est en charge de l'accès aux données et le développement des affaires à CARTaGENE et interagit beaucoup avec les utilisateurs potentiels de cohorte, favorise la ressource externe et est impliqué dans les initiatives de financement stratégiques. Joseph a obtenu son doctorat de l'Université McGill en biologie moléculaire. Il a ensuite déménagé à Boston pour poursuivre sa formation postdoctorale en neurobiologie à la Harvard Medical School. En 2010, il est retourné à Montréal et a travaillé comme associé de recherche à l'Institut de recherche en immunologie et en cancérologie (IRIC). En 2014, il rejoint le Laboratoire de développement thérapeutique à l'Université McGill où il a planifié et exécuté des études de preuve de concept préclinique de médicaments candidats antinéoplasiques.
Le partage des données dans le domaine de la génomique du cancer
Les données sont au centre de la recherche universitaire en sciences de la vie et de son étude diligente offre déjà des avantages tangibles qui auront un impact sur les pratiques cliniques. En dépit d'une volonté omniprésente pour l'accès universel à des ensembles de données de haute qualité, la production et le partage des données est encore perçue comme une condition gênante dans le processus d'obtention de fonds de recherche et de publication des résultats scientifiques. Je vais illustrer ce partage de données paradoxe en utilisant des exemples concrets du domaine de la génomique du cancer.
Sébastien Lemieux, chercheur, IRIC (Institut de recherche en immunologie) - www.iric.ca
Après un doctorat en sciences informatiques et d'un post-doc dans le secteur de la biotechnologie (Elitra, maintenant Merck & Co), Sébastien Lemieux a mené, depuis 2005, un laboratoire de recherche en bioinformatique à l'IRIC. Ses travaux de recherche vise à développer des approches pour tirer profit des caractérisations moléculaires données intensives (protéomique, transcriptomique et le dépistage des drogues) des échantillons de patients pour aider à prendre des décisions cliniques et de fournir de meilleurs traitements. Son principal domaine d'application est dans la leucémie adulte.
L'intelligence artificielle pour l'analyse d'images médicales
Nicolas Chapados, conseiller scientifique en chef, Imagia - www.imagia.com
Nicolas Chapados est titulaire d'un diplôme d'ingénieur de l'Université McGill et un doctorat en informatique de l'Université de Montréal, Canada. Tout en écrivant sa thèse et conjointement avec Yoshua Bengio, il a co-fondé ApSTAT Technologies en 2001, une société de transfert de technologie d'apprentissage automatique, qui vise à appliquer des idées de recherche académique de pointe aux domaines tels que la recherche biomédicale, la planification de la chaîne d'approvisionnement, les prévisions de l'entreprise et la gestion des fonds de couverture. Il a également co-fondé deux sociétés: Imagia, pour automatiser le diagnostic des tumeurs cancéreuses à partir d'images médicales en utilisant l'apprentissage en profondeur, et Chapados Couture Capital, un gestionnaire d'actifs quantitative. Auparavant, Nicolas a été membre du groupe de recherche de reconnaissance vocale chez Nortel Networks, où il a dirigé la recherche et la mise en œuvre d'un gestionnaire de dialogue en langage naturel pour les applications continues de reconnaissance vocale.
AGENDA
5:30pm Ouverture des portes

6:00pm Présentations éclairs des conférenciers

7:00pm Panel : Comment prendre avantages des donneés dans votre organisation

8:15pm Réseautage!
-------------------------------------------------------------------------------------------

Opportunities and challenges of big data in healthcare.
This edition of the Hacking Health Café aims to bring together industry professionals and academic researchers to discuss cutting-edge innovation in healthcare possible with big data, open data and artificial intelligence.
Do not miss this opportunity to withness first-hand the stories and experiences from professionnals and to interact with them during the panel discussion!
How you can take advantages of big data in your organization? Participate in this Hacking Health Cafe on May 10th to discover all the opportunities and challenges of big data.
We are proud to partner with The Institute for data valorization (IVADO), the world's most productive deep learning and operations research group.

Presentations of HH Café will take place at the amphitheater Justine Lacoste at the CHU Sainte-Justine.
SPEAKERS
Machine learning to improve in home healthcare
The aging of the population entails increasing health costs. A significant proportion of people aged 65 and over or develops multiple chronic conditions. Home care is an interesting alternative to traditional healthcare as they are less expensive and often more popular with patients. Machine learning can provide decision making assistance to nurses in prioritizing interventions with the aim of preventing hospital readmissions that are often expensive and avoidable. AlayaCare proposes an approach based on MaxOut neural networks for the prediction of unfortunate events. Preliminary results suggest that the method works better than alerts configured manually by nurses.

Jonathan Vallée, Data Science Director, AlayaCare - www.alayacare.com
Jonathan holds a M.Sc. in machine learning where he has been awarded the board of honors and has worked as a data science researcher before taking the leadership of JDA's data science team and now AlayaCare's. Jonathan is an inventor and co-inventor on four patents and strives to innovate the home healthcare industry

How data science helps create a big impact in healthcare services
As the field of personalized medicine is emerging we believe that their will be enormous challenges at the interaction between individual treatment planning and their execution, in the context of limited and expensive medical resources. In particular, we are going to focus our attention in areas where population aging is going to have a big impact, namely: cancer treatment, homecare services, and hospital logistics.

Louis-Martin Rousseau, Professor, Healthcare Analytics and Logistics, Polytechnique Montreal
Louis-Martin Rousseau is a full professor of Operations Research in the department of Mathematics and Industrial Engineering at École Polytechnique de Montréal, and since February 2016 he holds the Canada Research Chair in Healthcare Analytics and Logistics. His research focuses on in solving complex, integrated decision problems which appear both in supply chain planning and execution (and in healthcare. Louis-Martin was also the founder of Planora and Chief Science Officer of Planora for 10 years that, before its acquisition by JDA in 2012, propose a scheduling SaaS solution to the heath sector.

Open Data for the acceleration of knowledge
CARTaGENE (CaG) is both a population-based biobank and the largest ongoing prospective health study of men and women in Quebec. It is a genetic epidemiological infrastructure consisting of a large databank and biobank, with regulatory oversight and governance. The program recruited 43 000 individuals, aged 40-69 years, representing 6 metropolitan regions of the province and collected detailed lifestyle, health and medical data on these individuals. The program also gathered detailed physical measurements, clinical and biochemical measures at baseline. The fundamental goal of this unique public-funded project is to support the scientific community in identifying the determinants of chronic diseases of environmental and/or genetic origin. It was also created to accelerate the process of translational medicine through the identification of biomarkers for early diagnosis, disease treatment and prevention. CaG has been offering open access to data and biosamples since 2010 and more than 30 projects have already been granted access. These ongoing partnerships, our interoperability with other national biobanks, and our plan to develop other sectors of activity support our mission to provide meaningful high-quality data and biospecimens for years to come.
Joseph Tcherkezian, Senior Research Associate, Cartagene - www.cartagene.qc.ca
Joseph is in charge of Data Access and Business Development at CARTaGENE and interacts extensively with potential cohort users, promotes the resource externally and is involved in strategic funding initiatives. Joseph obtained his Ph.D. from McGill University in molecular biology. He then moved to Boston to pursue his postdoctoral training in neurobiology at Harvard Medical School. In 2010, He returned to Montréal and worked as a research associate at the Institute for Research in Immunology and Cancer (IRIC). In 2014 he joined the Laboratory for Therapeutic Development at McGill University where he planned and executed preclinical proof-of-concept studies for antineoplastic drug candidates.

Data sharing in the field of cancer genomics
Data is at the center of academic research in life sciences and diligent inspection already delivers tangible benefits that will impact clinical practices. Despite a ubiquitous desire for universal access to high-quality datasets, generation and sharing of data is still perceived as an inconvenient prerequisite (or a necessary duty) in the process of securing research funds and publishing scientific results. I will illustrate this data sharing paradox using concrete examples from the field of cancer genomics.

Sébastien Lemieux, Researcher, IRIC (Institute for Research in Immunology) - www.iric.ca
Following a Ph.D. in Computer Sciences and a post-doc in the biotech industry (Elitra, now Merck & Co), Sébastien Lemieux has been leading, since 2005, a bioinformatics research lab at IRIC. His research aims at developing approaches to take advantage of data-intensive molecular characterizations (proteomics, transcriptomics and drug screening) of patient samples to assist in clinical decisions and provide better treatments. His main application area is in adult leukemia.

Artificial Intelligence for medical image analysis

Nicolas Chapados, Chief Science Officer, Imagia – www.imagia.com
Nicolas Chapados holds an engineering degree from McGill University and a PhD in Computer Science from University of Montreal, Canada. While still writing his thesis and jointly with his advisor Yoshua Bengio, he co-founded ApSTAT Technologies in 2001, a machine learning technology transfer firm, to apply cutting-edge academic research ideas to areas such as biomedical research, supply chain planning, business forecasting, and hedge fund management. He also co-founded two spin-off companies: Imagia, to automate the diagnosis of cancer tumors from medical images using deep learning, and Chapados Couture Capital, a Quebec-registered quantitative asset manager. Previously, Nicolas was a member of speech recognition research group at Nortel Networks, where he led the research and implementation of a natural-language dialog manager for continuous speech recognition applications.

AGENDA
5:30pm Doors open.

6:00pm Lightning Talks from speakers

7:00pm Panel : How to take advantage of big data in your organization

8:15pm Stay for networking !