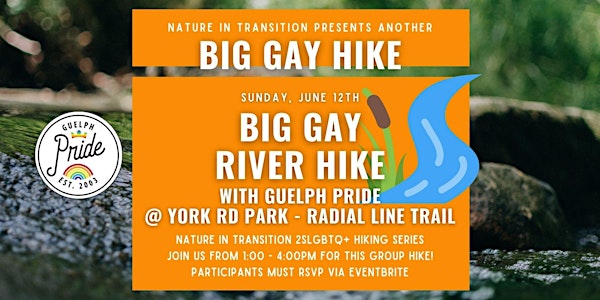 BIG GAY RIVER HIKE with Nature in Transition & Guelph Pride @ Two Rivers
Location
York Road Park
85 York Road
Guelph, ON N1E 3E6
Canada
Join us outside for a community hike to celebrate Guelph Pride and the two rivers that we love so much!
About this event
As a complement to the Transgender Drop-In at HIV/AIDS Resources & Community Health ("ARCH"), we are excited to be offering this socially-distanced, limited-capacity in-person event.
Nature in Transition is where our inner trans and non-binary nature meets the wondrous natural world around us - in a series aimed at cultivating emotional wellness, positive well-being, confidence, and connection through mindfulness-based nature hikes.
We are excited to open up this hike to 2SLGBTQIA+ folks across our communities to help us come together through our love of nature and our vibrant communities!
*
This hike will also be in partnership (and celebration) of Guelph's Spring Pride Festival!
Learn more about Guelph Pride here at GuelphPride.com
We'll meet in the sign on the east side of the covered wooden bridge. There is ample parking available, but it does fill up quickly on nice days! You can park either off of York Road or by the boathouse and simply walk across the bridge to meet us.
From there we will have a brief check-in about the safety measures, social distancing, expectations, goals, and desires of the group, as well as additional resources available in the community and ways to get involved.
There will be one single group leaving at 1:00 PM. We will exploring around the rivers, walking up the eramosa river, past Victoria road and onto the Radial Trail Line. There, weather permitting, there will be an opportunity to get into the water (each to their respective comfort, and weather permitting!) so bring your water shoes if you'd like. We will then be walking back and returning to the parking lot at the end of the session. All attendees must register for the event to ensure small group sizes and for contact tracing.
We will end with a group chat, check-out, and individuals are welcome to follow up with peers should they require additional support.
This hike's theme is in honour of the gift it is to have these beautiful rivers here in this place we get to call home. The Speed and Eramosa rivers wind through the region in pathways carved by glaciers long ago, and many creatures (us among them) call this 'meeting place' home. Let's celebrate our rivers, our community, and Guelph Pride with this late-spring river walk!
Being transgender or gender non-conforming comes with it's own unique kinds of stressors and sources of anxiety - from navigating daily life, such as work and washrooms, to larger concerns around unpacking internalized transphobia, and existing in the world in it's current social-political and environmental state, many are finding it difficult to find strategies to take care of themselves and their well-being. 2SLGBTQIA+ people often face disproportionate barriers and discrimination at work, within the medical system, and in housing - all of which have been made worse by the impacts of the pandemic. Further, many individuals may be stuck isolating with family members or people who are not accepting of their identities, or may be struggling to stay connected to chosen family and their community supports. The additional stress of the pandemic, being socially-distant from our communities, and the added anxiety of our health and well-being can make navigating this time even harder, so we're here to come together and remind one another that we're not alone - even if it feels like it sometimes.
While this walk is *not* a group therapy session nor should it be used in place of formal mental health support for coping with acute struggles. If you require the support of a trained mental health provider such as a therapist or counselor, please email education@archguelph for a list of local, affirming providers.
The session will be facilitated by a staff member from ARCH and/or trained peer support workers who are been trained in motivational interviewing and peer support.  Referrals will be available for those who may need additional support through more formal networks.
Recognizing the struggles that individuals are experiencing right now, we invite individuals to participate as much or as little as their mental health and capacity allows for on the day of the hike. Though we will have active listeners available during the session, if you require more support at any time consider reaching out to Here 24/7, LGBT Youthline or Trans Lifeline.
***ACCESSIBILITY***
York Road Park is accessible by public transit. There is also ample parking available at the meeting place and minimal distance to walk from vehicles to our meeting place. There is a large big rack for locking up your bicycles by the boathouse, or you can bring your bike along if you so chose.
The trails may still be quite slippery and covered in mud during this time of year, depending on the weather that week. We do recommend participants wear the appropriate footwear, including bringing water-safe shoes if you'd like to take a dip :)
Please keep an eye on the weather. Depending on the weather patterns preceding the event, the trails may be wet or slippery and more difficult for some attendees. In the case of extreme or inhospitable weather, the hike may be cancelled or postponed with participants being notified via email.
We cannot provide childcare for this event, however children are welcome to attend and participate! We ask that they are dressed appropriately for the weather and that all participants contribute to making the space fun and accessible for individuals of all ages and abilities.
We ask that all participants help to make this an accessible event by not wearing scents/perfumes and refraining from consuming drugs or alcohol during the hike or before the hike.
There are bathrooms at the Boathouse as well as across the street at Goodness Me, Starbucks (etc), which may/may not be available.
COVID PROTOCOLS
All attendees must arrive wearing a snug-fitting mask. If you do not bring a mask one will be provided for you.
Attendees must remain masked when social distancing of 6' or more is not possible; or for the duration of the hike if they prefer.
If an interested participant is unable to wear a mask for medical reasons but believes that strenuous activities in the winter are within their capacity, they are encouraged to reach out to the coordinator to explore options for participating. Our priority is maintaining the safety of everyone involved and ensuring individuals are masked is part of our harm reduction policy.
We encourage all participants to be fully vaccinated and to receive their booster shot as soon as they become eligible to further reduce the risk to themselves and others in our communities.
All hike participants will adhere to the lowest tolerance boundaries of other attendees regarding mask-wearing and distance kept, including those who have received both COVID vaccinations and/or boosters. That means, if someone in your group is not comfortable with being closer than 6', individuals must respect this boundary and act accordingly. This is to respect the needs and concerns of everyone involved, to maintain our commitment to our community's safety, and to prioritize the well-being of all, especially those living with compromised immune systems or other conditions which may put them at elevated risks. This is also just good community consent! :)
Participants are encouraged to dress appropriate for the weather, dress in layers, bring your boots, hiking poles, and a bottle of water!
This event is offered for free by ARCH.
Questions?
Feel free to get in touch with the facilitator, Jasper, at education@archguelph.ca