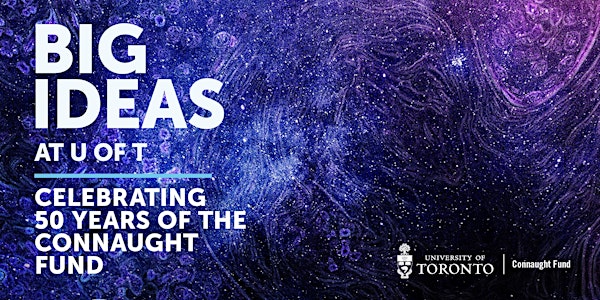 Big Ideas at U of T
Astronomy, cyber espionage and activism!
When and where
Location
Convocation Hall 31 King's College Circle Toronto, ON M5S 1A1 Canada
About this event
Overview
Discover the latest big ideas from three of U of T's sharpest minds.
The University of Toronto invites you to an evening showcasing three Connaught-funded researchers sharing their cutting-edge scholarship: from the earliest moments of the universe, the dangers of international digital espionage, to how we can exercise activism and advocacy through research.
The talks will be followed by a roundtable discussion moderated by broadcast journalist Mary Ito, host of The CRAM Podcast which highlights innovative research and big ideas in Canada.
The event is free and open to the public at U of T's historic Convocation Hall.
All attendees receive a gift at the door.
Renée Hložek, Cosmologist, Dunlap Institute for Astronomy and Astrophysics
Professor Renée Hložek studies the Universe from the earliest moments to the far future. Her work uses statistical methods and precise observations to answer cosmic questions. She makes measurements of both visible and microwave light with telescopes high in the deserts of northern Chile and uses these measurements to learn about the fundamental building blocks of nature.
Maydianne Andrade, Evolutionary Ecologist & Equity Activist, Department of Biological Sciences, UTSC
University Professor Andrade is an award-winning, internationally recognized expert on sexual selection and the ecology of black widow spiders. She is also co-founder and president of the Canadian Black Scientists Network, and founder of the Toronto Initiative for Diversity and Excellence. In these roles, she has co-created organizations working to increase inclusion within institutions and across Canada through education and advocacy.
Ronald Deibert, Director, The Citizen Lab at U of T's Munk School of Global Affairs & Public Policy
Professor Deibert is the principal investigator of the Citizen Lab, an interdisciplinary laboratory focusing on research, development, and high-level strategic policy and legal engagement at the intersection of information and communication technologies, human rights, and global security. He has overseen and contributed to the publication of more than 120 reports covering pathbreaking research on cyber espionage, commercial spyware, Internet censorship, and human rights.
Program
Talks
Unraveling the Dark Universe presented by Professor Renée Hložek
Cosmologists spend their time putting together the puzzle pieces of the Universe. Professor Hložek will describe some of the observations used to find those puzzle pieces: from the first microwave light right after the beginning of the Big Bang to exploding stars that can be used as light beacons to map distances in the Universe. In cosmology, what the Universe is made of is connected to its eventual fate — so we can know how this story will end!
Activation and Advocacy: Using the Privilege of the Scholar to Advance Justice presented by University Professor Maydianne Andrade
For scholars whose primary research does not intersect with major societal challenges, it can be tempting to conclude that there is little to be done in response to the pressing needs of our current context. Professor Andrade will discuss the evolution of her views on activism, and how the platform and skill sets developed as an academic researcher can be leveraged to create change.
Tracking Digital Espionage at the Citizen Lab presented by Professor Ronald Deibert
This talk will explore the Citizen Lab's forensic research into targeted digital espionage against civil society. Professor Deibert will outline major cases that have received international attention and have prompted national scandals in countries such as Greece, Spain and Mexico.
Roundtable Discussion
Our three speakers gather for a roundtable discussion moderated by broadcast journalist Mary Ito to tease out points of connection between their multidisciplinary areas of study, discuss how research can address major challenges in our global society and improve the public good, and the role the University plays in all this.
What is the Connaught Fund?
Celebrating its 50th year, the Connaught Fund supports the research of U of T graduate students, early-career researchers, interdisciplinary teams, and innovators to enable them to meet the challenges facing our global society. To date, the Connaught Fund has awarded more than $178 million to researchers from a range of disciplines and a diversity of lived experiences.
FAQs
Where can I park near Convocation Hall?
There are limited parking options available near the event venue. It is highly recommended that attendees take public transit.
Will there be food served at the event?
Due to the historical nature of Convocation Hall, food and drinks are not permitted inside the venue. There are several dining options available nearby. It is recommended that attendees eat before attending this event. Guests may bring water into the Hall.
Does Convocation Hall offer accessibility seating?
The venue does offer accessibility seating options. Please email vp.research@utoronto.ca and speak to a representative upon arrival at the event to receive assistance with being seated.
Do I need to print out my ticket?
To be admitted into the venue, please show a printed copy of your ticket or a digital copy on your mobile device at the door.
Will there be filming or photography at the event?
There will be both filming and photography taking place at the event, where your image may be captured for promotional purposes. By entering Convocation Hall during this event, you consent to being filmed and photographed. There will also be signage posted at the venue indicating this.