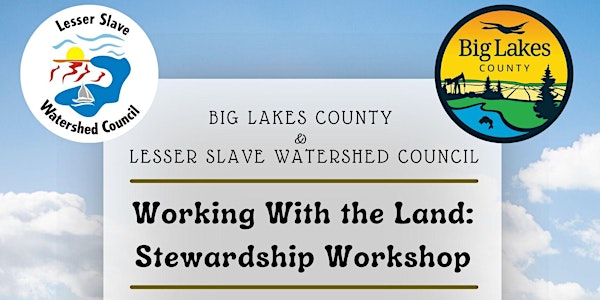 Big Lakes County Working with the Land: Stewardship Workshop
We are hosting a workshop in High Prairie with the Big Lakes County Ag. Department! Join us for a free 2 hour workshop on February 8th, 2023
By Lesser Slave Watershed Council
Date and time
Wed, Feb 8, 2023 6:00 PM - 8:00 PM MST
Location
Royal Canadian Air Cadet 539 Squadron 4721 51 Avenue High Prairie, AB T0G 1E0 Canada
About this event
Hear about beaver co-existence strategies, riparian health and fringe land management practices, and the different opportunities available to landowners in the County to help fund projects that support this type of work!
Get ideas for stewardship practices on your land, gather resources and information about the watershed, water and environmental topics, and ag resources!
Guest Speaker Kerri O'Shaughnessey from Cows and Fish!
5:30 Open House, Coffee and Registration
6pm Brief Welcome from Big Lakes County
6:15 Cows and Fish Riparian Areas
6:45 LSWC Funding Opportunities for Big Lakes County Landowners
7:15 Cows and Fish Beavers on the Landscape and Co-existence
7:35 Question and Answer
7:45 Wrap Up and Closing, Explore Resources and Networking
Event close at 8pm