Bike tour around the river // Promenade à vélo autour de la rivière
Join the Youth Water Leaders on Oct 16 for a river bike tour / Joignez-vous à nos Jeunes Leaders de l'eau le 16 octobre pour un tour de vélo
About this event
Le français suit...
Do you like nice views, fall colours or majestic skylines? Do you like being active or cycling? Do you care about the environment, climate action and water quality? Come join Ottawa Riverkeeper's Youth Water Leaders for a bike tour around the Ottawa River (Tour de l'Outaouais). This loop showcases the natural beauty of the river from many different angles. As the route circles around the Ottawa river it gives a 360 degree view of the water. Learn some of the river's history at points of interest along the path and learn about the river's inhabitants from the guides.
This bike route is good for people of all ages and abilities. The route is about 6.5km and should take about 30 minutes to cycle. The guided tour at 10:30 on October 16th will feature stops at points of interest along the route and should take another 30 minutes, bringing the total event time to 1 hour. The route is mainly on separated bike paths; there is only a small 100m section near Zibi on the Chaudière Bridge where the cycle lane ends into the road. This is the only time the route shares space with motor vehicles. This bike route is mostly flat having only 60m of elevation change. There is a steeper downhill section between the Alexandra bridge lookout and the Ottawa locks. This is where riders can get an adrenaline rush and enjoy some speed. If it floats your boat.
If you do not have a bike but still want to participate email us at youth@ottawariverkeeper.ca and we can set you up.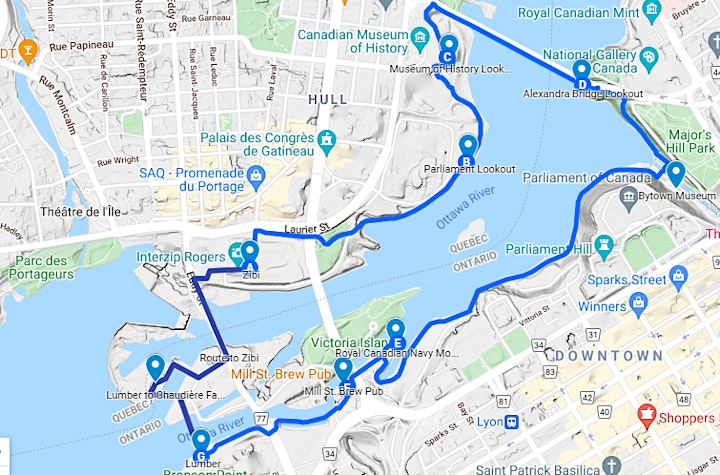 The name 'Ottawa' is derived from the Anishinàbemowin (Algonquin language) word adàwe, meaning "to trade". Historically, the Anishinabeg (Algonquin people) controlled the trade of the river and it was a primary highway through their territory. In Anishinàbemowin, the Ottawa River is known as the Kichi Sibi, which translates to the Great River or La Grande Rivière. The name Ottawa was first applied to the river, and then to the city.
It is important that we as citizens protect the river from pollution and urban encroachment. The Ottawa River Valley is home to at least 24 provincially or nationally imperilled species, including Least Bittern, Spotted Turtle, and American Ginseng. Its microclimate, sand, and limestone substrate sustain rich wetland and forest habitats that support a diversity of flora and fauna. While the region is one of the most threatened landscapes in Canada, it hosts the most biologically diverse ecosystems in Québec.
To learn more about the river and help the cause visit Ottawa Riverkeeper's website.
--------------------------------
À propos de cet événement
Vous aimez les beaux paysages, les couleurs d'automne et les points de vue à couper le souffle? Vous aimez bouger et faire du vélo? L'environnement, l'écologisme et la qualité de l'eau sont des enjeux qui vous préoccupent? Joignez-vous à nos Jeunes Leaders de l'eau lors d'une promenade à vélo autour de la rivière des Outaouais (Tour de l'Outaouais). Cette boucle met l'accent sur la beauté naturelle de la rivière vue sous de multiples angles. Le trajet circulaire vous permettra d'admirer la rivière des Outaouais à 360 degrés! De plus, les guides vous apprendront un truc ou deux sur l'histoire de la rivière en lien avec les points d'intérêt qui jalonnent le parcours et sur les animaux qui y vivent. #Rivière360 #RoulezPourLaRivière #GarderivièreDesOutaouais
Ce tour en vélo est accessible aux personnes de tous âges et de tous niveaux d'habileté. Le trajet fait approximativement 6,5 km et est d'une durée d'environ 30 minutes. Le tour guidé qui aura lieu le 16 octobre à 10h30 comprend plusieurs arrêts aux points d'intérêt qui longent le parcours et prendra environ 30 minutes de plus à parcourir, soit un total d'une heure. Le trajet est principalement composé de pistes cyclables séparées; il n'y a qu'une petite section de 100 mètres près de Zibi sur le pont de la Chaudière où la piste est intégrée à la route. Il s'agit du seul moment où vous aurez à partager la route avec les automobilistes. L'ensemble du trajet est plutôt plat, ne présentant qu'un écart d'élévation de 60 mètres. Il y a une pente descendante entre le point de vue sur le pont Alexandra et les écluses d'Ottawa. C'est à cet endroit que les cyclistes pourront avoir une petite dose d'adrénaline et prendre un peu de vitesse. Si le cœur vous en dit.
Si vous n'avez pas de vélo et que vous souhaitez quand même participer, écrivez-nous à youth@garderiviere.ca et nous trouverons une solution.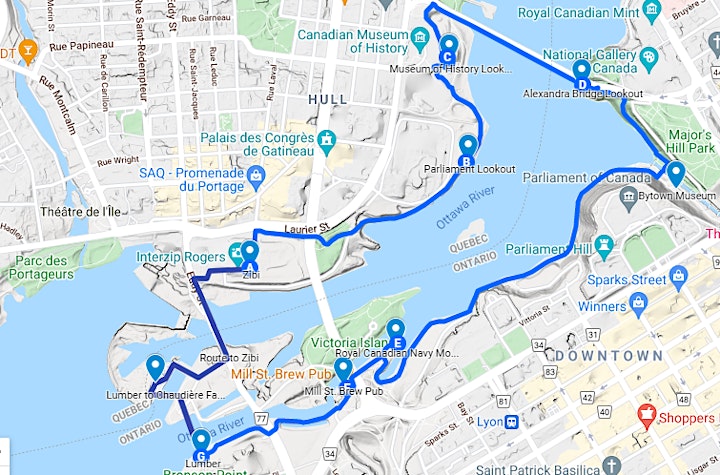 Le nom «Ottawa» provient de «adàwe», qui signifie «commercer» en anishinàbemowin (une langue algonquine). Historiquement, les Anishinabeg (un peuple algonquin) dirigeaient le commerce sur la rivière des Outaouais, une route importante sur leur territoire. En anishinàbemowin, la rivière des Outaouais est appelée «Kichi Sibi», qui veut dire «grande rivière». «Ottawa» désignait d'abord la rivière, la désignation de la ville est venue ensuite.
En tant que citoyens et citoyennes, nous avons la responsabilité de protéger la rivière de la pollution et de l'empiétement urbain. La vallée de l'Outaouais abrite au moins 24 espèces menacées aux niveaux provincial et fédéral, y compris le petit blongios, la tortue ponctuée et le ginseng américain. Son microclimat et son substrat de sable et de calcaire soutiennent des habitats forestiers et des milieux humides d'une grande richesse pour la faune et la flore. Alors que la région constitue un des territoires les plus menacés du Canada, elle accueille les écosystèmes les plus riches en biodiversité du Québec.
Pour en savoir plus sur la rivière et soutenir la cause, visitez le site web de Garde-rivière des Outaouais.
Organizer of Bike tour around the river // Promenade à vélo autour de la rivière
Ottawa Riverkeeper is a citizen-based action group that brings people together to protect and promote the ecological health and diversity of the Ottawa River and its tributaries.  Expert and independent, our organization advocates for responsible decision-making, public education, participation, access to information, and compliance with protective regulations, for the benefit of our river and our communities.
Garde-rivière des Outaouais est un groupe d'action communautaire sans but lucratif, qui rassemble l'opinion publique autour d'une cause commune, celle de protéger et de promouvoir la santé et la diversité écologiques de la rivière des Outaouais et de ses affluents. Garde-rivière des Outaouais est un organisme indépendant et reconnu pour son expertise. On préconise les prises de décisions éclairées, la sensibilisation et la participation du public, l'accès à l'information et le respect de la réglementation, dans l'intérêt de notre rivière et de nos communautés.