Description
Please note, the start point for this event has been adjusted. Due to localized flooding along the K&P Trail between McIvor Road and Sydenham Road, the Bike with the Mayor will now begin at the K&P Trail at Sydenham Road at 7:40am. The remaining route will remain as previously scheduled.
On Friday, June 7, join Mayor Paterson on his morning bike ride along the K&P trail to City Hall. The ride will begin on the K&P Trail at Sydenham Road at 7:40 a.m., pick up the Mayor in Belle Park at 8:10 a.m., and end in Market Square at 8:25 a.m. You can join the ride at any point along the way!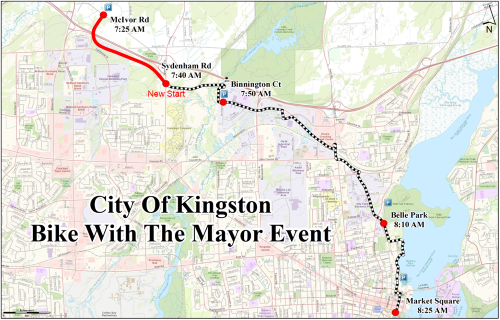 Cycle Kingston will be hosting a roll-in breakfast at Market Square at the end of the ride, as part of Cycling Week, and you can use a Bicycle Valet program in Market Square to securely store your bike anytime between 8 a.m. and 5 p.m.