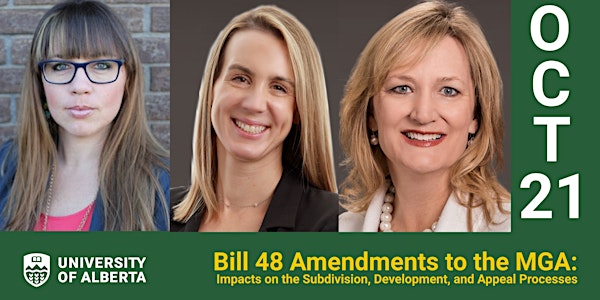 Bill 48 Amendments to the MGA: Subdivision, Development, & Appeal Processes
Register now for this online webinar with Jane Dauphinee, Nicole Maynard, and Jeneane Grundberg through the University of Alberta.
About this event
Bill 48 Amendments to the MGA: Impacts on the Subdivision, Development, and Appeal Processes
Bill 48: The Red Tape Reduction Act (2020) No. 2 changes the Municipal Government Act (MGA) in many different ways. Some of these changes result in significant impact to the MGA. Join us for a detailed discussion and analysis of the "new" MGA where we will review what the Bill 48 changes mean and explain how to navigate the newly amended provisions of the MGA and the resulting procedural changes to municipal subdivision, development, and appeal processes. We will discuss any gaps, inconsistencies, or confusion in the MGA as a result of Bill 48 and provide some practical steps and tools your municipality can incorporate into your processes and procedures to align with the new legislative scheme.
Webinar Schedule:
9:30 am–12:00 pm: Brownlee LLP presentation
12:00–1:00: Lunch Break
1:00–2:30 pm: Municipal Planning Services presentation and Q&A
Presenter Bios:
Jane Dauphinee (Municipal Planning Services) is the Principal of Municipal Planning Services (MPS), an Edmonton-based planning service provider. MPS specializes in public sector land use and community planning. Jane provides a wide range of planning services to approximately 90 rural and urban municipalities throughout Alberta. Jane's professional experience includes collaborating with communities in Alberta to develop long range plans, invigorate policy, and increase institutional capacity though community consultation programs, workshops, and education sessions. Jane's particular strengths include: facilitation, policy analysis, watershed planning, public engagement programming, and organizational capacity building. Jane is committed to sustainable community development and strives to integrate planning best practices and strategies into municipal decision-making documents to support healthy watersheds, community place-making, and economic resiliency. Jane believes that communities are at their best when local community members are engaged, policy documents are co-created with local decision-makers, and when planning reflects the unique landscapes and voices of each community.
Jeneane Grundberg (Brownlee LLP) brings unparalleled experience to her practice in the areas of municipal, planning and administrative law. With more than 120 reported decisions on multiple aspects of municipal, planning and administrative law at all levels of the Alberta Courts, Jeneane leads legal teams on complex litigation as well as policy and bylaw development. Her work has been recognized as having important precedential value, helping inform future court decisions and municipal actions; she is often a consultant to the provincial government on planning and development matters. Jeneane takes a strong client-focused approach to her practice, with clients that include municipalities, provincial departments, and subdivision and development appeal boards. "I love to advocate on behalf of my clients. It's an honour to represent them," says Jeneane, who has made more than 200 appearances in the Alberta Court of Appeal.
Nicole Maynard (Brownlee LLP) began her legal career as an articling student at Callison Zeunert Law Corporation in Fort St. John, British Columbia. After completing her articles Nicole moved to Calgary to work as In-house Counsel for the City of Calgary in the Planning & Environmental Law section of the Legal Department. During her time at the City of Calgary, Nicole gained extensive knowledge in the area of municipal planning and development law. Nicole also worked as a Municipal Prosecutor where she gained trial and advocacy skills through the prosecution of various municipal bylaw offences. Nicole came to Brownlee LLP as a Municipal Associate in early 2020. Her goal is to efficiently provide clients with practical solutions and pro-active long term strategies.
The webinar will take place via Zoom. The link will be sent out closer to the event date.
This webinar may be eligible for CPL units with the Alberta Professional Planners Institute.
Date and time
Location
Refund policy
Organizer of Bill 48 Amendments to the MGA: Subdivision, Development, & Appeal Processes