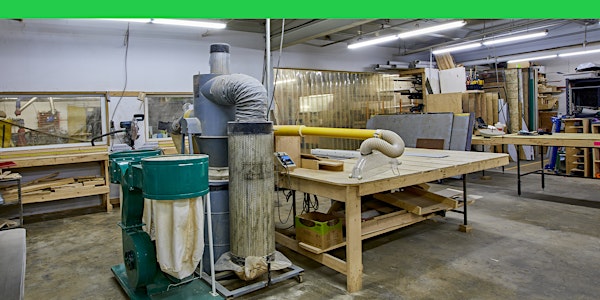 101 | WOOD: Introduction to the Workshop and to the Technique (beginners)
101 | WOOD: Introduction to the Workshop and to the Technique (beginners)
Où et quand
Endroit
LESPACEMAKER 2875 rue Hochelaga Montréal, QC H2K 1K7 Canada
Politique de remboursement
Communiquer avec l'organisateur pour demander un remboursement.
À propos de cet événement
If no announced dates are convenient for you, please contact the committee by email (bois@lespacemaker.com) to discuss new options.
-------------
101 | WOOD: Introduction to the Workshop + Introduction to Technique (beginners)
This course is designed for beginners with little or no hands-on experience with woodworking machine tools (bench saw, miter saw, band saw and drill press). This training is an introduction to the philosophy and practices of the LESPACEMAKER woodworking shop followed by a technical course on the use of the machine tools.
*** Clothing and safety accessories are mandatory for this training ***
A PORTION OF THE COURSE COVERS THE PHILOSOPHY AND MECHANICS OF USAGE OF THE COMMON WOOD WORKSHOP OF LESPACEMAKER
Theoretical and practical elements:
Health and safety in the wood shop
Saw bench
Mitre saw
Band saw
Drill press
Practical elements:
Different cuts using the machinery and tools
After the training, the participant will be empowered to:
Access to the YELLOW area of the wood shop (first during supervised periods)
Access to YELLOW tools and machinery (first during supervised periods)
Material list provided with registration:
All material is provided for the training with the exception of mandatory safety clothing and accessories (eye protection, hearing protection, covered shoes and tight fitting clothing)
__________________________________
Training Level:
Beginner
Language of training :
English
Prerequisite(s) :
None
Trainer :
Romain Deterre
Duration of the training :
5h
Mandatory clothing and safety accessories:
Closed protective shoe with steel toe cap (shoe cover with steel toe cap accepted)
Protective glasses
Ear plugs or ear muffs
DO NOT wear loose clothing, gloves, ties, scarves, rings, bracelets or other jewelry that could become entangled in the moving parts of a machine
Long hair tied back
Dust mask
Refund policy
GST: 720573286 RT 0001 / QST: 122395610 QST 00011