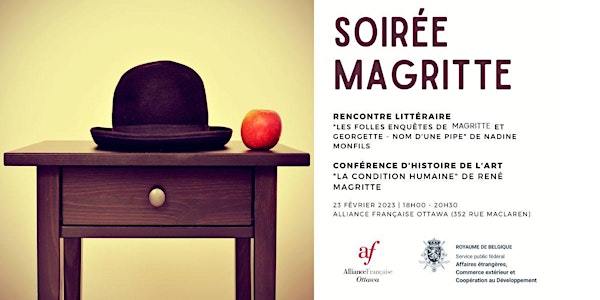 Belgian evening around the painter René Magritte
Join us on Thursday, March 23 at the Alliance Française Ottawa for an amazing Belgian evening around the painter René Magritte! This evening
Par Alliance Française Ottawa
Date et heure
jeu. 23 mars 2023 18:00 - 20:30 EDT
Endroit
Alliance Française d'Ottawa 352 MacLaren Street Ottawa, ON K2P 0M6 Canada
À propos de cet événement
Join us on Thursday, March 23 at the Alliance Française Ottawa for an amazing evening around Belgian artist René Magritte! This evening is organized in partnership with the Embassy of Belgium to celebrate Francophonie month.
At 6:00 pm, a book club will be held around the book Les Folles enquêtes de Magritte et Georgette - nom d'une pipe ! by Nadine Monflis. Follow the Belgian painter Magritte and his wife in a series of unique investigations in the heart of Brussels! The book will be introduced by the author and commented by Prof. Rainier Grutman, professor at the Department of French and the School of Translation and Interpretation of the University of Ottawa. Please find the book for purchase by following this link: https://www.leslibraires.ca/livres/les-folles-enquetes-de-magritte-et-nadine-monfils-9782221263181.html
After the book club, discover the first of a cycle of three exceptional art history conferences!
For this first conference in March, come and discover one of René Magritte's works: "The Human Condition", an oil painting created in 1933.
This conference is held by art historian Gilbert Balsamo, who will help you discover this work with pedagogy!
We will close the evening in a playful way with a quiz on the artist and your chance to leave with a Magritte gift bag!
Join us at the Alliance Française Ottawa on Thursday, March 23 at 6:00 pm!
Calendrier
6:00 PM - 9:30 PM
Belgian evening around the painter René Magritte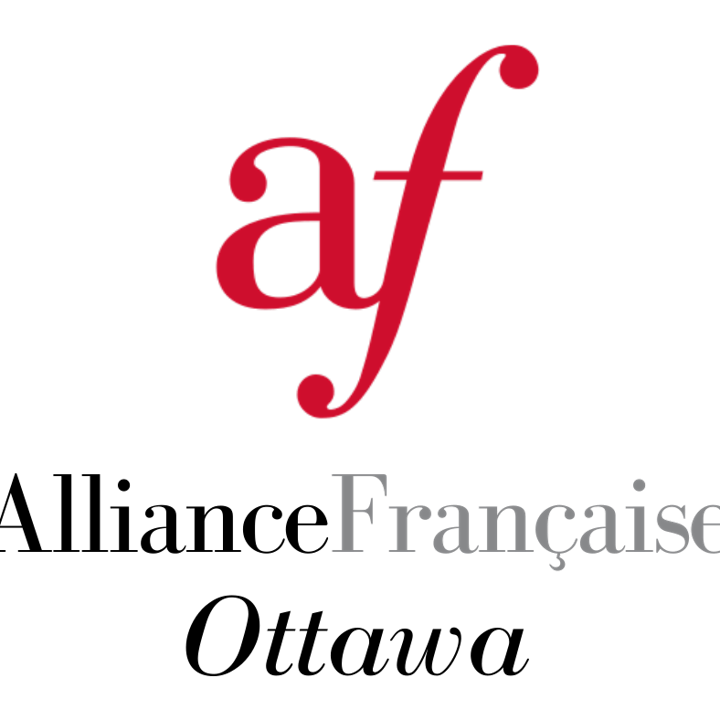 Alliance Française Ottawa
---
Join us on Thursday, March 23 at the Alliance Française Ottawa for an amazing Belgian evening around the painter René Magritte! This evening
À propos de l'organisateur