Cet événement est terminé.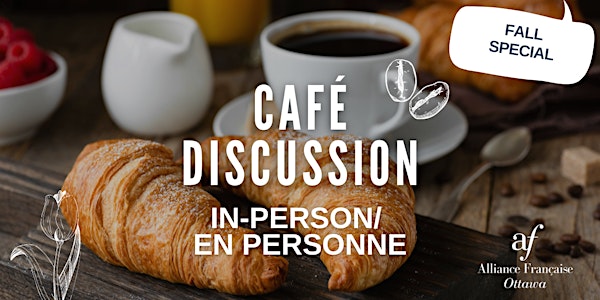 Café Discussion à l'Alliance Française Ottawa
For coffee and croissants lovers!
Où et quand
Endroit
Alliance Française d'Ottawa 352 MacLaren Street Ottawa, ON K2P 0M6 Canada
À propos de cet événement
The Alliance Française Ottawa is pleased to invite you to its premises for a meeting with its team and its community.
Share a coffee in French with us and talk about the news!
Activity animated by a French teacher.
Open to all French levels
Date : Wednesday, October 5th
Time : From 9-10am
Location : Alliance Française Ottawa, 352 Maclaren Street, Ottawa, ON K2P 0M6
Click here to register: https://bit.ly/3R51Wog
-------
L'Alliance Française Ottawa a le plaisir de vous inviter dans ses locaux pour une rencontre avec son équipe et sa communauté.
Partagez un café en français et parlez des nouvelles!
Activité animée par un.e professeur.e de français.
Ouverte à tous les niveaux de français.
Date : Le mercredi 5 octobre
Heure : de 9h00 à 10h00
Lieu : Alliance Française Ottawa, 352 rue Maclaren, Ottawa, ON K2P 0M6
Inscrivez-vous ici : https://bit.ly/3R51Wog