DyoNises Theater: mental health promotion effects of theatrical practice
Informations sur l'événement
Endroit
Consulado Geral do Brasil em Montreal
1 Westmount Square, Suite 1730
Westmount, QC H3Z 2P9
Canada
Description de l'événement
DyoNises Theater: mental health promotion effects of theatrical practice in Rio de Janeiro and Montreal [EN]
À propos de cet événement
In this presentation, Dr. Vitor Pordeus, MD will approach a comprehensive model for public mental health promotion developed in Brazil and Canada with documented evidences of the role of culture in the development, diagnosis and treatment of psychic disorders.
Vitor will demonstrate some of the fundamental ideas and practices that have been showing clinical effectiveness continuously up to today combining Images, Movies and Theatrical performance:
● What is a scientific explanation?
● How mental health and mental diseases develop according to neurobiologist Humberto Maturana and psychiatrist Carl Jung
● The medical and scientific work of Brazilian transcultural psychiatrist pioneer Dr. Nise da Silveira
● The Madness Hotel and DyoNises Theater movies with English subtitles
● Questions and Answers
Target audience: Montreal community.
Language: English.
Limited places, registration required.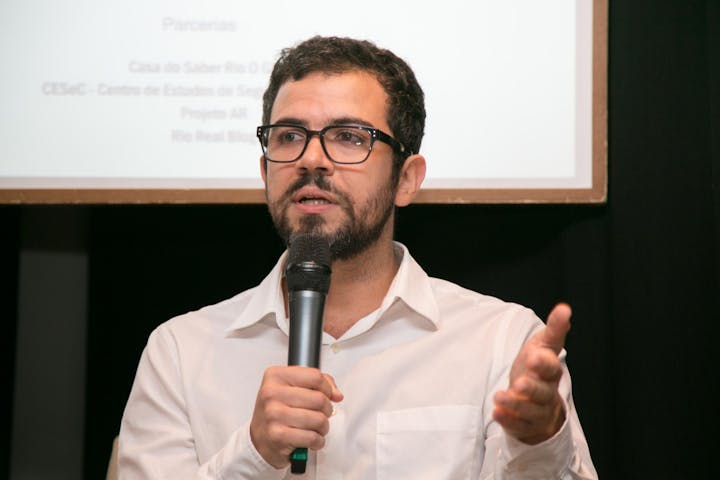 Vitor Pordeus, 39 years old, is an actor since 9 and a physician since 24. He is a transcultural community psychiatrist working in Rio de Janeiro, his homeland. He founded the Center for Culture, Science and Health at the Public Health Office, the DyoNises Theater, the Madness Hotel and Spa and the People's University for Art and Science inside the Engenho de Dentro Asylum, where the famous psychiatrist Nise da Silveira has worked. He is also a Guest Professor at McGill University Division of Transcultural Psychiatry, where he wrote the thesis "Restoring the Art of Healing in a Scientific Age", currently edited as a book being sold worldwide.
Vitor's experience as an actor and physician in the last ten years starts in the Museum of Images of the Unconscious founded by the psychiatrist Nise da Silveira in 1946, guided by the scientific principles developed by Carl Jung, with whom she worked personally. After understanding the scientific basis of Da Silveira's work, Vitor founded the DyoNises Theater in the same asylum where she worked reproducing the clinical results in severe mental illness, chronic psychotic and schizophrenic patients. This developed into the "Madness Hotel and Spa", an artistic occupation of four old and abandoned wards of the Engenho de Dentro asylum, and later into a community Theater Clinic, all this in Rio de Janeiro, Brazil.
Additional information: upac.academia.edu/vitorpordeus
Contact: contato@upac.com.br
Date et heure
Endroit
Consulado Geral do Brasil em Montreal
1 Westmount Square, Suite 1730
Westmount, QC H3Z 2P9
Canada