Cet événement est terminé.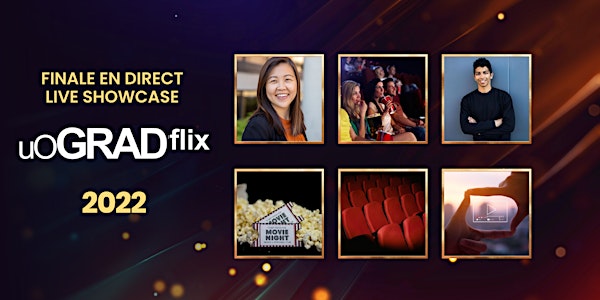 Finale en direct d'uOGRADflix | uOGRADflix Live Showcase.
Finale en direct d'uOGRADflix | uOGRADflix Live Showcase
Par Université d'Ottawa | University of Ottawa
Où et quand
Date et heure
mar. 4 oct. 2022 10:30 - 11:30 PDT
À propos de cet événement
(The English text follows. )
Finale en direct d'uOGRADflix
Vous êtes invité(e) à la deuxième édition de finale en direct du concours uOGRADflix diffusée en ligne.
Une occasion de constater la qualité de la recherche de nos étudiantes et étudiants gradués via le concours uOGRADflix où ils ont créé des vidéos de 60 secondes.
Joignez-nous pour célébrer la recherche aux études supérieures! Visionnez les vidéos originales des finalistes d'uOGRADflix et votez pour le prix du Choix du public!
Endroit : Zoom et en direct sur YouTube (le lien vous sera envoyé dans le courriel de confirmation)
Un évènement à ne pas manquer pour honorer et célébrer l'incroyable recherche faite par nos étudiants et étudiantes aux études supérieures.
Évènement ouvert au public. Invitez vos collègues et amis afin de promouvoir l'excellence en recherche de nos étudiants et étudiantes.
Au plaisir de vous voir lors de la finale en direct!
L'équipe d'uOGRADflix
___________________________________________________________
uOGRADflix Live Showcase
You are invited to the Second Edition of the uOGRADflix Competition's Live Showcase broadcast on YouTube.
A chance to appreciate the quality of the research undertaken by our graduate students via the uOGRADflix competition where the students have to create 60-second videos.
Where? Live on Zoom and YouTube (you will received the link in the confirmation e-mail)
Join us to celebrate the research conducted at the graduate level! Watch the uOGRADflix finalists' original videos and vote for the People's Choice Award!
An event you don't want to miss to honour and celebrate the amazing research done by our graduate students.
Open to public. You are welcome to invite friends and colleagues to share in this celebration.
We are looking forward to seeing you at the Live Showcase.
The uOGRADflix Team
À propos de l'organisateur