Cet événement est terminé.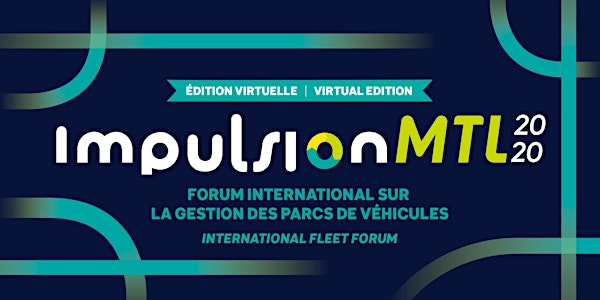 IMPULSION MTL - Forum international sur la gestion des parcs de véhicules
Édition virtuelle - Forum international sur la gestion des parcs de véhicules
Politique de remboursement
Pas de remboursement
À propos de cet événement
L'ÉDITION VIRTUELLE D'IMPULSION MTL SE POURSUIT LE 8 DÉCEMBRE PROCHAIN!
Dans le contexte d'une mobilité redéfinie en constante évolution, la gestion d'un parc de véhicules comporte des défis de taille.
En raison de la pandémie de la COVID-19, l'édition 2020 du Forum international sur la gestion des parcs de véhicules IMPULSION MTL se déclinera en une série de 5 activités virtuelles organisées entre les mois d'octobre 2020 et d'avril 2021, qui serviront d'introduction à l'édition IMPULSION MTL 2021.
Cette 2e édition réunira professionnels et fournisseurs autour d'un objectif commun : actualiser les parcs de véhicules grâce aux nouvelles technologies et solutions disponibles sur le marché afin de répondre aux exigences environnementales, sociales, opérationnelles et règlementaires. 
Nous privilégions donc des activités virtuelles telles que des conférences, webinaires, panels, séances et rencontres de maillage, des entrevues en direct et ateliers collaboratifs qui permettront aux participants de découvrir des produits, services québécois et politiques conformes à la Vision Zéro pour des parcs de véhicules à faibles émissions, sans collision et plus performants.
RETROUVEZ-NOUS LES :
27 octobre 2020 (lancement officiel - passé)
8 décembre 2020
26 janvier 2021
16 mars 2021
27 avril 2021
Consultez la programmation ici!
------------------------------------
VIRTUAL EDITION OF IMPULSION MTL CONTINUES ON DECEMBER 8TH!
In a world where mobility is constantly evolving, managing a fleet of vehicles presents significant challenges. 
Because of the new reality of the pandemic COVID-19, the 2020 edition of the IMPULSION MTL International Fleet Forum will be delivered as a series of 5 activities set to take place between October 2020 and April 2021, all leading up to the 2021 edition of IMPULSION MTL.
The 2020 Forum will bring professionals and suppliers together around a common objective: upgrading fleets with new technologies and solutions to meet environmental, social, operational, and regulatory requirements.
We are moving towards online activities including talks, webinars, panels, BtoB and networking sessions, live interviews and collaborative workshops to introduce participants to products, services, and policies that are consistent with Vision Zero for low-emission, collision-free, high performance fleets.
JOIN US ON :
October 27th, 2020 (launch - passed)
December 8th, 2020
January 26th, 2021
March 16th, 2021
April 27th, 2021
Click here to check the program!