Cet événement est terminé.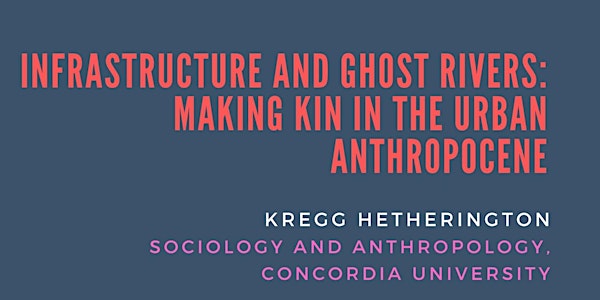 Infrastructure and Ghost Rivers: Making Kin in the Urban Anthropocene
CONFERENCE. Kregg Hetherington, Anthropologie/Anthropologie, Université Concordia University
À propos de cet événement
Information urbain.anthropocene@uottawa.ca
The conference will be held in English followed by a bilingual (French/English) Q&A.
À noter que la conférence sera donnée en anglais suivie d'une période bilingue (français/anglais) d'échanges et questions.
(English below)
Introduction
Dans le cadre du séminaire "Approches urbaines et anthropocène", la Chaire conjointe de recherche UOttawa-ULyon sur l'urbain anthropocène et l'École urbaine de Lyon ont le plaisir de vous convier à la conférence de Kregg Hetherington Infrastructure and Ghost Rivers: Making Kin in the Urban Anthropocene.
Résumé
En novembre de cette année, la Ville de Montréal commencera à travailler pour recouvrir un ruisseau de 200 mètres, le dernier écoulement d'eau naturel important dans les limites de la ville. Depuis des années, un groupe de militants locaux se bat devant les tribunaux contre l'enfouissement du ruisseau, mais la Ville a obtenu gain de cause en affirmant qu'après des années de négligence et quelques manigances dans l'infrastructure de plomberie locale, l'odeur du ruisseau est devenue insupportable et qu'il doit suivre le chemin de toutes les rivières urbaines avant lui, dans un tuyau de béton. En luttant contre cette situation, les militants ont subi une sorte d'inversion des infrastructures, prenant conscience non seulement des infrastructures submergées mais aussi des fondements environnementaux, juridiques et historiques de la plomberie urbaine. Ce faisant, ils ont déterré un fantôme : un affluent du Saint-Laurent disparu depuis longtemps, connu sous le nom de rivière St-Pierre. En suivant leur expérience et celle d'autres chasseurs de fantômes, cet article réfléchit à la manière dont les entités habitent le paysage urbain et au rôle que ces entités pourraient avoir dans une réimagination anthropocénique de la vie urbaine.
Biographie
Le Dr Kregg Hetherington est un anthropologue politique spécialisé dans l'environnement, les infrastructures et l'État bureaucratique. Il est directeur du Concordia Ethnography Lab et directeur du programme d'études supérieures au Département de sociologie et d'anthropologie.
Le travail ethnographique à long terme de Kregg au Paraguay raconte comment les petits agriculteurs pris dans une transition agraire radicale ont vécu la transition de ce pays vers la démocratie, montrant comment les militants créent de nouvelles façons de penser et de pratiquer le gouvernement. Son premier livre, Guerrilla Auditors, est une ethnographie des luttes pour la terre au Paraguay et de la façon dont la pensée rurale sur la propriété et l'information entre en conflit avec les projets de réforme bureaucratique promus par des experts internationaux. Le deuxième livre, The Government of Beans, raconte l'histoire de la montée et de la chute d'une expérience gouvernementale progressiste en matière de réglementation environnementale qui a tenté de changer la relation entre le gouvernement, les plantes, les gens et le territoire.
Au Concordia Ethnography Lab, Kregg dirige un projet collaboratif appelé Emergent Waters qui vise à comprendre la relation changeante de Montréal avec l'eau en tant que caractéristique déterminante de son environnement et de ses infrastructures. Dans ce cadre, il dirige également une grande équipe interdisciplinaire de chercheurs qui étudient des projets pilotes d'infrastructure bleu-vert autour de Montréal. Il est actuellement à la recherche d'étudiants diplômés intéressés à faire partie de cette équipe de recherche.
____________
Introduction
As part of the "Urban and Anthropocene Approaches" seminar, the UOttawa-ULyon Joint Research Chair on the Urban Anthropocene and l'École urbaine de Lyon are pleased to invite you to Kregg Hetherington's conference, Infrastructure and Ghost Rivers: Making Kin in the Urban Anthropocene.
Abstract
In November of this year, the city of Montreal will begin working to cover up a 200-metre creek, the last significant natural water flow within the boundaries of the city. A group of local activists have been fighting the creek's burial in court for years, but the city won its argument that after years of neglect, and some shenanigans in local plumbing infrastructure, the creek's smell has become unbearable, and that it must go the way of all urban rivers before it, into a concrete pipe. As activists fought this, they underwent a kind of infrastructural inversion, becoming aware not only of submerged infrastructure but also the environmental, legal and historical underpinnings of urban plumbing. In so doing they unearthed a ghost: a long-lost tributary of the St Laurence known as the St-Pierre River. Following their experience and that of other ghost hunters, this paper reflects on how entities inhabit the urban landscape, and the role that such entities might have in a Anthropocenic reimagining of urban life.
Biography
Dr. Kregg Hetherington is a political anthropologist specialized in environment, infrastructure and the bureaucratic state. He is director of the Concordia Ethnography Lab and Graduate Program Director in the Department of Sociology and Anthropology.
Kregg's long-term ethnographic work in Paraguay chronicles how small farmers caught in a sweeping agrarian transition have experienced that country's halting transition to democracy, showing how activists create new ways of thinking and practising government. His first book, Guerrilla Auditors, is an ethnography land struggles in Paraguay, and of how rural thinking about property and information come into conflict with bureaucratic reform projects promoted by international experts. The second book, The Government of Beans, tells the story of the rise and fall of a progressive government experiment in environmental regulation that attempted to change the relationship between government, plants, people and territory.
At the Concordia Ethnography Lab, Kregg runs a collaborative project called Emergent Waters which aims to understand Montreal's changing relationship with water as a defining feature of its environment and infrastructure. As part of this he also leads a large interdisciplinary team of researchers looking at blue-green infrastructure pilot projects around Montreal. He is currently looking for graduate students who are interested in becoming part of this research team.