Cet événement est terminé.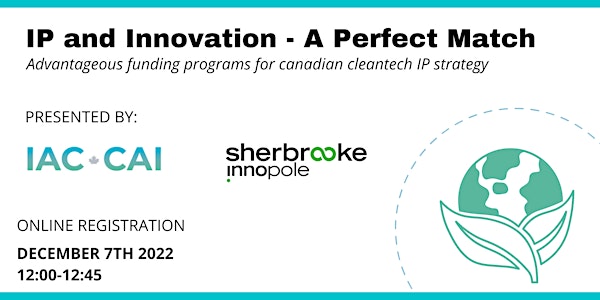 IP and Innovation - A Perfect Match
Discover advantageous funding programs for canadian cleantech IP strategy
À propos de cet événement
Avez-vous une stratégie pour augmenter la valeur de votre PME basée sur la propriété intellectuelle?
Joignez-vous à Sherbrooke Innopole et le Collectif d'Actifs en Innovation (CAI) pour une séance d'information sur comment maximiser votre stratégie de PI le 7 décembre 2022, à midi.
En tant que PME dans le secteur des technologies propres, votre capacité à générer des revenus et à contrôler le marché peut être dérivée de votre propriété d'actifs de propriété intellectuelle, ce qui protège votre avantage concurrentiel et votre contrôle des données. Le CAI a été sélectionné par le ministère de l'Innovation, des Sciences et du Développement économique (ISDE) du gouvernement fédéral pour aider les entreprises du secteur des technologies propres axées concernant leurs besoins en PI.
Ce webinaire d'environ 45 minutes vous permettra d'en apprendre plus sur l'offre de service et les programmes de subvention de CAI qui peuvent directement aider votre entreprise à augmenter ses revenus et sa valeur.
La présentation sera en anglais et les diapositives seront en français, afin de nous assurer d'un maximum d'accessibilité. De plus, la période de questions se déroulera également dans les deux langues, mais principalement en anglais.
__________________________________________________________________________________________________________________________
Are you looking for ways to maximize the value of your cleantech company using IP Strategy?
Join Sherbrooke Innopole and Innovation Asset Collective (IAC) on December 7th 2022, at 12:00 PM for a virtual session on IP strategy.
IAC is an independent, membership based not-for-profit selected by the Canadian Government's Department of Innovation, Science and Economic Development (ISED) to assist Canadian small and medium-sized enterprises (SMEs) in the data driven cleantech sector with their IP needs. They are a key pillar in Canada's IP Strategy and the first program that considers the broader relevant IP needs for companies.
This 45 minutes long virtual session will cover IAC's role into helping your company developing, evolving and implementing your IP strategy and it will cover the different funding programs available to help your cleantech company to leverage and increase its value.
The presentation will be held in English and the slides will be in French, to ensure maximum accessibility. In addition, the Q&A session will also be held in both languages, although mainly in English.