Political Culture and Defence Procurement in Canada
Informations sur l'événement
Endroit
ENAP - Gatineau (Université du Québec en Outaouais)
283 Boul. Alexandre-Taché
Room F0129
Gatineau, Québec J8X 3X7
Canada
Description de l'événement
Description
Political Culture and Defence Procurement in Canada
---
9 December 2016 (*conference organized in partnership with the Defence Engagement Program, Department of National Defence, Canada)
9h30–16h15
Followed by a reception and book launch: Charlie Foxtrot : Fixing Defence Procurement in Canada, by Professor Kim Richard Nossal (16h30–18h00)
Synopsis and Programme:
Defence procurement in Canada has been marked by major failures that have occurred over time and under different governments. A number of major programs have been suspended, and then revived, or canceled outright as a result of cost overruns, delivery delays, lack of funding, or because technical requirements were not being met. Because these failures have an inevitable impact on capability, defence procurement has become more than ever one of the key issues of Canadian defence policy.
Some experts believe that in order to resolve these recurring problems, there must be a major overhaul in the structure, operation and practices of the supply system. The way that Canada acquires defence systems is not only unique. It is also highly inefficient, creating serious deficiencies in accountability. However, in recent years, several countries have undertaken reforms of their defence procurement system, with overall mixed results.
Other observers argue that the problems in procurement come from the chronic lack of resources, both budgetary and human, that have been devoted to the Department of National Defence and the Canadian Armed Forces. Although it can be argued that Canada invests little in this area (currently less than 1% of its GDP), the lack of resources alone does not explain the problems of implementation and policy management of defence procurement.
For some, the problem lies with the political and non-military objectives that are usually linked to defence procurement programs. In other words, defence policy becomes an issue of public policy. The long-standing policy of requiring Industrial and Technological Benefits (ITBs) offsets without any long-term vision is often considered contradictory or ineffective, and leads to policy failure.
This workshop examines another possibility: that it is the political environment in Canada — the political culture and the political leadership that results — that is the crux of the problem, linking the broader system, the resources, and the politics of defence procurement.
To date, little attention has been paid to the political culture that animates the environment of defence procurement in Canada. What are the elements that drive the culture of defence procurement? What are their effects? Does the cultural argument provide a better explanation for understanding the real causes of failures of major defence procurement programs in Canada than the other explanations?
The conference will be followed by a reception and book launch:
Charlie Foxtrot : Fixing Defence Procurement in Canada
By Professor Kim Richard NOSSAL, Queen's University
(16h30–18h00)
La culture politique et l'approvisionnement de la défense au Canada
Political Culture and Defence Procurement in Canada
Programme
Mots de bienvenue/Welcoming Remarks (9h30)
Stéphane ROUSSEL, CIRRICQ, École nationale d'administration publique

Kim Richard NOSSAL, Queen's University
Panel 1 (9h45-11h30): État de la situation / Current state of the situation
Présidente : Andrea Lane, Dalhousie University
David HAGLUND, Queen's University: "The Tina Turner Version (or, What's Culture Got to Do With It?)"

Srdjan VUCETIC, University of Ottawa: "The Nation of Feminist Arms Dealers?"

Jean-Christophe BOUCHER, MacEwan University: "

You can't buy Happiness. Military Procurement in Canada"

Jeff COLLINS, Carelton University: "What's Working and What's Not: A Short Survey of Defence Procurement in Canada"
Pause santé / Health Break (11h30-11h45)
Panel 2 (11h45-13h15): Expériences politiques / Political Experiences
Présidente: Stephanie CARVIN, Carleton University
Steve SAIDEMAN, Carleton University: "Canada's Parliament: Part of the Procurement Problem"

Athanasios HRISTOULAS, Instituto Tecnologico Autonomo de Mexico (ITAM): "The Struggle to Modernize Civil-Military Relations in Mexico"

Samir BATTISS, Université du Québec à Montréal: "European Experience"
Déjeuner/Lunch (13h15-14h40)
Panel 3 (14h45-16h15): Études de cas / Case Studies
Président : Mathieu LANDRIAULT, University of Ottawa, CIRRICQ
Philippe DUMAS, École nationale d'administration publique: "Analyse des échecs et politiques des grands programmes de la Défense"

Andrea LANE, Dalhousie University: "

Culture clash: The RCN and the continued failure of naval procurement in Canada"

Stephanie CARVIN, Carleton University: "Canadian UAV Procurement"
16h30-18h00: Lancement de livre et réception | Book Launch & reception
Charlie Foxtrot : Fixing Defence Procurement in Canada
Par/by Kim Richard Nossal, Professor, Queen's University
Introduction / Foreword: Ferry DE KERCKHOVE, University of Ottawa

Présentation / Presentation: Professor Kim Richard NOSSAL, auteur/author, Queen's University

Appréciation / appreciation: Stéphane ROUSSEL, professeur/professor (ENAP), Directeur/Director, CIRRICQ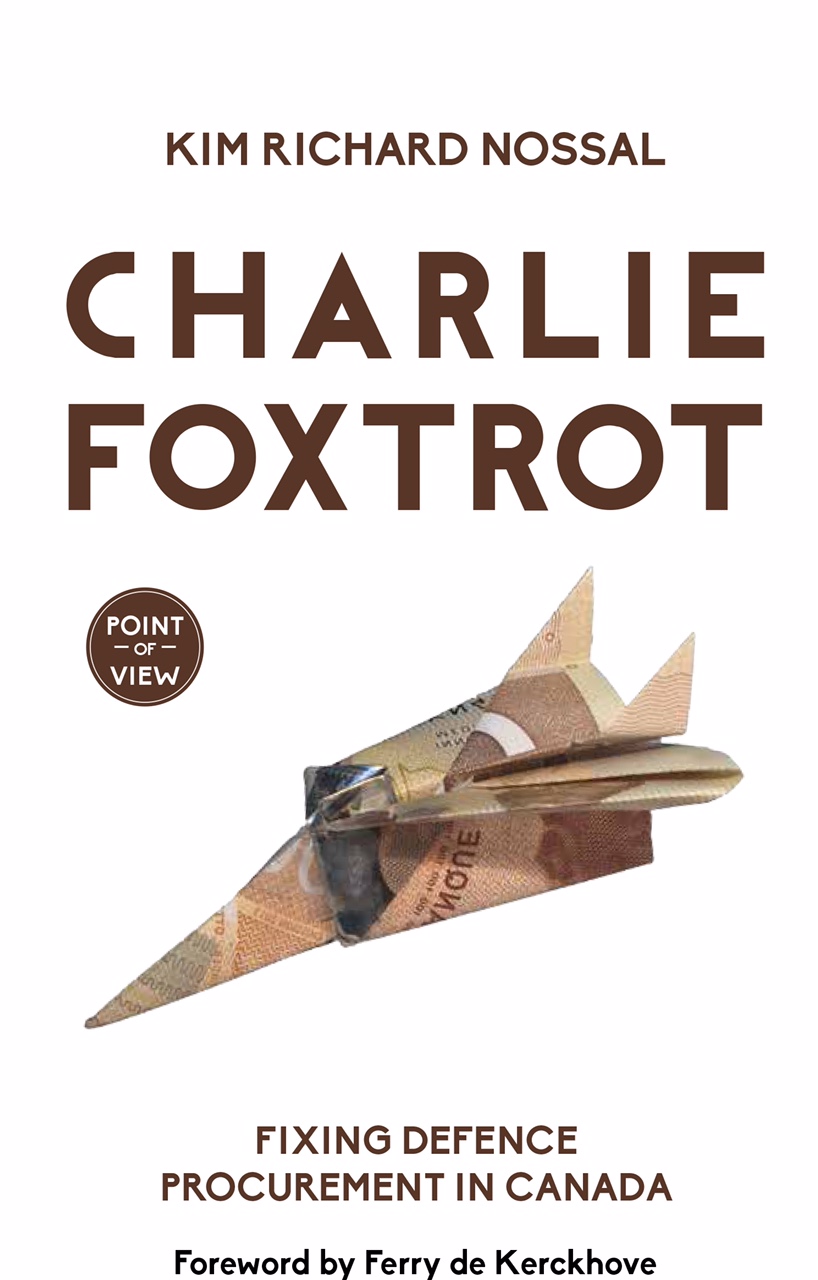 Date et heure
Endroit
ENAP - Gatineau (Université du Québec en Outaouais)
283 Boul. Alexandre-Taché
Room F0129
Gatineau, Québec J8X 3X7
Canada