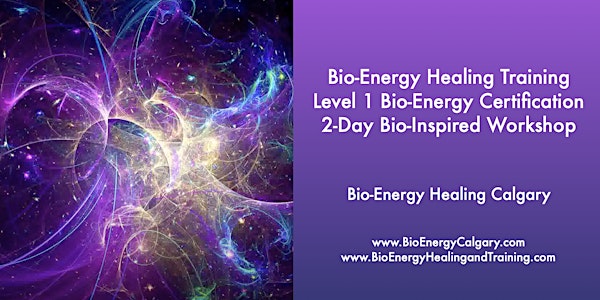 Bio-Energy Healing - Level 1 Certification
Awaken the Healer Within YOU and Learn how to effectively heal yourself and those you love. Healing is the greatest gift you can give.
By Bio-Energy Healing Calgary
When and where
Date and time
Sat, Mar 4, 2023 9:00 AM - Sun, Mar 5, 2023 5:00 PM MST
Location
NE Calgary - Provided at Registration Calgary NE Calgary, AB T3K 4Z1 Canada
Refund Policy
Contact the organizer to request a refund.
Eventbrite's fee is nonrefundable.
About this event
Step into your innate wisdom, discover how powerful you are and experience your body's incredible capacity to heal.
Have you being guided or called to 'Awaken the Healer' within to heal yourself or others?
Have you had enough of the pain, stress, anxiety, depression or low energy and it's impact on your health, your life, your career, your relationships or your finances?
Have you become concerned about side effects of long term use of meds?
Would you like to take back your power over your health and vitality?
The good news is that we offer an incredible solution.
Level 1 Bio-Energy Healing training empowers you and provides effective tools and techniques to get your energy flowing so that your body can restore your health and vitality. This training is a DEEP transformational journey of healing, empowering you to go deeper into your own healing journey or on the path to become an International Certified Bio-Energy Healing Practitioner. In this two-day training, you will learn:
To awaken the healer within and use this ancient healing technology that has been recognized for thousands of years.
How your health is affected by blocked energy and how you can actively direct the flow of life force energy.
The 12 foundational Bio-Energy Healing techniques that will empower you to increase the flow of energy and accelerate your body's healing ability and reclaim your health.
How to heal yourself and embark on a deep transformational healing journey.
How to eliminate pain and heal your partner, family, friends and even pets - it's an incredible gift to offer your loved ones.
Understand the power of thoughts, words and intentions.
How to come face to face with what stands in your way and move beyond these limitations.
Experience both giving and receiving a Bio-Energy Healing session and receive step-by-step coaching to learn and apply the easy, yet powerful and effective techniques.
And receive a training manual with detailed technique instruction and exercises designed to increase the flow of energy.
IMAGINE … being able to take back control of your health and those you love, such as your family, friends and even pets, after this Level 1 training!
Note: Level 1 is a prerequisite for the Level 2 Certified International Practitioner training.
Register today.
Dates:  Feb 4 & 5, 2023 (Sat & Sun 9 am - 5 pm)
Workshop Tuition: $682.50 (includes GST)
Venue: NE Calgary - address provided to registered participants
What to Bring: Notebook, pen, water bottle, light lunch and snack. Dress comfortably and in layers.
Upon successful completion of the training, you will receive a Level 1 Bio-Energy Healing Training Certificate.
Bonus: Register for Level 2 within 30 days of completing Level 1 (in person or online) and we will discount your Level 1 tuition from the Level 2 tuition!
Contact information: Facebook: Bio-Energy Healing Calgary - Maria Maksymytz
What people say about 'Bio-Inspired' Bio-Energy Healing Training with Maria Maksymytz
"The training was AMAZING! It validated my own experiences with energy and sparked my desire to learn and do more. I was inspired by feeling the energy and the amazing connection created within the group. The techniques taught were simple and easy to understand and followed a path to expand upon at each step. I also liked that we had the opportunity to give and to receive a treatment session as part of the class. AMAZING. Thank you! ~ Ria, Banff
"I was inspired by how I was able to feel the energy on the first day - it was amazing! The training inspired me to pursue my dreams and create all that I want in my life! The techniques were very clearly demonstrated and easy to learn. I loved being able to tap into the energy, and to have the ability and knowledge on how to heal myself and others. It was a great training weekend." ~Jeanne S., Calgary
"I was inspired by the power of our thoughts, the simplicity of the techniques and by Maria as the Trainer. The course is very interesting and very useful." ~ Lin T., Calgary
"I could feel the energy ... and felt my own energy shifting. It opened my mind to how powerful we are ... it's inspirational, transformational and life-changing. Thank you Maria." ~ Isabelle, Kelowna
"This course is life-changing! I was inspired by how much power our thoughts and words have, that what I focus on expands, and learning the techniques, feeling and seeing the energy! WOW!" ~ Amber B., Calgary
"I loved everything, including getting out of my own head and letting old belief patterns go. I achieved great results on the first session! WOW! I found Maria to be very informative, engaging and patient. She really took the time to go through the steps and techniques. I also appreciated that she moved me out of my own comfort zone and to believe that I too can do the energy work. And for this I am truly grateful. Thank you!" ~ DD, Calgary
"Thank you so much for the training and helping me become a certified practitioner!!!!! You are a great instructor." Debra, Calgary
"Maria provided an amazing experience and helped me to gain a very good understanding of the healing techniques … and a new found love for healing with energy." Doris R., Edmonton
'When the student is ready, the teacher appears … and opens the door to an incredible path of energy healing. I'm excited to heal myself, my partner, family and friends. We are powerful beyond anything I'd ever imagined ... and healing is an amazing gift to give myself and those I love! Thank you so much!" Dawn R., USA
About Maria Maksymytz - Advanced Certified Bio-Energy Healing Practitioner and Level 1 & Level 2 Bio-Energy Healing Trainer
Maria is a Certified Bio-Energy Healing Practitioner and Certified Bio-Energy Healing Trainer since 2013. Over the years, Bio-Energy Healing Calgary and Maria Maksymytz have been featured on CTV News Calgary and as an Holistic Health Expert/Speaker at the Calgary Health Show, The Body Soul Spirit Expo, The New Earth Expo, Calgary Lifestyle and Recreation Show and News for the Soul Radio. Bio-Energy Healing has also been featured on Oprah Network (OWN) on 'Remedy Me', W. Network, FirstTalk JoyTV, Shaw TV, and numerous media in Canada, Ireland and the UK.
Maria also has an extensive education including a Commerce/Business degree, a Masters in Business (MBA) degree and is currently working towards a PhD in Metaphysics. Maria spent several years on a deep spiritual guest. Maria is also certified at advanced practitioner and trainer levels in many different healing modalities, and is also a Certified Life Coach, NLP Master Transformational Coach and Speaker at events, conferences and retreats.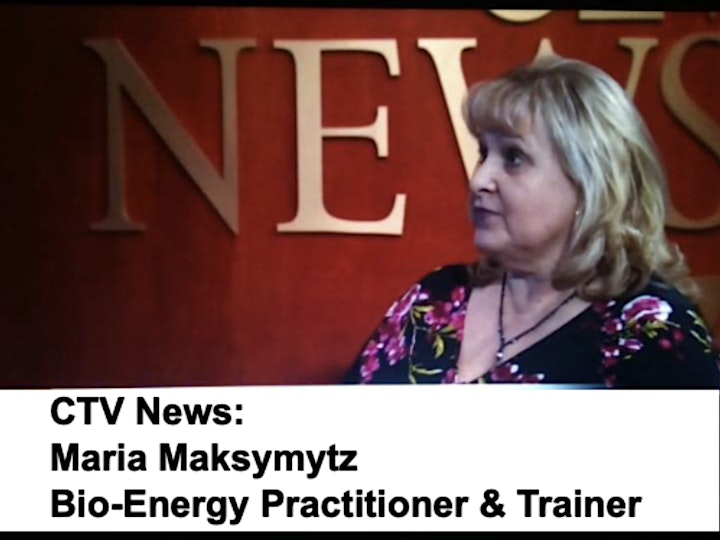 About the organizer
Maria Maksymytz and Bio-Energy Healing Calgary have been featured as a Holistic Health Expert & Speaker on CTV News, Calgary Health Show, Body Soul Spirit Expo, New Earth Expo, Calgary Lifestyle & Recreation and News for the Soul Radio. Bio-Energy Healing has also been featured on Oprah Network on 'Remedy Me', W. Network, FirstTalk JoyTV, Shaw TV and numerous media throughout Europe and Canada. 
Email: BioEnergyHealingCalgary@gmail.com   www.BioEnergyHealingCalgary.com