Biodiversity Health and Green Infrastructure in a Changing Climate
Description
How can green infrastructure in Metro Vancouver play a role in protecting biodiversity as climate change and land use alter habitats and force species to migrate?

SFU-ACT is planning a series of three workshops as part of a year-long project exploring the co-benefits of ecosystem-based adaptation for biodiversity. The workshops will bring together practitioners, municipal and First Nations government representatives, academics, and NGOs to share learnings, identify key challenges, and uncover collaborative opportunities.

Workshop #1 (November 23rd, 2018): Biodiversity in Metro Vancouver and the Pacific Northwest in a Changing Climate
At this first event, we will hear from experts on the primary threats to biodiversity in Metro Vancouver based on climate change and urban growth projections, followed by facilitated discussion and activities to clarify challenges and frame potential opportunities for ACT's research.

Presenters:
Laura Coristine, UBC Okanagan: Landscape Connectivity and Biodiversity Health in a Changing Climate
Mike Coulthard, Diamond Head Consulting: The City of Surrey's Biodiversity Strategy and Adapting Municipalities for Biodiversity Health
Pamela Zevit, South Coast Conservation Program: Holistic Habitat Restoration for Species and Ecosystems at Risk

Workshop #2 (late January, 2019): Connections Between Biodiversity Health and Green Infrastructure in Metro Vancouver
The focus of this workshop will be opportunities and barriers for implementation of existing and emerging tools and mechanisms designed to incentivize installation of biodiversity-led green infrastructure. Presenters to be confirmed.

Workshop #3 (mid-March, 2019): Implementing Biodiversity-Friendly Green Infrastructure
A culmination of learning from workshops 1 and 2, this event will focus on groundtruthing findings and engaging audiences on calls to action and collaboration. Presenters to be confirmed.
More information on the project:
A global biodiversity crisis is accelerating as land use, resource extraction and climate change rapidly transform, destroy, create, and shift habitats and species, which are migrating northwards and upwards as the climate warms. Meanwhile, green infrastructure is emerging as a cost-effective urban planning response to climate change adaptation and extreme weather such as flooding and heatwaves. Few municipalities currently connect green infrastructure planning with biodiversity survival, and models mapping species migration in a changing climate represent urban and developed areas as dead zones, yet with strategic planning urban areas have the capacity to support biodiversity health and survival. What measures can be taken to prioritize biodiversity-friendly green infrastructure in Metro Vancouver as the climate changes and pressure on habitats and species increases?
Funders:
ACT thanks the Bullitt Foundation and the Real Estate Foundation of BC for their support for this project.
Contact Information:
Dan Straker, Research Assistant, ACT; Masters Student, School of Resource & Environmental Management, Faculty of Environment, SFU
dstraker@sfu.ca
Agenda:
12:30 – 1:00: Registration and Networking Lunch
1:00 – 1:30: Introduction and Project Overview
1:30 – 2:30: Presenters and Panel Discussion
2:30 – 2:45 Break
2:45 – 3:45 Beakout session
3:45 – 4:00 Wrap up and Next Workshop
Getting to Wosk
Where:
SFU Wosk Centre
Room 320 (third floor)
580 W Hastings St, Vancouver, BC V6B 5K3
(enter off Seymour Street)
Parking: Diamond parkade is relatively cheap for downtown parking right across from Wosk Centre at 443 Seymour St, Vancouver, BC V6B 3K3
Transit: Wosk centre is very close to Granville and Waterfront Skytrain station and multiple bus routes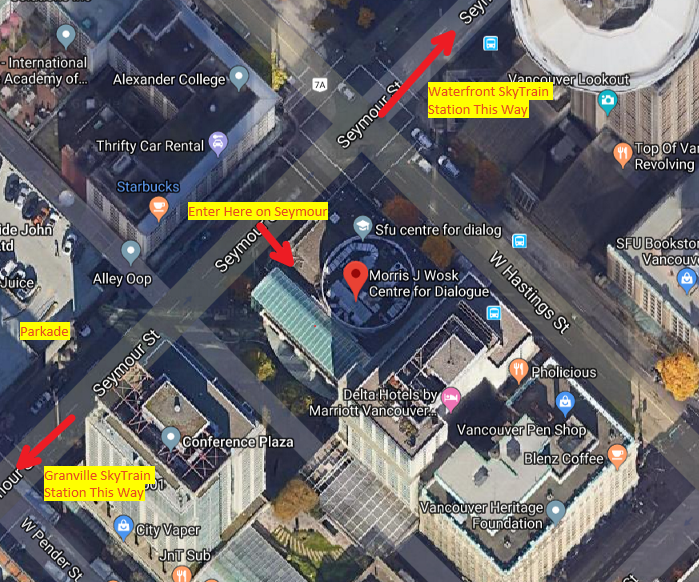 Organizer of Biodiversity Health and Green Infrastructure in a Changing Climate
ACT brings leading experts from around the world together with industry, community, and government decision-makers to explore the risks posed by top-of-mind climate change issues and identify opportunities for sustainable adaptation.
We are:
The only university-based think tank initiative in North America dedicated to climate change adaptation
Involved in adaptation in Canada and internationally through academic, corporate and community events, networks and affiliations
A publisher of research reports identifying policy opportunities and resources designed to bridge from theory to action in support of sustainable adaptation
A clearing house for Canadian and international adaptation and climate change information
Climate change is here, bringing unprecedented challenges, but also new opportunities. It is vital that we equip decision-makers with resources that will assist industry, governments, and communities to adapt to the impacts. SFU has formed ACT in response to this need.
ACT studies nine top-of-mind climate change areas (Biodiversity, Extreme Weather, Energy, Water Security, Crops & Food Supply, Sea Level Rise, Health Risks, Population Displacement, and New Technologies) and considers ways to protect environmental, economic and social well being throughout its five-year program.
Working in conjunction with leading experts supported by the expertise of SFU researchers and faculty, ACT studies the problems posed as well as potential solutions, and identifies policy opportunities while developing adaptation resources.
ACT's advisers include experts such as leading environmental economist Dr. Nancy Olewiler, former provincial Deputy Minister of Sustainable Resource Management Jon O'Riordan, and adaptation science expert Dr. Stewart Cohen. ACT's findings have stimulated new policymaking and research as well as widespread public interest — the program has received national media attention including presence in Canadian Businessmagazine.
ACT is a unique combination of research, education, outreach and policy innovation designed to benefit the Canadian economy, its decision-makers and communities.
Climate change is the challenge of a lifetime – it's time to ACT!