Description
Join us on Saturday January 20 and Sunday January 21, 2018 for BioLinc's Improving your Pitch weekend.
This weekend will focus on helping participants improve their presentation skills when pitching their business idea. There will also be seminars and a mentorship component to the weekend.
Saturday January 20, 2018
Time: 9:00am - 4:00pm
Location: Brock University, Cairns 207
On Saturday January 20, participants will start the day off with a seminar on "Self-Mastery" and in the afternoon, will each have 3 minutes to pitch their business idea. Mentors will be in attendance for the pitches and after the pitches are complete, participants will have the opportunity to meet with mentors 1-on-1 through a 'speed-dating' event and will receive feedback and advice on their pitch.
Sunday January 21, 2018
Time: 9:00am - 3:30pm
Location: Brock University, Cairns 207
On Sunday January 21, participants will have a seminar in the morning on Entrepreneurial Readiness with the St. Catharines Enterprise Centre, followed by a entrepreneur spotlight talk where an entrepreneur will be speaking about pitching to investors. In the afternoon participants will pitch their business idea again (3 minutes each) improving their pitches based on the feedback they received yesterday. A prize will be awarded to the participant that shows the most improvement.
This event is part of BioLinc's Kick-Starting Entrepreneurship Program and is open for young entrepreneurs between the ages of 18-29 to attend.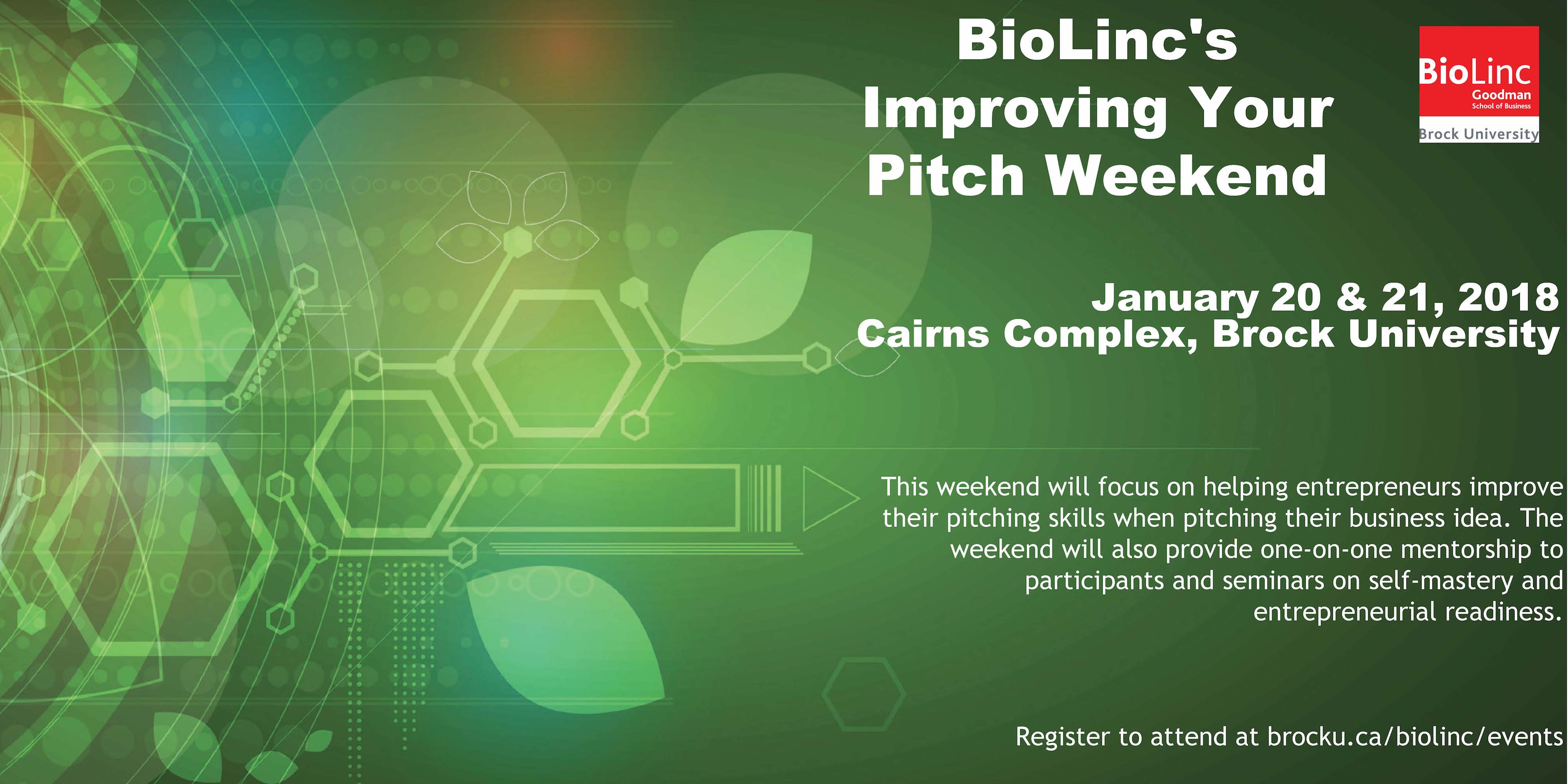 As a member of your startup community, you agree to be inclusive of any and all people and their ideas. You agree to act professionally, treat everyone with respect, and treat the event facilities with proper care. You agree that you are responsible for any accidents or damages that you cause. You also agree to not hold the Improve Your Pitch Weekend organizers, your local volunteer team, or any of the event supporters liable for any loss, damage, injury, or any other unforeseeable incident.
By Participating at the event, you grant the event organizers permission to capture photo/video of the event.