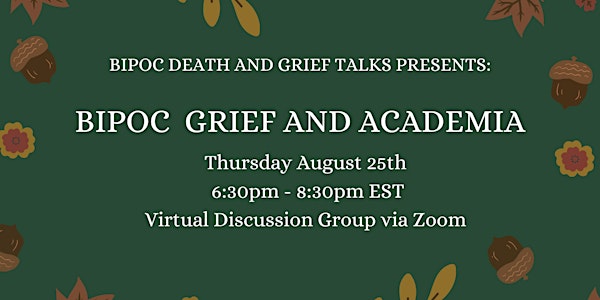 BIPOC GRIEF AND ACADEMIA
Supportive discussion group for racialized folks who have experienced hardships, discrimination and oppression in academic settings.
About this event
*This group is specifically for racialized/POC/BIPOC folks.
For many of us, we have encountered many barriers to obtaining education. Most education systems are ableist, colonial, racist and designed for us to fail. For many of us who are immigrants, racialized, disabled etc. we feel like we're not good enough. We question our worth and we question who we are as people. This is a form of loss, this is grief. This talk will be for anyone who has ever felt like they did not belong in academic settings, for people who experienced trauma, sadness and loss of self through the various education systems that exist. This talk is not only geared towards folks who have obtained post-secondary education, our definition of academia can be anything related to obtaining or not obtaining education - this includes primary/secondary school, alternative education systems and anything in between (even ancestral knowledge). We strive to make our groups as accessible as possible. If you require specific accommodations please feel free to contact us. We work from a disability justice lens and do not believe in forcing people to participate. You are welcome to simply sit and listen.