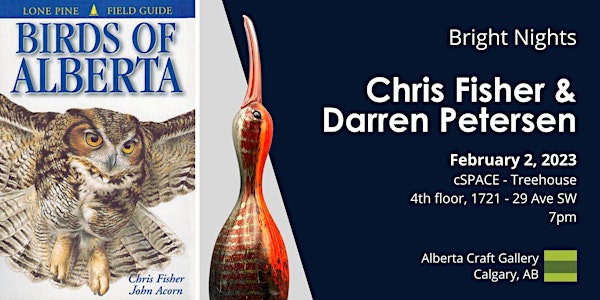 Birds: A Prescription for Happiness with Chris Fisher & Darren Petersen
Join "Birds in Alberta" author Chris Fisher, and glass artist Darren Petersen for an evening of avian themed discussion and visit Albirda
Date and time
Thursday, February 2 · 7 - 9:30pm MST
Location
Alberta Craft Gallery at cSPACE - Marda Loop 4th floor, 1721 29 Avenue Southwest Calgary, AB T2T 6T7 Canada
Refund Policy
Contact the organizer to request a refund.
Eventbrite's fee is nonrefundable.
About this event
Alberta Craft Council's presents Bright Nights; Go looking for our birds and quite often you end up healing yourself.
Join "Birds of Alberta" author Chris Fisher as he celebrates our province's most loved birds. Their diverse beauty and ecological persistence provides Albertans with a vital, extra sense of wonder and meaning during these recent challenging times. Birds are our most accessible and authentic ties to the Natural world - and Alberta's birds have never been as meaningful and valued part of our lives. In this presentation, we will explore the many ways that birds and nature provide meaning and well bring to our lives and the science behind their good vibes.
Using his inspiration from birds and nature, glassblower Darren Petersen talks about how his creative practice is informed and will show us beautiful examples of this translation.
After the talk, there will be time to explore the Alberta Craft Council's exhibition 'Albirda: Put a Bird on it'
The presenters:
Chris Fisher (MSc, PBiol) is perhaps best known as the author of a series books including "Birds of Alberta" - one of the most successful made-in-Alberta books in publishing history. He is regarded as one of our leading influencer for all things Nature and is a frequent voice in Alberta media on wildlife and conservation stories. He has written and hosted documentary and TV series and travelled to all seven continents guiding adventure seekers to explore wildlife and natural environments. Currently, through his company he consults on all types of development projects to insure that we move forward as a society without bringing harm to the values of the natural world.
Chris was raised in Lethbridge with a love for wild Alberta. No matter where he has lived or travelled, his heart stirs where the grasses dance in the wind and meadowlarks sing.
Darren J Petersen is one of Canada's leading hot glass artists. He received his formal training in glass at the Alberta College of Art + Design in Calgary in 1992 and Pilchuck Glass School in Seattle, Washington. Glassmaking starts with raw molten materials and an idea, from there you physically make something. "I think that creativity is something which virtually everyone has a capacity for. Being creative is not just a career choice; it is a way of life and a constant exploration of self."
Darren is also a proud regionalist. He grew up in Alberta, "close to the land and wild things", and feels this landscape has a very strong influence on the objects he creates. He is an avid outdoorsman, spending summers fly fishing, photographing and wading along foothills and prairie rivers.
About the organizer
The Alberta Craft Council is the Provincial Arts Service Organization that develops, promotes, and advocates for fine craft in Alberta.