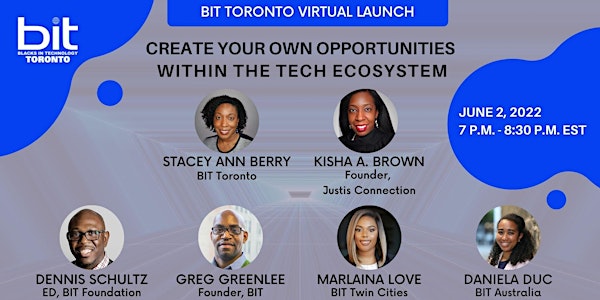 BIT Toronto Launch: Create Your Own Opportunities in the Tech Ecosystem
Sales Have Ended
Registrations are closed
Sales for this event have ended, but be sure to check out our other upcoming events.
Join BIT Toronto for their chapter launch on June 2! The event theme is "Create Your Own Opportunities Within the Tech Ecosystem"
About this event
Are you a creative, an entrepreneur, an academic, a public policy professional or a lawyer interested in the Tech Industry?
If the answer is Yes, then join BIT Toronto for its virtual launch event "Create your own opportunities in the Tech ecosystem" on June 2 at 7pm EST for a discussion about the diverse career opportunities in Tech ecosystem.
The Tech industry is in fact not exclusive to S.T.E.M professionals, there is room for everyone to contribute, especially given the fact that there is a high demand for people with diverse skills and background.
During the event, you will have the chance to:
Meet the Directors and Committee Members of BIT Toronto
Hear from our special guest Speaker @Kisha Brown, Founder and CEO of Justis Connection
Participate in a fireside chat with:
@Dennis Schultz, ED @BIT Foundation
@Greg Greenlee, Founder of BIT
Marlaina Love Chapter President @BIT Twin Cities
Daniela Duc @BIT Australia
This will be a great opportunity to network and connect with black professionals from various industries!
Register now via the link below: seats are limited!
Êtes-vous un créatif, un entrepreneur, un universitaire, un professionnel des politiques publiques ou un avocat intéressé par la technologie ?
Si la réponse est Oui, rejoignez BIT Toronto pour son événement de lancement virtuel intitulé « Créer votre propre opportunité dans l'écosystème des Nouvelles Technologies » le 2 juin à 19 h HE pour une discussion sur les diverses opportunités de carrière dans l'écosystème des technologies
L'industrie des technologies n'est pas seulement réservée aux professionnels des S.T.I.M : tout le monde peut apporter sa contribution, sachant qu'il y a une forte demande pour les professionnels ayant des compétences et des parcours divers et variés.
Lors de cet événement, vous allez pouvoir :
Rencontrer les administrateurs et les membres du comité de BIT Toronto.
Écoutez notre conférencière et invitée spéciale @Kisha Brown, fondatrice et PDG de Justis Connection
Participer à une discussion informelle avec :
@Dennis Schultz, ED @BIT Foundation
@Greg Greenlee, fondateur de BIT
Marlaina Love Chapter President @BIT Twin Cities
Daniela Duc @BIT Australie
Ce sera également une excellente occasion pour réseauter et entrer en contact avec des professionnels noirs de divers secteurs d'activité.
Inscrivez-vous dès maintenant via le lien ci-dessous : les places sont limitée