Description
Bitcoin & Ethereum are taking the world by storm and this will be our most epic event yet! Seating will be limited to those who register in advance, please don't miss out. On August 14th, we'll have many of the smartest people in crypto speaking here in Toronto about some of the hottest topics in the space.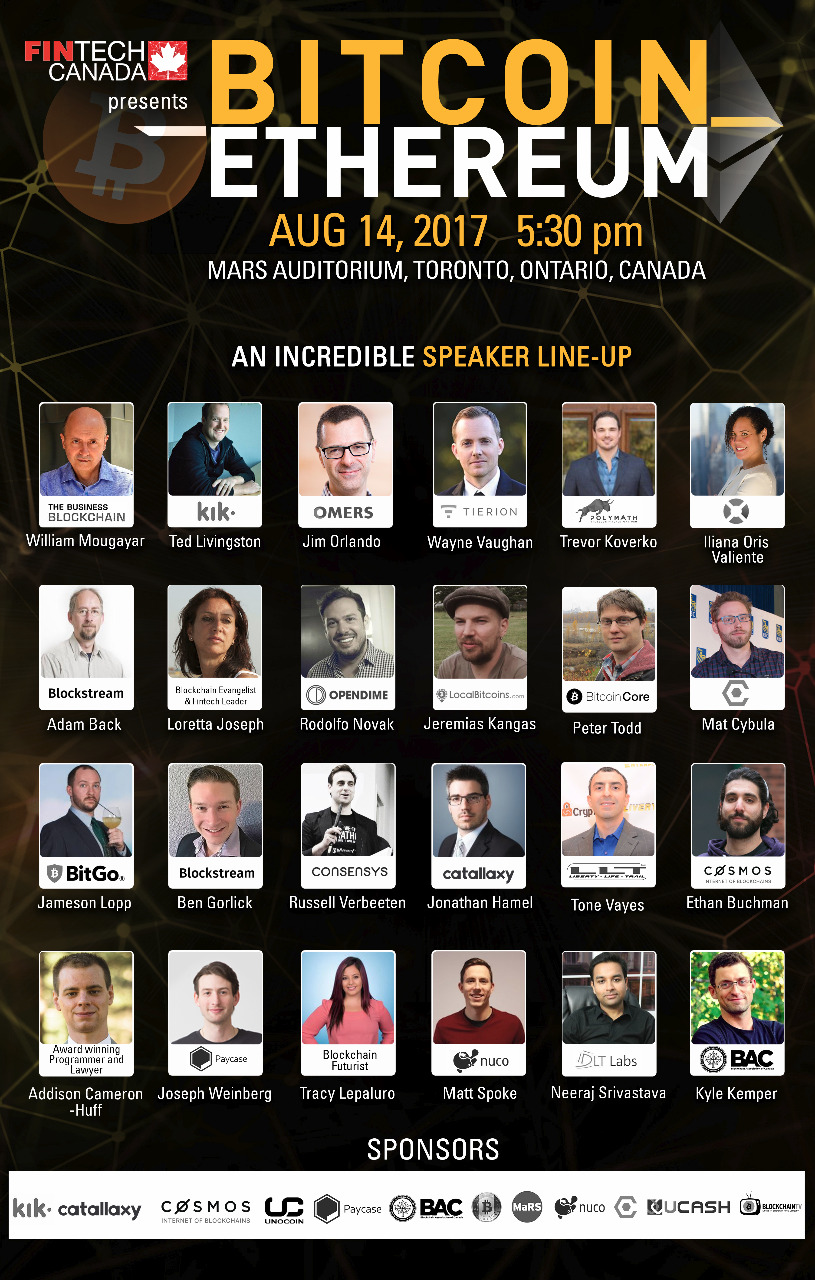 AGENDA:
5:30 - 6:00pm
Networking, Food and Beverages
6:00 - 6:15pm
Keynote: Jonathan Hamel, Co-founder of Catallaxy
Description: Catallaxy is preparing companies for their blockchain transformation. Services offered combine the technical expertise of the best blockchain talent and strategic consulting power of Raymond Chabot Grant Thornton. With more than 15 Montreal-based experts and close to 50 strategic partners around the world, Catallaxy supports companies and institutions with their blockchain transition.
6:15 - 6:45pm
Panel #1: Bitcoin & Ethereum
Jeremias Kangas: Founder of LocalBitcoins
Diego Gutierrez Zaldivar: CEO & Co-founder at RSK Labs
Tone Vays: Derivatives Trader & Consultant in Finance, Blockchain & Bitcoin
Anthony Diiorio: CEO & Founder at Jaxx & Decentral, Founder @ Ethereum

Russell Verbeeten: Operations & Product at ConsenSys
Tracy Leparulo (Moderator): Blockchain Futurist
Description: This panel will begin by having blockchain experts first define both bitcoin and ethereum. The discussion will then focus on some of the major advantages and disadvantages of each platform.
6:45 - 7:15pm
Panel #2: Blockchain for Private Enterprise
Ethan Buchman: CTO at Tendermint, Cosmos
Neeraj Srivastava: Chief Architect at DLT Labs, Formerly R3, Head of Technology, Canada
Loretta Joseph: Blockchain Evangelist & Fintech Leader, Australia
Wayne Vaughan: CEO of Tierion, Advisor to Blockchain Capital

Henry Chan: Product Manager at WeiFund and Director at ConsenSys
Iliana Oris Valiente (Moderator): ColliderX, Applied Blockchain R&D Hub
Description: Large companies from all over the world are now beginning to explore ways of leveraging private blockchains for enterprise. We'll be exploring this arena of opportunity with some of the leading thinkers in the space.
7:15 - 7:45pm
Fireside Chat: Ted Livingston, CEO of Kik and William Mougayar, The Business Blockchain, Producer of Token Summit
Description: In May, Kik announced its plans to create Kin, a cryptocurrency as a first step to launching a decentralized ecosystem of digital services. Kik founder and CEO Ted Livingston will be in town to share more on the project, specifically with the Toronto crypto community. For more information on Kin and to download the whitepaper, please go to kin.kik.com. Ted Livingston is the founder and CEO of Kik, a popular chat platform. Founded in 2009, Kik is headquartered in Waterloo, Ontario, and has raised $120.5 million from investors including Tencent and Union Square Ventures. Ted maintains an active interest in the University of Waterloo's Velocity Fund, a startup accelerator he conceived of and first funded. He was also named one of Fast Company's Most Creative People In Business in 2017. William Mougayar, one of the most influential and prominent figures in the blockchain and ICO movement, and author of the best-seller The Business Blockchain (translated in 8 languages), will join us to moderate the session with Ted Livingston, with a conversation centered around Kik's upcoming token offering.
7:45 - 8:15pm
Panel #3: Scaling Open Blockchains to Billions
Peter Todd: Bitcoin Core
Rodolfo Novak: CEO at OpenDime & Coinkite
Adam Back: CEO & Co-founder at Blockstream
Jameson Lopp: Software Engineer, BitGo

Johnny Dilley: Product Architect at Blockstream
Joseph Weinberg (Moderator): CEO of Paycase
Description: Scaling open blockchains like bitcoin have been at the forefront of the public discussion for quite some time. We'll be spending time with leaders in the space to explore the complexities of scaling open blockchains to billions of people.
8:15 - 8:45pm:
Panel #4: Venture Capitalism & ICOs (Initial Coin Offering)
Jim Orlando: Managing Director of OMERS Ventures
Matt Spoke: CEO of Nuco
Addison Cameron-Huff: Tech Lawyer for Blockchain Startups
Trevor Koverko: Cofounder of Polymath & Investor in ShapeShift
Mat Cybula: CEO of Cryptiv

Kyle Kemper (Moderator): Blockchain Alliance of Canada
Description: We'll be contrasting the benefits and drawbacks of traditional venture capitalism with ICOs (initial coin offerings) or token sales powered by the blockchain. Our panelists offer a diverse range of views on the topic and will help us to understand the dynamics of blockchain based fundraising.
8:45 - 9:30pm:
Networking
What is bitcoin?
Bitcoin is the world's first, open source, decentralized digital currency and payment network. Bitcoin is a form of digital currency, created and held electronically. No one controls it. Bitcoins aren't printed, like dollars or euros – they're produced by people, and increasingly businesses, running computers all around the world, using software that solves mathematical problems.
What is ethereum?
Ethereum's core innovation, the Ethereum Virtual Machine (EVM) is a Turing complete software that runs on the Ethereum network. It enables anyone to run any program, regardless of the programming language given enough time and memory. The Ethereum Virtual Machine makes the process of creating blockchain applications much easier and efficient than ever before. Instead of having to build an entirely original blockchain for each new application, Ethereum enables the development of potentially thousands of different applications all on one platform.
To buy a ticket with bitcoin or ether, please send an email to: tickets@fintechcan.ca
This event is sponsored by Tendermint, Kik, Catallaxy, Blockchain Alliance of Canada, Blockchain TV, Nuco, Cryptiv, U.Cash, Paycase and Unocoin. Food and beverages will be served at 5:30pm. If you are interested in becoming a sponsor or looking for a company group discount for the upcoming event, please contact one of the organizers.
See you soon,
Team FinTech Canada
*seating is limited for this event and tickets are being sold in advance.
Organizer of Bitcoin & Ethereum Summit!