Description
Difficulty: Suitable for beginners
Cost: $149, lunch included
Mac reservations available with $10 additional charge



Learn the most popular UX Design tool
What is UX design? What does it mean to make 'user-centered' design decisions? This immersive 1-day workshop will teach you the fundamentals of UX design and one of the most used UX design tools, Sketch, through interactive lectures and a hands-on project. Get a taste of what it's like to learn full-time at Bitmaker.
Who's this workshop for?
This is an introductory workshop for beginners who have limited design experience. If you're a design ethusiast, manager, creative entrepreneur, or you're just curious about the modern design process, this bootcamp is for you. Whether you're new to design thinking or want to pick up Sketch, this is a great place to start.
Here are some common questions this workshop will answer for attendees:
What's the difference between 'design' and 'UX design'?

How should my company approach design?

Does what I know about design apply to modern, on-screen design?

Is this something I want to learn more about?
What do I need to know or bring?

At Bitmaker, we believe you can learn tech skills best by going hands-on. You don't need to have any prior knowledge of UX design, but you will need to bring a laptop. We'll be using Sketch and InVision during this workshop.
Sketch requires a Mac computer with OS X 10.10 (or later), but we can make accommodations for a limited number of attendees without Macs. There is a specific ticket available if you need to reserve an iMac.
Workshop schedule
Sunday (10am to 5pm)
Establish core knowledge of the UX process. We'll go hands-on with wireframing and visual design in Sketch before taking our designs into InVision to create an interactive prototype. Lunch and snacks will be provided.

What is UX design? Setting the stage for our project.
Intro to Sketch and Wireframing (hands-on)
Intro to high-fidelity design (hands-on)
Customizing your design (hands-on)
Intro to prototyping with InVision (hands-on)
Demos and Q&A


Meet your instructor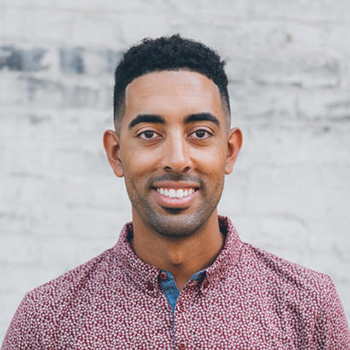 Dakoda is an instructor for Bitmaker's full-time UX & Product Design course. When he was small, he tucked-and-rolled out of a moving car. He studied product and automotive design and has since shifted gears into the digital realm. He's led the design of products millions of people use daily as a UX Designer for Opera Software ASA.
By registering for this event you agree to join to the Bitmaker community e-mail list.
We respect your inbox and you have full control over your subscription settings.
Refund Policy: Let us know a week before the event and we'll refund your ticket
---
Accessibility Info:
Entrance is off King Street West, and has a short flight of stairs with railings on each side. Doors are not motorized/automatic.
The building has an elevator with a 34-inch wide doorway. The doorways to each floor are 35 inches wide.
Washrooms are available on each floor and are gendered. There are two narrow stalls in the women's washroom, and one stall and urinal in the each of the men's.
Our classroom tables on the third floor are readily moveable, whereas the table arrangement on the second floor is more fixed.
Please let us know how we can accommodate you within the confines of our space.