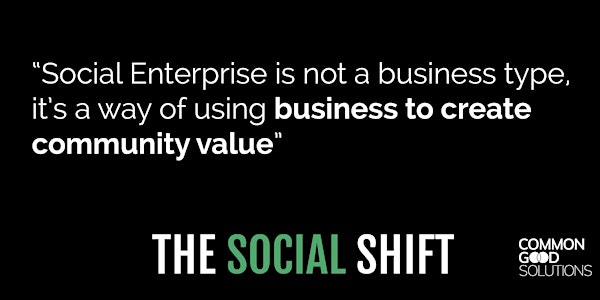 BizConnections SOUTH: Business for the Common Good - The Social Shift Film Screening
When and where
Location
Patricia A. Whelan Performance Hall Calgary Central Library 800 - 3 Street SE Calgary, AB T2G 2E7 Canada
Description
Join us at the Calgary Central Library as we partner with BDC to shake things up by bringing you the hilarious, informative and heartfelt journey of The Social Shift - A Documentary on Business For the Common Good.
After driving 8,500 kilometres across Canada interviewing over 50 people in 14 cities, 9 provinces in 6 weeks,
Travel with us as we drive across the nation, floating on a geographic canvas of consumption and inequity, kindness and generosity and, most of all, a drive for change. We will share the stories of fired-up citizens adding a different type of value to the world through business: social value. Value that is not only economic, but improving people's lives and bettering society; that builds communities, protects the environment, supports local and employs people of all abilities; a type of value that lives up to the responsibilities that our world and future rely on. Hilarious, informative and heartfelt, this is a journey that will leave viewers inspired, engaged and ready to contribute to making the world a more inclusive and sustainable place for all.
Conversation following the film will feature:
Wendy Muise, Business Advisor, Business Link

Philip Lozano, THRIVE Community Economic Development Coordinator, THRIVE Calgary

Monique Pelletier, Account Manager, BDC

Jay Baydala, Founder and CEO, Goodpin

James Boettcher, Chief Idea Officer & CEO, Fiasco Gelato
Please check back for other experts to join the conversation.

To learn more about the film or to watch the trailer, please visit The Social Shift.
We can't wait to shake things up with you!
This event is brought to you by Business Link, Alberta's Entrepreneurial Hub, with support from BDC, the only bank exclusively devoted to entrepreneurs.
Location: Calgary Central Library
Cost: Free
Join us to create invaluable connections.