Join us at The Revue for BLACK BELT CINEMA's inaugural theatrical screening on Dec 3rd!
About this event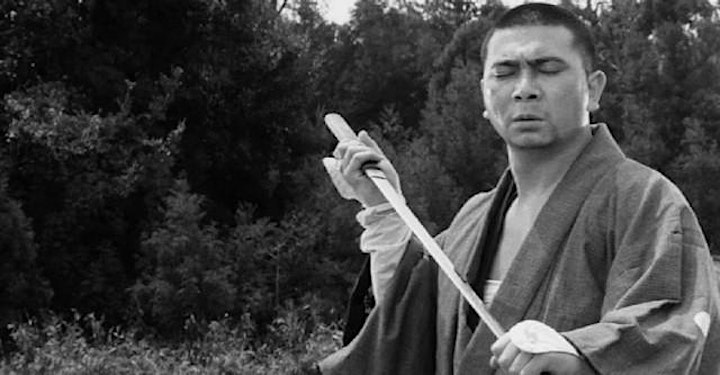 The epic saga of Zatoichi begins. As tensions mount between rival yakuza clans, one boss hires a formidable but ailing ronin as his clan's muscle—while the other employs a humble, blind masseur named Ichi who also happens to be a lightning-fast swordsman with a strict code of honour. Directed by Kenji Misumi (LONE WOLF AND CUB) and starring the charismatic Shintaro Katsu, this first chapter—beautifully restored in HD by Criterion—sets the stage for Japan's longest-running action series and most iconic screen hero.
ABOUT THE FILM
THE TALES OF ZATOICHI
Japan, 1962, 96 mins, NR
Director: Kenji Misumi
Cast: Shintaro Katso, Ryūzō Shimada
ABOUT BLACK BELT CINEMA
Black Belt Cinema is a DIY outdoor/mobile cinema and screening series. Live scores, DJs, sketch comedy and more are just a few of the things you might experience at a BBC screening. Initially conceived as a series of outdoor pop-up screenings during the pandemic—taking place everywhere from parking lots, beaches and backyards—the saga now continues at Revue Cinema.
ABOUT THE CURATOR
The One they call Brangelis is an underground film projammer, Toronto-based-bassist (YAMANTAKA // Sonic Titan), shirt designer (FATAL STASIS), Asian cult film fanatic, plus waiter (MENGRAI THAI).
As part of the provincial government's vaccine certificate program, which was announced in September, everyone will be required to show that they received both doses of an approved COVID-19 vaccine at least 14 days earlier in order to enter the cinema for this event.
Everyone must bring either their paper vaccine receipt or PDF vaccine receipt available online, along with photo ID to prove that they have been fully immunized.
Regular admission applies. For INDIVIDUAL MEMBERSHIPS ($350) and FAMILY MEMBERSHIPS, please email us at info@revuecinema.ca to get a ticket!
Organizer of Black Belt Cinema: THE TALE OF ZATOICHI (1962)
The recently renovated Revue Cinema is Toronto's premier not-for-profit community cinema. We offer great second-run Hollywood fare, insightful programming like our Silent Revue series — where classics from the silent era are accompanied on live piano — Food in Film, Designing the Movies, annual galas, retrospectives & numerous other community offerings. The Revue opened in 1912, making it the oldest operating cinema in Toronto. Support us by becoming a member & enjoy great perks throughout the entire year!