Black & Bliss Wellness Arts Series: GETTING STONED! with the Notorious CDG
Learn how gemstones can heal, promote financial wellness, and align your chakras!
About this Event
OUR BLACK & BLISS WELLNESS ARTS SERIES
The Clemmons Family Farm is pleased to launch "BLACK & BLISS"- a wellness art series. This free series is offered on Zoom exclusively for Black Vermonters in November and December 2020.
"BLACK & BLISS" features 10 amazing wellness artists who are members of the Vermont African-American/African Diaspora Artists Network. Our collaborating artists will help participants find creativity, connection, wellness and healing.
To honor our collective need for safety and trust, none of the BLACK & BLISS sessions will be recorded.
For more information about the entire series, please visit http://bit.ly/CFFBliss
ABOUT OUR SESSION
This is a wellness session all about gemstones, their powers and healing benefits. Our session leader CDG will lead participants in a meditation session to tune their chakras, self-assess, breathe, and affirm. He will then focus on gemstones that dispel negative energy, help cope with grief and depression, and promote financial wellness. Bring your own stones to share and ask questions! After this discussion, the session will close with a communal affirmation.
-- ALL AGES WELCOMED --
Bring These With You to the Zoom Session
Tea (optional)
Water
A gemstone (if you have one) to share
ABOUT OUR SESSION LEADER, THE NOTORIUS CDG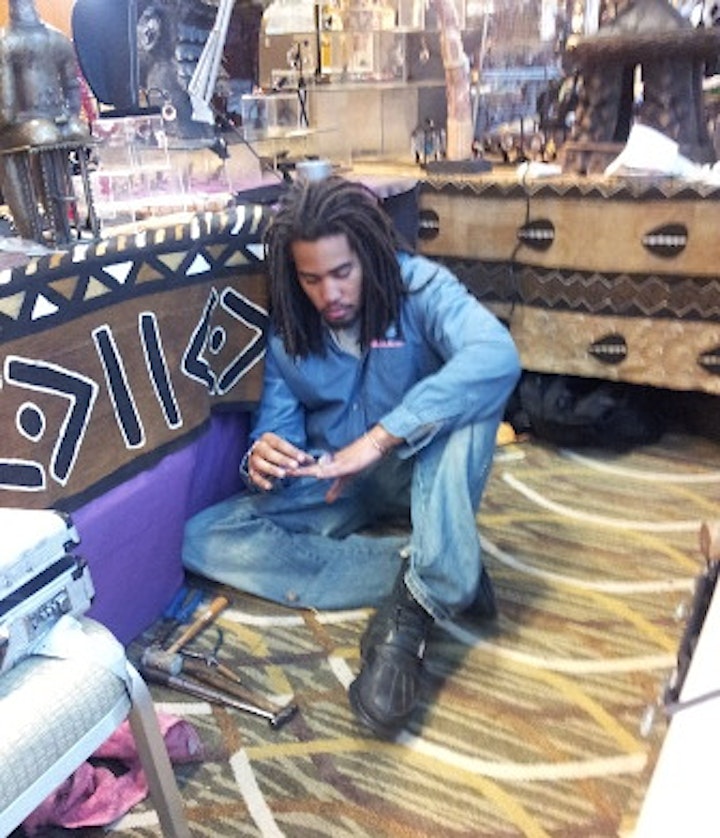 CDG is a jeweler whose creations began with upcycling materials such as cork, wood, rocks, and string and transformed into creating beautiful accessories with the ancient technology of solid metals and precious stones.
Using a style he coins as "Rhythm Wrapping" , CDG's creations are hand-forged, polished, and charged under the moonlight to align one's chakras, mind, body, and SouL. They originally began as a fusion of spoken word and paintings created to pay tribute to the ancestors and their teachings.
CDG learned his craft over several years under the tutelage of master craftsmen. "Each piece tells a story through rhythm, so I create jewelry to be worn as an instrument for attunement," says CDG.
CDG's brand, Iroc SouL strives to unite the people through love, peace, and creativity.

About the Clemmons Family Farm:
Preserve, Empower, Build
Did you know that over the past century, African-Americans have lost 93% of their land assets: from a combined total of 44 million acres in the 1920's to just 3.5 million acres today? The Clemmons Family Farm is among the 0.4% of all farms in the United States that are still African-American owned.
Clemmons Family Farm Inc. is a registered 501c3 nonprofit organization. Our Black & Bliss wellness arts program is closely tied to our mission to:
PRESERVE the 148-acre Clemmons farm as a Black-owned land and cultural heritage asset and a historic site of national importance.
EMPOWER a growing network of Vermont's Black artists and culture bearers with opportunities for professional development, advocacy, visibility, networking, paid engagements, collective healing, and a safe haven for creativity that helps them to thrive.
BUILD a loving multicultural community around African-American/African diaspora history, arts and culture.
According to the 2012 United States agriculture census, of the nearly 7000 farms in Vermont, only 17 are African-American-owned or operated.
Of the 1.2 million acres of farmland in Vermont, only 740 acres are owned or principally operated by African Americans.
Located in Charlotte near beautiful Lake Champlain, the Clemmons Family Farm is ​one of the largest African-American-owned historic farms in Vermont today. The farm includes 6 historic buildings (circa late 1700s-1800s), a spacious 1990's residence, and 148 acres of prime farmland and forests, ponds and streams abundant with wildlife.
Your support helps us to keep this rare farm available for African-American and African diaspora history, arts and culture programs for the community.