Join this session on food justice in the Black community, learn to prepare a plant-based meal, and enjoy a cup of tea with Hollye!
About this Event
OUR BLACK & BLISS WELLNESS ARTS SERIES
The Clemmons Family Farm is pleased to launch "BLACK & BLISS"- a wellness art series. This free series is offered on Zoom exclusively for Black Vermonters in November and December 2020.
"BLACK & BLISS" features 10 amazing wellness artists who are members of the Vermont African-American/African Diaspora Artists Network. Our collaborating artists will help participants find creativity, connection, wellness and healing.
To honor our collective need for safety and trust, none of the BLACK & BLISS sessions will be recorded.
For more information about the entire series, please visit http://bit.ly/CFFBliss
ABOUT OUR SESSION
In this session, we will be cooking! Our session leader, Hollye, emphasizes the power of plant-based, healthy, and wholesome eating in preparation for the holiday season. The session will begin with an introduction to familiarize our session leader and participants. Hollye will then lead a discussion addressing some of the issues that plague the Black community-at-large such as high rates of heart and kidney disease, diabetes, food injustice, and food insecurity. While we love soul food and other traditional cuisines, Hollye will show us how making healthier choices about food can be a beautiful, tasty, soulful and wholesome experience!
In this session, we go over a plant-based 4-course meal and walk step-by-step through how to make vegan salmon patties with chickpeas! Some of the best conversations happen over a meal. Join us!
-- ALL AGES WELCOMED --
Bring These With You to the Zoom Session
Pen and Paper for notes
6 to 7 peach tea bags
2 black tea bags
1 lemon
Sweetener (Holleye uses cane sugar however you can use honey if you prefer).
Recommendations for local vegetable vendors
ABOUT OUR SESSION LEADER, HOLLYE JOHNSON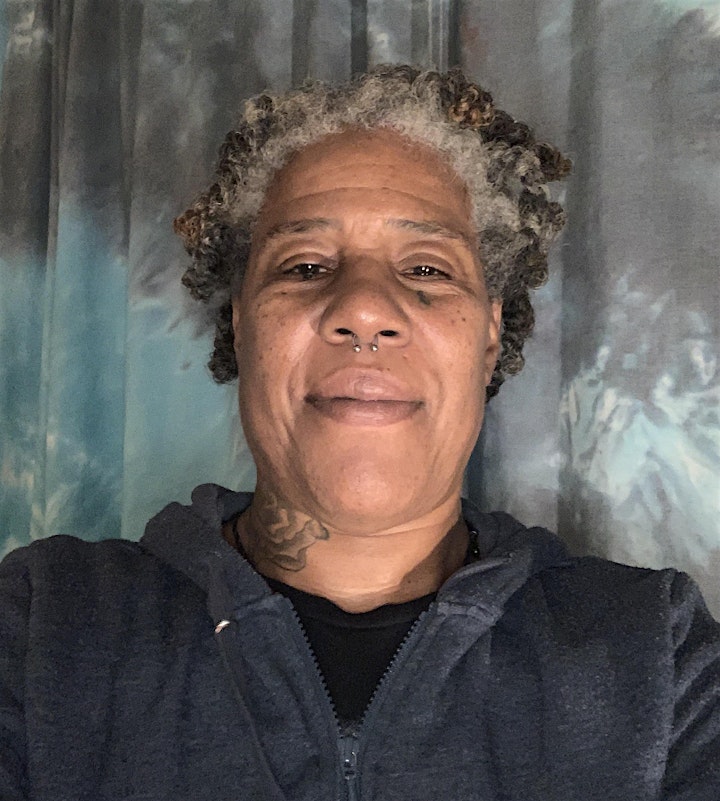 "I am a mutli-faceted artist with visual arts being my main focus. I have been influenced by a plethora of materials and my affinity for art has only increased along my life's journey. I have learned to do many disciplines, such as knitting, sewing, crocheting, dyeing, and welding. I am mostly self-taught, however, I have obtained other skills through classes, tutorials, and books.
Throughout my artist self-expression journey, my knowledge of cooking has run parallel. Cooking provides nourishment for my body and art provides nourishment for my soul.
I started to look at food in new ways while I was raising my five children. One of my main food health concerns is the way that our food is sourced: factory processed meat, carcinogenic food additives, food shelf life. Another concern is how our food is farmed. I wondered if I could make art with the food that I crafted for my family.
I used the beauty and the color of vegetables to make both art and nutritious meals for my family. As my children grew older, and their palettes developed, we adjusted to a majority plant-based lifestyle. I was hesitant about a plants-only diet, so I decided to do my research. Plants provide more nutrients than the animals that we feed on. I believe food is our first medicine. Health practitioners agree: what you consume affects the body's development, how it sustains itself, and it's quality of life. Therefore, I utilize my artistic expression and ever-curious mind to create beautiful art with plants and to enrich and nourish my family."

About the Clemmons Family Farm:
Preserve, Empower, Build
Did you know that over the past century, African-Americans have lost 93% of their land assets: from a combined total of 44 million acres in the 1920's to just 3.5 million acres today? The Clemmons Family Farm is among the 0.4% of all farms in the United States that are still African-American owned.
Clemmons Family Farm Inc. is a registered 501c3 nonprofit organization. Our Black & Bliss wellness arts program is closely tied to our mission to:
PRESERVE the 148-acre Clemmons farm as a Black-owned land and cultural heritage asset and a historic site of national importance.
EMPOWER a growing network of Vermont's Black artists and culture bearers with opportunities for professional development, advocacy, visibility, networking, paid engagements, collective healing, and a safe haven for creativity that helps them to thrive.
BUILD a loving multicultural community around African-American/African diaspora history, arts and culture.
According to the 2012 United States agriculture census, of the nearly 7000 farms in Vermont, only 17 are African-American-owned or operated.
Of the 1.2 million acres of farmland in Vermont, only 740 acres are owned or principally operated by African Americans.
Located in Charlotte near beautiful Lake Champlain, the Clemmons Family Farm is ​one of the largest African-American-owned historic farms in Vermont today. The farm includes 6 historic buildings (circa late 1700s-1800s), a spacious 1990's residence, and 148 acres of prime farmland and forests, ponds and streams abundant with wildlife.
Your support helps us to keep this rare farm available for African-American and African diaspora history, arts and culture programs for the community.