Activate your inner power by properly using and strengthening your voice! Beginning and seasoned singers are welcome alike.
About this Event
OUR BLACK & BLISS WELLNESS ARTS SERIES
The Clemmons Family Farm is pleased to launch "BLACK & BLISS"- a wellness art series. This free series is offered on Zoom exclusively for Black Vermonters in November and December 2020.
"BLACK & BLISS" features 10 amazing wellness artists who are members of the Vermont African-American/African Diaspora Artists Network. Our collaborating artists will help participants find creativity, connection, wellness and healing.
To honor our collective need for safety and trust, none of the BLACK & BLISS sessions will be recorded.
For more information about the entire series, please visit http://bit.ly/CFFBliss
ABOUT OUR SESSION
This is a holistic healing session to improve your connection to your voice and focus on our analog bodies in this digital world! Our session leader, Nicole, will begin with an introduction to familiarize herself and participants.
She will then share her daily centering and strengthening practice curated from her 20+ years as a singer and recording artist.
This is a combination of gentle stretches, vocalization (humming/toning) and instruction on sound healing techniques to release tension, and bring the body/mind/spirit complex into better balance. The focus will be on activating inner power through properly using and strengthening the voice.
Participants can do this session while seated.
-- AGES 18+ --
Bring These With You to the Zoom Session
Comfortable clothes
A quiet, private space suitable for yoga, meditation, and vocals
ABOUT OUR SESSION LEADER, NICOLE NELSON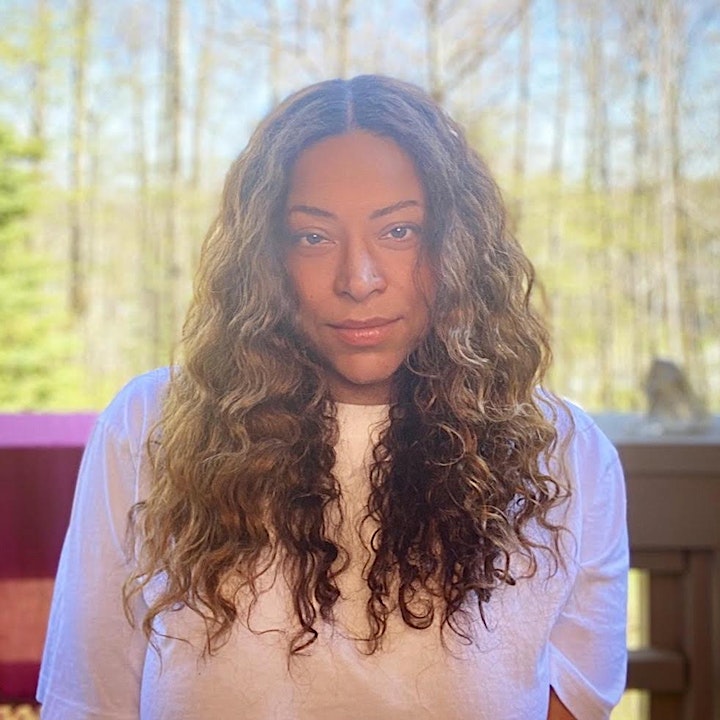 Nicole Nelson is an accomplished singer, songwriter, and recording artist living in Burlington. The half-Irish, half-Trinidadian, self-proclaimed introvert resides off the grid in a former factory building with her partner of ten years, artist Dwight Ritcher. The two share an eclectic life (on and off the stage), performing together regularly in the popular indie band "Dwight & Nicole." She spends her free time hanging with her family, friends, and beloved dog Apple.
Nelson has received considerable high praise: Pop star and powerhouse singer Christina Aguilera proclaimed, "There are good voices, and then there are GREAT voices--Nicole's is definitely the latter!" The Boston Globe calls her "Sublime" and even famed renaissance woman Dr. Maya Angelou was a fan, calling her "Magnificent!"
In September, 2012 Nelson's rendition of Leonard Cohen's "Hallelujah" performed on NBC's "The Voice" stole the hearts of millions and shot her to #24 on the iTunes Pop Chart. This placed Nicole on the world stage, winning awards and landing on the covers of magazines and newspapers--including the Burlington Free Press, crowning her "The Voice of Vermont."
Nicole is also passionate about promoting a balanced, healthy lifestyle and is a proud ambassador for the environmentally conscious global nonprofit One Percent for the Planet.

About the Clemmons Family Farm:
Preserve, Empower, Build
Did you know that over the past century, African-Americans have lost 93% of their land assets: from a combined total of 44 million acres in the 1920's to just 3.5 million acres today? The Clemmons Family Farm is among the 0.4% of all farms in the United States that are still African-American owned.
Clemmons Family Farm Inc. is a registered 501c3 nonprofit organization. Our Black & Bliss wellness arts program is closely tied to our mission to:
PRESERVE the 148-acre Clemmons farm as a Black-owned land and cultural heritage asset and a historic site of national importance.
EMPOWER a growing network of Vermont's Black artists and culture bearers with opportunities for professional development, advocacy, visibility, networking, paid engagements, collective healing, and a safe haven for creativity that helps them to thrive.
BUILD a loving multicultural community around African-American/African diaspora history, arts and culture.
According to the 2012 United States agriculture census, of the nearly 7000 farms in Vermont, only 17 are African-American-owned or operated.
Of the 1.2 million acres of farmland in Vermont, only 740 acres are owned or principally operated by African Americans.
Located in Charlotte near beautiful Lake Champlain, the Clemmons Family Farm is ​one of the largest African-American-owned historic farms in Vermont today. The farm includes 6 historic buildings (circa late 1700s-1800s), a spacious 1990's residence, and 148 acres of prime farmland and forests, ponds and streams abundant with wildlife.
Your support helps us to keep this rare farm available for African-American and African diaspora history, arts and culture programs for the community.