Sales Have Ended
Registrations are closed
Please check back for future events!
Sales Have Ended
Registrations are closed
Please check back for future events!
Introduction to Computational Thinking. Workshop is designed for boys 13 to 17 with no prior experience. 2 DAY workshop May 22 & May 29/21
About this event
Come join us on Saturday May 22nd and Saturday May 29th. Your boy (ages 13 to 17) can participate in our online workshop Introduction to Computational Thinking.
Computational thinking is the thought processes involved in formulating problems and their solutions so that the solutions are represented in a form that can be effectively carried out by an information-processing agent. Four of these thoughts processes will be addressed during this workshop: decomposition, pattern recognition, abstraction, and algorithms. This workshop will focus on tackling problems using these thoughts processes and carrying-out solutions using a block-based coding language: Scratch 3. Participants will think analytically, design, and code in real time and will have an opportunity to share their knowledge with others. No prior programming experience is required to attend this online class.
At the end of the workshop, students will be able to:
• Understand why computational thinking is pertinent when programming but also in their daily lives.
• Decompose problems in smaller sub-problems.
• Recognize patterns in problems facilitating decomposition, save time and make their code more efficient.
• Use abstraction to remove unnecessary details while solving a problem.
• Use algorithms to create a series of steps to produce pseudocode and code.
• Identify and use various coding mechanisms to make their code more efficient, including loops, variables, functions and lists.
Register Now, Space Is Limited!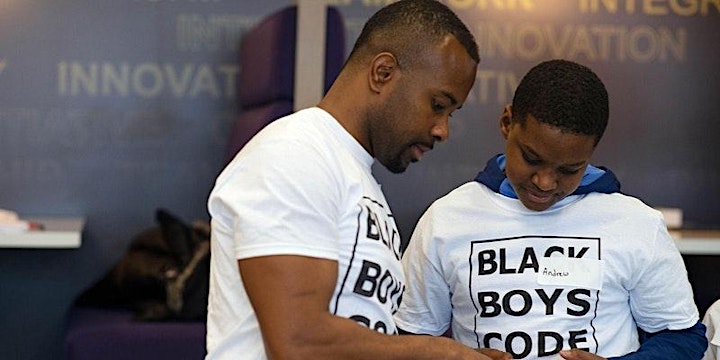 Organizer of Black Boys Code London - Introduction to Computational Thinking
Black Boys Code is an organization that introduces Black boys through their critical development years (ages 8 to 17) to computer science through exposure workshops, Hackathons, after school and summer programs. 
Our programs are aimed at boys of a young age to build capacity and skills in the STEM (Science, Technologies, Engineering and Math) fields with a focus on computer science.