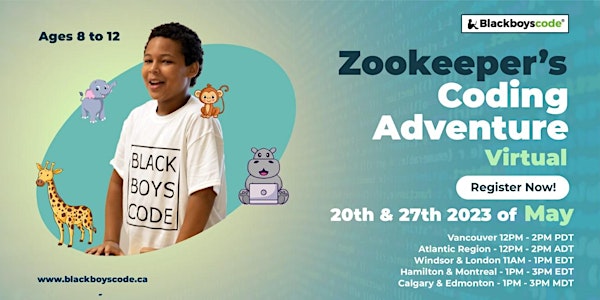 Black Boys Code Vancouver - Zookeeper's Coding Adventure(Online)
Black Boys Code is launching a new workshop, Zookeeper's Coding Adventure for Boys 8 - 12
Date and time
Sat, May 20, 2023 12:00 PM - Thu, Jul 27, 2023 12:00 PM PDT
About this event
Come join us on Saturday May 20th 2023 and May 27th. 2023 for our new workshop Zookeeper's Coding Adventure for Boys 8 to 12.
We'll be combining Coding with Animals! Does your boy show an interest in animals and ever wonder what it takes to be a zookeeper? Well, the answer may surprise them.
In this workshop, your child combines their passion for animals and game development to create a Zookeeper's Adventure. The block-based coding experience guides your child through basic storytelling design actions for games, including movement, randomness, positioning, and the creation and destruction of elements.
In this set of activities, students use the power of coding to help manage a zoo. Beginner-friendly with enough of a challenge for more advanced coders. The step-by-step instructions focus on projects that involve movement and interaction.
Objectives:
As students go through a zookeeper's adventure, they create their zookeeper sprite, design exhibits, and take care of animals. Throughout these experiences, they will use computer science and game design concepts.
For further questions you may have on the day of the workshop, please reach out to student.help@blackboyscode.com
Register Now, Space Is Limited!
About the organizer
Black Boys Code is an organization that introduces Black boys through their critical development years (ages 8 to 17) to computer science through exposure workshops, Hackathons, after school and summer programs. 
Our programs are aimed at boys of a young age to build capacity and skills in the STEM (Science, Technologies, Engineering and Math) fields with a focus on computer science.