BLACK CANADA: Racism, Islamophobia, Resilience and Resistance at the Inters...
Event Information
Location
Aaniin Community Centre and Library
5725-5735 14th Avenue
Program Room
Markham, ON L3S 3K5
Description
In this workshop facilitated by Rania El Mugammar, explore anti-Black racism, representations of Blackness in Canada, and intersections of Islam, Blackness and Anti-Black Islamophobia. Develop strategies for addressing oppressive behaviours that you can use to make a difference in your own life.
This workshop uses the concepts and framework of anti-oppression to explore anti-Black racism and representations of Black Canada in a Canadian cultural context. Participants will engage with multimedia resources, exercises and discussion to explore strategies for addressing oppressive behaviours such as interpersonal, internalized and institutional racism. Historical contexts will provide a framework, however, the workshop focuses on the present day realities of Blackness in Canada. Black forms of knowing and being will be explored through a community based and artistic lens. The workshop will also explore the historical and modern intersections of Islam and Blackness. Introducing concepts of Anti-Black Islamophobia and manifestations of Anti-Black racism in Muslim communities and spaces.
About Rania El Mugammar:
Rania El Mugammar is a Sudanese Canadian NPO Director, Artist, Arts Educator, Equity and Anti-oppression Educator & Consultant , performer, speaker and published writer.
Rania is an experienced anti-oppression, equity, inclusion and anti-oppression educator and consultant who is unflinchingly committed to decolonization and liberation as the ultimate goals of her work.
To learn more about visit her website at http://www.raniawrites.com/
This event is part of Black History Month at Markham Public Library: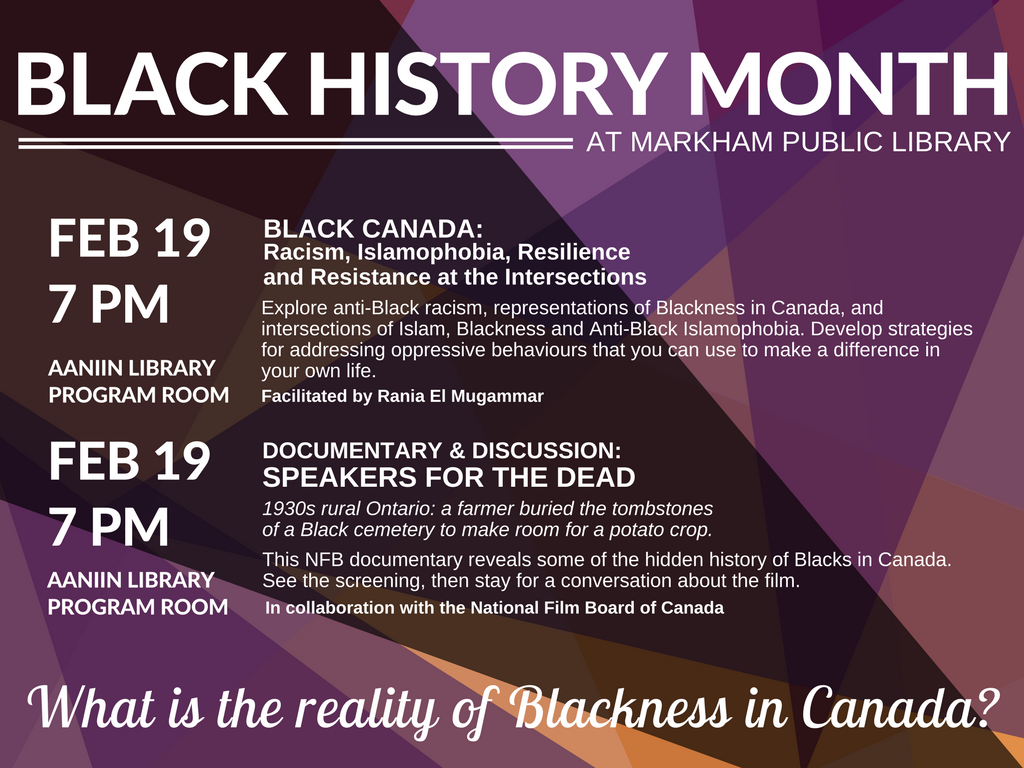 Date and Time
Location
Aaniin Community Centre and Library
5725-5735 14th Avenue
Program Room
Markham, ON L3S 3K5