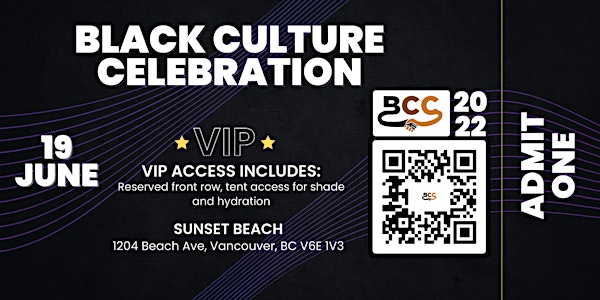 Black Culture Celebration: Juneteenth
The Black Culture Celebration highlights and honors our community's diverse black culture & talent. Your VIP pass is a $100 donation to BCC.
When and where
Location
1204 Beach Ave 1204 Beach Avenue Vancouver, BC V6E 1V3 Canada
About this event
Welcome to the 1st annual 'Black Culture Celebration' festival this June 19 (Juneteenth) As a VIP ticket holder: You will have reserve front row, access to VIP tent for shade, refreshments and a ticket to the afterparty which will be at the loft lounge on Denman. You will be within close proximity of the vendor village and food trucks. You will also have the opportunity to meet and network with our talented artists. Buy your limited VIP tickets today, while supplies last!
How we started; In 2020, I co-organized a peaceful Juneteenth march in Vancouver , bringing together over 15,000 people from throughout the country. I also co-organized a similar gathering (without a march) for Emancipation Day, August 1st. I convinced Vancouver to declare August 1st as Emancipation Day during that period, making British Columbia the second Canadian province to do so after Ontario. A year later, Emancipation Day is celebrated across Canada.
Since it's time to evolve, this event will occur in Sunset Beach Park, the historical site where our battle for justice and equality started. In 2020, approximately 63% of Canada's Black population reported experiencing discrimination 5 years prior to the beginning of the pandemic or during the pandemic, nearly double the proportion of the White population (32%) Indicating how black people in Canada are discriminated against in all sectors, from education to the workplace and the court system. The occasion will occur on June 19th, 2022. It will start at noon, with a stage equipped with a sound system and lighting. This event's happiness and festivity will unite the whole neighborhood.
Since this is a non-profit, crowd-funded event that depends exclusively on community and business donations, we have made the event accessible to the public so that everyone may attend regardless of their financial situation. The contributions raised will pay the event's expenses.
The participating performers and artists are dedicated to bridging the gap between the black community and the greater community. Therefore, the majority have volunteered their time and energy. However, we need to cover some expenses, including event production, a safety strategy for guests, security, traffic management, a green event, and an honorarium for the artists.
"Give, and it will be given to you. Good measure, pressed down, shaken together, running over, will be put into your lap. For with the measure you use it will be measured back to you." Luke 6:38
The remaining funds will support the activities of "Go Supernova," an organization committed to assisting youngsters from socioeconomically disadvantaged, such as me, throughout their formative years. Our mission is to provide a thriving environment for these young people.
What is the motivation behind your cause?
We celebrate black culture, black people, and our achievements by bringing people together. Since this is our first annual Black Culture celebration, we arrived at this point in 2020 when I co-organized a Black Lives Matter march and protest. Now that we are at the festive phase, we wish to showcase our brilliance and bring people together.
Why do you wish for individuals to give to your cause?
We ask for donations since our event is self-funded, accessible, and open to everyone. We did not charge because of this. We need the community's assistance to gather cash for the event's production and the artist's honorarium. However, we will donate the remaining proceeds to 'Go SuperNova,' a charity that helps disadvantaged youngsters realize their full potential.
How do you intend to utilize the contributions?
Donations will pay for the event's production, stage, restrooms, security, traffic control, insurance, water station, etc., and the formation of "Go SuperNova ."
"Do not neglect to do good and to share what you have, for such sacrifices are pleasing to God." Hebrews 13:16
Please make a generous donation and help support this event. For more information, you can follow us on Instagram, Facebook and Twitter @BCCVANCITY #BCCvancity. If you have any more queries, please don't hesitate to contact us at SuperNova Non-Profit Organization | Giving Back | Strengthening Communities.
We appreciate your contribution from the bottom of our hearts.
God bless you!