Black Experiences in Health Care Symposium
About this Event
Building on the work done through the Black Experiences in Health Care Symposium in 2017, this symposium will acknowledge the role of social inequity, structural barriers and anti-Black racism in contributing to poorer health outcomes for Black people. The Ontario health system is currently undergoing significant transformation, and this symposium will ensure Black communities have an opportunity to take part in these changes. This Symposium is a platform for engagement and action to inform and support health system partners. One priority area for collaboration during this event will be around race-based data collection and its application for Black Ontarians.
Black Experiences in Health Care brings together Black community members, organizations, patients, advocates, researchers, health professionals, providers and health system leaders. Attendees can expect to be a part of a collaborative process geared towards advancing more equitable health care for Black Ontarians.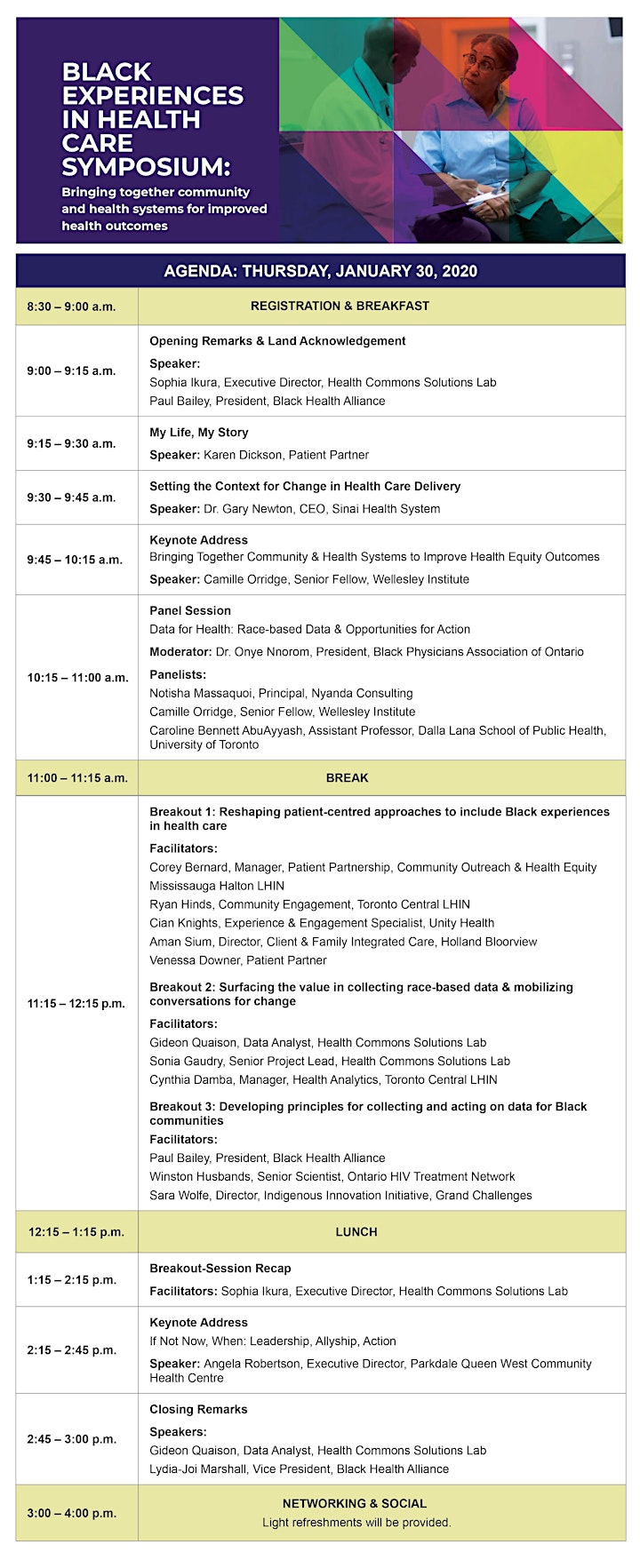 Black Experiences in Health Care Symposium is offering three breakout sessions happening concurrently. Participants may choose to attend one of the following:
Reshaping patient-centred approaches to include Black experiences in health care
Surfacing the value in collecting race-based data & mobilizing conversations for change
Developing principles for collecting and acting on data for Black communities
For more information on how to get to Bridgepoint Health please visit the link here. Signage will be posted throughout the hospital on the day of the event to point you to the Main Floor Auditorium for the registration and opening remarks.
Lunch will be provided during the event. If you have any dietary restrictions/allergies please contact Caroline.Ambrose@sinaihealth.ca by January 23, 2020.
For questions related to content and/or speakers contact Gideon.Quaison@sinaihealth.ca. For all other questions contact Caroline.Ambrose@sinaihealth.ca.