Description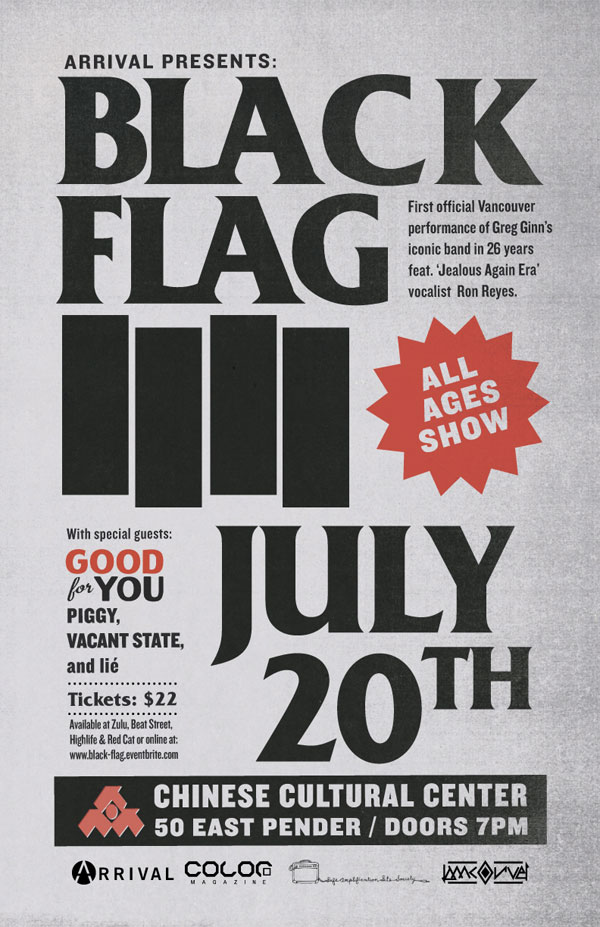 For the first time in 26 years, Greg Ginn will hit the stage with Black Flag for an all-ages show in Vancouver.
Founded in 1976 in Hermosa Beach, California by Ginn, Black Flag are pioneers of the West Coast's punk rock scene. Widely regarded as one of America's most important underground acts, their songs "Black Coffee", "Nervous Breakdown", "Rise Above", "Six Pack", and "TV Party" are as iconic as the band's four bars logo. Since breaking up in 1986, the band has played only a handful of reunion shows. Earlier this year, Ginn and Ron Reyes, the band's vocalist during the Jealous Again- and Decline Of The Western Civilization-era, announced they would be reforming. Black Flag is currently putting the finishing touches on a new album, their first since 1985.
With
Good For You
Featuring Greg Ginn and professional skateboarder/musician Mike Vallely. Playing high-energy rock from their debut Life Is Too Short To Not Hold A Grudge (SST Records).
Piggy
Piggy is Pure Undignified Pulsating Raw Power Sensuous Punk Rock and Pop Infected Bliss. Piggy is Izzy Gibson on vocals, Lisafurr Lloyd on bass, Craig Mckimm on drums and Ron Reyes on guitar.
www.facebook.com/piggyofficial.ca
Vacant State
A Vancouver favourite playing eighties-style hardcore.
lié
Dark, local punks.
Doors at 7pm
All-Ages
Tickets also available at Beatstreet, Highlife, Red Cat, and Zulu Records
---
Find the Arrival Agency online
Organizer of Black Flag in Vancouver www.blackflagofficial.com
About Arrival
A Vancouver-based agency with the mission of creating extraordinary experiences that bring people together and enrich life. Past and present projects include: Reimagining the Waldorf Hotel as an arts and culture hub; re-opening of the Fox Theatre on Main Street as a music venue; programming FUSE at the Vancouver Art Gallery; throwing New Year's Eve and Halloween bashes at the Hotel Vancouver; programming the Khatsahlano Street Party and much more. 
About The Fox Cabaret
Located in the heart of Mt. Pleasant, The Fox Cabaret is a nightclub and performance space which provides a platform for the best of independent culture Vancouver. An almost 40-year-neighborhood fixture, the Fox has been home to a cult cinema, an indian movie house and was the last 35mm adult theatre in North America. Relaunched in 2013 by the Arrival Agency, the Fox has been reborn as a cultural space with a commitment to high quality, music, art, performance, entertainment and fun.
Having Problems Finding Tickets for an Event?
Tickets for non-Arrival Fox Cabaret events can be found on the Fox Events Calendar:  http://www.foxcabaret.com/calendar