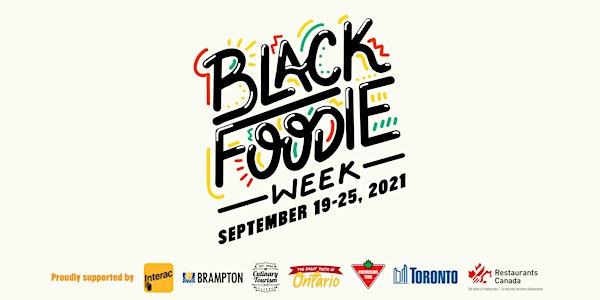 BLACK FOODIE Week 2021
There's something for everyone during BLACK FOODIE Week. Shop, cook, and learn with us!
About this event
From September 19-25th, 2021 we'll be hosting the second edition of our annual event which showcases the diversity of Black food culture through digital events and live activations.
This week-long celebration will feature guest chefs, industry leaders, and a variety of Black entrepreneurs sharing industry tea and tips.
***You must get a FREE ticket to access our incredible line up of digital programming!***
------------------------------------------------------------------------------
In the GTA? Join us for the event kick-off on September 19th!
We're launching BLACK FOODIE Week with a live market held at stackt market (located at 28 Bathurst St.) in Toronto from 11am-7pm EST. You'll be able to pose & post up in the photo area, buy BLACK FOODIE merch, shop Black-owned food businesses, and enter three giveaways to win cash gift cards, plants, and small appliances. The market is completely free and open to the public, so come on down!
Featured businesses:
Lignum Honey, Watermelon Khakes, FLAEV Spice Co., Melanated Vegan, Meika's Pepper Sauces, Street Bites TO, Sweet Treatz, and more!
----------------------------------------------------------------------------
BLACK FOODIE Week Programming
Sunday September 19 | BFW Market, 11a-7pm at 28 Bathurst St., Toronto
Monday September 20 | Panel: Preserving African and Caribbean Food Traditions, 7pm, online
Tuesday September 21 | Virtual Honey Tasting, 12pm, online
Cook-along: Jamaican Classics with Noel Cunningham, 6pm, online
Wednesday September 22 | Panel: Black Veganism Part 2, 7pm, online
Thursday September 23 | Cookalong: Eritrean Delights with Naza Hasebenebi, 6pm, online
Panel: The Impact of Buying Black, 7pm
Friday September 24 | Cookalong: Nigerian Fusion with FTaiwo, 6pm, online
Saturday September 25 | Cookalong: Bahamian Classics with Raquel Fox, 3pm, online
Cookalong: Barbudan Flavas with Philman George, 5pm, online
BLACK FOODIE Week was created in 2020 to support Black-owned businesses struggling through pandemic lockdowns and to amplify the city's Black entrepreneurs and culinary experts. Having reached over 20 million people through print, digital, and social features, the first edition of our event was immediately successful and we look forward to celebrating with you in person this year!