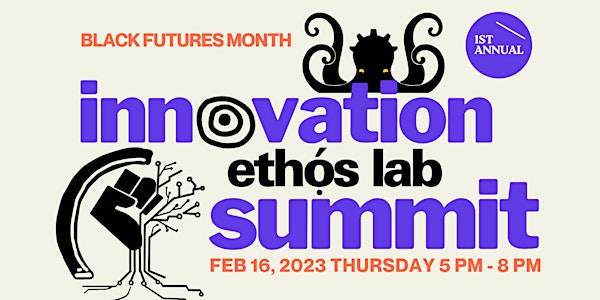 Black Futures Month: Innovation Summit
Ethọ́s Lab Presents First Annual Innovation Summit
When and where
Location
Reliance Theatre, Emily Carr University of Art + Design 520 East 1st Avenue Vancouver, BC V5T 1E1 Canada
About this event
Join us for our first annual Innovation Summit
We're celebrating February as Black Futures Month by highlighting the Black presence in innovation in BC and beyond. This event is sponsored by Unity x Meta Higher Ed XR Innovation grant.
Innovation Summit | Thursday Feb 16
Open to General Public! All ages and families are welcome. Catered Event.
Time: 5:00 pm - 8:00 pm
Location: Reliance Theatre, Emily Carr University of Art + Design
Proceeds from this fundraiser will go directly toward our annual fundraising efforts. Black Futures Month launches our 100K in 100 Days Fundraiser to support staffing and programming all year.
Grounded by the pillars of Inspiration, Community, Culture and Entrepreneurship - the Ethos Lab Innovation Summit will spotlight Ethọ́s Lab's unique innovation ecosystem through interactive experiences, hearing from inspirational speakers, exhibits, and the showcasing of talents within the Ethọ́s Lab community including a marketplace featuring local BIPOC businesses and innovators as well as spotlighting youth-led brands and creatives.
Program:
5:00pm-6:00pm- Community Marketplace and Appetizers
6pm- 8pm- Performance, Showcase and Keynote Speaker
8pm-9pm- Post-Event Reception
This event will feature a community marketplace spotlighting the community and innovation ecosystem that Ethọ́s Lab is a part of. Vendors include:
Naasheka (https://naasheka.com/)
Powa Boxing (https://powaboxing.com/)
BBABC Youth Power play Marketplace
Bridges over Rwanda (https://www.bbrwanda.ca/)
Empowered Black Girl (https://www.empoweredblackgirl.com/)
and more!!!!
Our Keynote Speaker/Showcase: Will Selviz
Will Selviz is a futurist, technical artist and director who is well-versed in a variety of immersive media technologies, including 3D animation, virtual reality (VR), augmented reality (AR), and volumetric capture.
As an Afro-Caribbean artist, he brings a unique perspective and cultural influences to his work, which often delves into themes of belonging, the meaning of 'home', and the immigrant experience. Through his use of new media technologies, Selviz is able to transport his audience to surreal worlds that are inspired by his own childhood memories and that offer glimpses into possible futures that center and uplift underserved communities.
Will is also designing Ethos Lab x Centre for Digital Media's XR Media Summer Camp. Overall, Selviz is a visionary artist who is constantly pushing the boundaries of what is possible in the world of media and storytelling.
https://vimeo.com/643306082?embedded=false&source=vimeo_logo&owner=32905630
MCs
This event will be co-hosted by Ethọ́s Lab Youth member MaryLou and Local Host and Curator of Locals Lounge and Health Economist, Ian Cromwell.
Ian Cromwell
Born in Vancouver but spending half his life in Ontario, Ian's pursuit of distraction led him down two very separate paths. By day Ian is an academic whose research interests center on the economics of health care. By night Ian is a regular feature on stages within Vancouver's music scene both as a solo looping rock and soul artist, and as the fiddle player for saloon-folk band Jack Mercer & The Whiskey Bandits. For the previous two years, Ian has been host and curator of Locals Lounge, a live interview and performance series devoted to exploring Vancouver's underground indie music scene. He recently deepened his engagement in community by running in the Vancouver municipal elections as a candidate for One City.
MaryLou Djida
MaryLou is a 16 year old Ethọ́sian who has been part of the Ethọ́s Lab community since day one. She has participated in our sustainability camp, gaming workshops and leadership program. When MaryLou is not participating in Ethọ́s Lab activities she is a high level Track Athlete, having recently received an award to train with Andre Degrasses Trainer for a year! French is her first language, but she also speaks Italian!
About Ethọ́s Lab
Ethọ́s Lab is a Black-Led nonprofit innovation academy for teens based in Vancouver, British Columbia. Co-created by young people, Ethọ́s Lab is a space where culture, community, technology, and innovation all meet. Youth participants develop core skills for post-secondary admissions, future careers, and leadership through applied learning, mentorship, and access to emerging tech, weekly collaborative workshops, and creative projects.