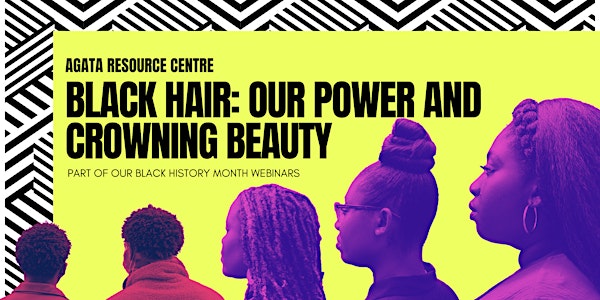 Black Hair: Our Power and Crowning Beauty
"Don't remove the kinks from your hair, remove it from your brain." - Marcus Garvey
When and where
Date and time
Thursday, February 24, 2022 · 4:30 - 5:30pm PST
About this event
In pre-colonial Afrikan societies, hair was a symbol of crowning beauty. It was a reflection of one's wealth, religion, ethnic identity, and marital status. In the spiritual nature, Afrikan hair was used to communicate vitality, prosperity and fertility when contacting the divine. Upon the arrival of slavery and enslavement, Afrikan hair that once symbolized natural deity, strength, and procreation, became demonized and fueled with misconceptions, disinformation, and distortions.
The resurgence of Black natural hair began in the late 1960s. Those who could not style their hair into afros wore afro wigs, locs, twists, and Bantu knots, and the revival of Black hair was essential to reclaiming our cultural identity. In the 1970s liberation movement across North America, natural Black hair became a political statement against anti-Black racism, with folks showing off their afros, locs, and intricate braid-ups.
Our hair carries our DNA: it represents lineage, strength, a life source to our spiritual divinity, jammed packed with energy, our hair is evergreen, as it stands in harmony with all seasons.
In this webinar, we will discuss:
Pre-colonization – Black hair before slavery
Slavery and enslavement — Demonization of Black hair
Integrational trauma and sexualization of Black hair
Resurgence period — The need for cultural autonomy
The construction and roles of the Black barbershops, salons, and clubs
About the organizer
AGATA Resource Centre Inc. is a Black-led mental health organization created to improve the mental well-being of Black and other racialized communities in the Scarborough and Don Valley North regions of Toronto. In awareness of the health disparities, marginalization, and stigma that affect Black Canadians, we address these challenges by providing psychoeducation and mental health supports through knowledge dissemination, dialogue, advocacy, partnerships, referrals, and culturally relevant and individually tailored approaches to mental health.