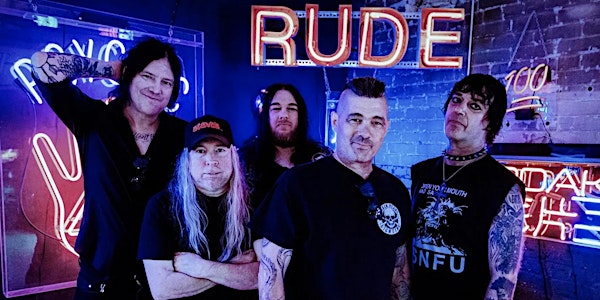 Black Halos
Ages 19+
Mills Hardware Presents
The Black Halos with special guests Anxious Pleasers — Live at Mills Hardware!
When and where
Location
Mills Hardware 95 King Street East Hamilton, ON L8N1A9 Canada
Performers
Headliners
More Performers
About this event
Formed in the underbelly of the Vancouver punk music scene in 1994, The Black Halos were a sneering, snotty, slap in the face to the Seattle grunge scene. Their raucous live shows, particularly an electrifying performance at Seattle's Rock Candy, garnered the attention of Sub Pop's Jonathan Poneman, and they promptly signed to Sub Pop imprint Die Young Stay Pretty. They began touring relentlessly with label mates The Murder City Devils, and soon were sharing stages with big names like The Damned, DOA, L7, The Offspring, Social Distortion, and many more. Within a year of recording their self-titled debut album with Jack Endino (Nirvana, Soundgarden), the band was back in the studio with the legendary producer to record their seminal second album, The Violent Years. Released on Sub Pop in 2001, the album saw them reach new heights in sales and radio play, including a Top 20 single in Canada with "Some Things Never Fall"; the accompanying video saw regular rotation on both MTV in the United States and Much Music in Canada, helping push the album to the top of Canada's Earshot campus radio charts. New management and agents had them on the road constantly, playing to ever-growing audiences in clubs as they crisscrossed North America in a van (actually a series of nine vans) and at festivals like Warped Tour, Edgefest, SXSW, CMJ, and The Kerrang Awards in the UK. Line-up changes followed as the band released two more albums on Century Media, touring Canada, the United States, and Europe extensively before coming to an abrupt end when their van, trailer, and equipment were stolen in Montreal at the start of their 2008 tour. Now original members Billy Hopeless, Rich Jones (guitarist with Michael Monroe, Ginger Wildheart, AMEN), and Jay Millette, have reunited, bringing new members John Kerns (The Age Of Electric) and Danni Action (ACIIDZ) into the fold. Following jammed-to-the-rafters shows at the Bovine during Toronto's Canadian Music Week and two nights in their hometown of Vancouver at the Rickshaw Theatre, the band is ready to win over a new generation of rock 'n' roll fans with a brand new album, How The Darkness Doubled. The new album, recorded in Toronto and mixed by Dave Draper (The Wildhearts, The Professionals), is a return to form for the band. "Reuniting with Billy and Jay for this new album brought my focus back to writing with a mindset that was pure, uncompromising Halos - as far as I'm concerned we've really achieved it," Rich explains. "Having our friends John and Danni on board makes this feel like the strongest lineup that we've ever had and you can really hear it on this record. Additionally, Billy and I had always planned to call the third album How The Darkness Doubled. So it seemed natural to use that title now, 20 years later, for what I consider to be a spiritual follow-up to The Violent Years." How The Darkness Doubled is a relentless, high-octane blast of classic Halos punk rock 'n' roll!
Instagram | Facebook | Twitter | Spotify | Apple Music
•
Total Rock 'n' Roll Annihilation. Ferment Pagans, Carbonas and The Rings in the minds of some maladjusted Hamiltonians and you shouldn't be too surprised to hear them come up with something as svelte as this. There are plenty of self-proclaimed "Rock n Roll" bands running around under the moniker that have never even heard of Sonny Vincent. One more injustice in a brutal and undeserving world. At least Anxious Pleasers can be counted among the modern-day heroes that keep that pure fire alive. We're here to set the record straight. Rock 'n' Roll is alive and well. Consider this testimonial.