Black History Month Kick-Off / World Drum & Dances Festival Canada 150
Description
In the spirit of Canada's 150th Anniversary of Confederation celebration, VACCS will host the Black History Month Canada 150, a Drum and Dance Festival focused on diversity and inclusion. This special event which launches the 2017 Black History Month, is also an opportunity for the Victoria Black Community and all Canadians to come together and celebrate our shared values, our achievements, our beautiful mosaic and the 150th Anniversary of our majestic nation.
*****FRENCH
Dans l'esprit du 150ieme anniversaire de la confédérations de notre cher pays: le Canada, VACCS aura le privilège de vous présenter le Festival de rythmes du monde en soulignant le Mois de l'Histoire des Noirs Canada 150.
Cette commémoration concentrée sur l'inclusion et la diversité innaugurera les activitées du Mois de l'Histoire des Noirs 2017 une opportunité parfaite de rassembler la communauté noire et tout le reste du Canada et montrer qu'ensemble, nous pouvons célébrer nos valeurs partagées, nos accomplissements et nos différences qui créent cette magnifique mosaïque qu'est le Canada.
********************************************
SATURDAY, FEBRUARY 4, 2017
1-5 p.m. | Kick Off!
Kick off Black History Month with a FREE/by donation family friendly event. Featuring drum workshops
and performances, African and Caribbean food, music and more!

6-9 p.m. | Live Show
You won't want to miss our live show featuring a variety of worldclass African musicans, dancers and artists, including a special guest from Vancouver: Jacky Esombé. Admission is only $25.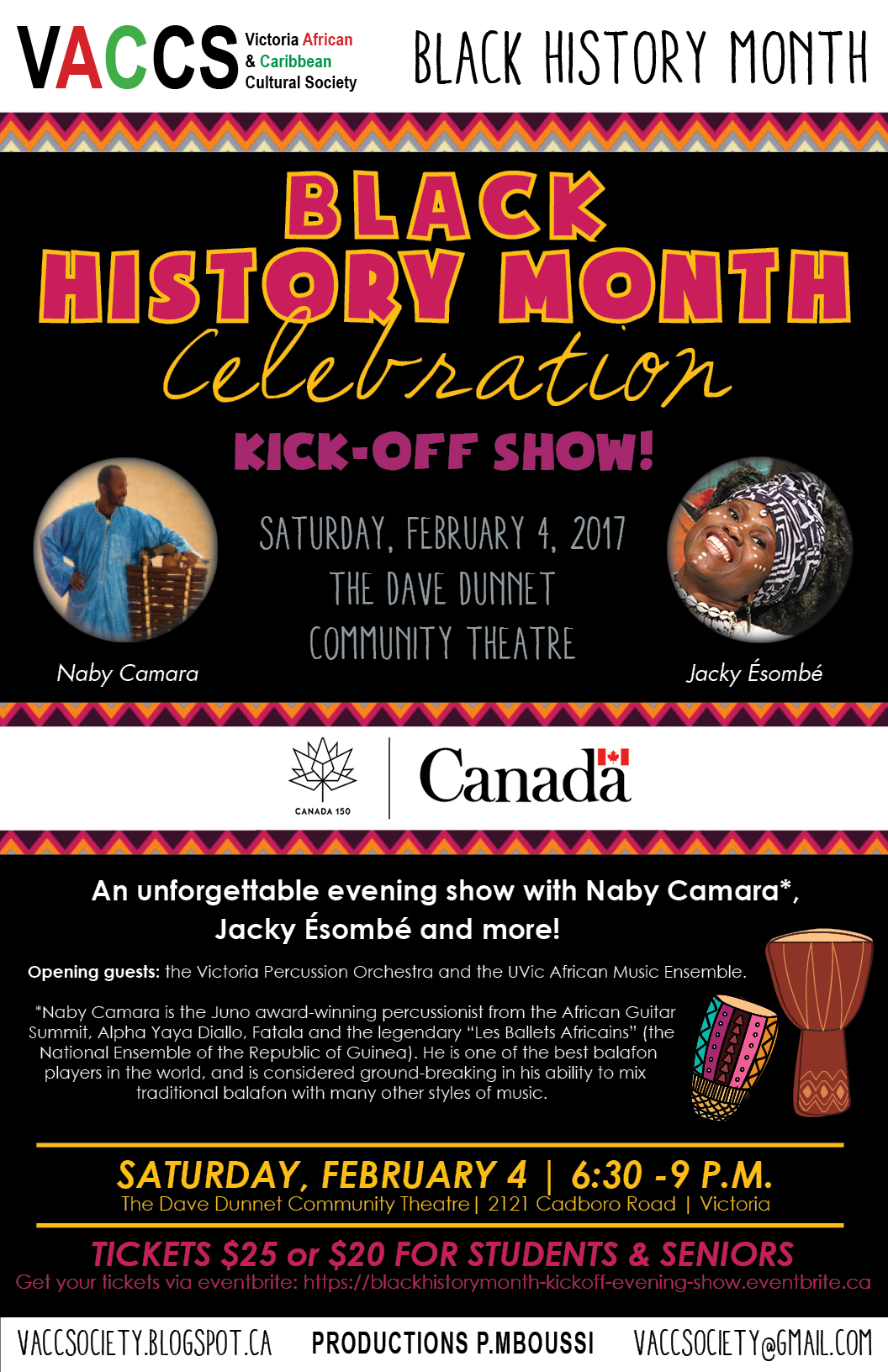 Movie Screening and Panel Discussion
Join us for a free screening and panel discussion of The Colour of Beauty, a compelling short documentary that examines racism in the fashion industry.
Light dinner will be served.
February 18th, 2017
École Victor- Brodeur
3pm - 8pm
https://bhm-screening-panel.eventbrite.ca/

---
Black History Month Community Recognition Awards

The fourth Annual Black History Month community Recognition Awards & the Grande Finale pays tribute to members of the Black Community who have distinguished themselves in the public, private, and community sectors. Honoring these individuals is also a way to pay them homage and to present them as role models for the youth in the community, but also to emphasize their contribution to BC society at large.

Saturday February 25 2017
6:00 pm to 12:30 am
Auditorium of Cedar Hill Recreation Center,
3220 Cedar Hill Road
https://victoriablackhistorymonthgala.eventbrite.ca/
DRESS CODE: GALA OUTFIT

Funded by the Government of Canada - Financé par le gouvernement du Canada.