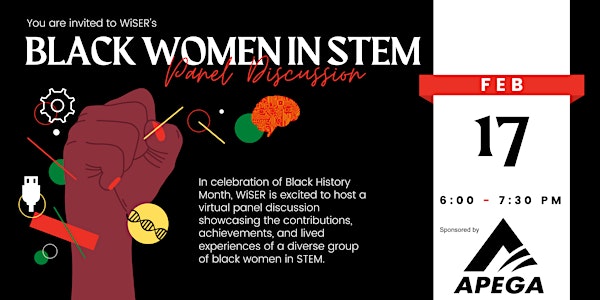 Black History Month Panel Discussion: Black Women in STEM
To celebrate Black History Month, WiSER is excited to host a virtual panel discussion showcasing black women in STEM and their experiences
About this event
In celebration of Black History Month, WiSER is excited to host a virtual panel discussion showcasing the contributions, achievements, and lived experiences of a diverse group of black women in STEM. Our event will be held virtually via Zoom on February 17th, 6:00 pm - 7:30 pm MST.
This event is sponsored by the Association of Professional Engineers and Geoscientists of Alberta (APEGA).
We invite you to join in and listen to our panel discussion! In addition to hearing from our panelists, we will also be engaging in a short Q&A period at the end!
About the panelists:
- Alex Davis is a marine spatial ecologist and an advocate for equity and diversity in conservation sciences. She is currently a Liber Ero Postdoctoral Fellow developing conservation strategies for interventions of marine/ aquatic invasive species. Alex works with multiple partners and management agencies to understand valued resources, develop spatial priorities, and quantify economic costs for managing invasive species. Her current study species include Indo-Pacific lionfish in US Caribbean and Tropical Western Atlantic territories, and the European Green Crab in British Colombia and the Salish Sea. Alex currently serves on multiple EDI committees and is a member of the board of directors for Black Women in Ecology Evolution and Marine Science (BWEEMS). Her work within these groups is to elevate marginalized voices in STEM and provide mentorship, professional development, and opportunities for success in the field(s).
- Jessica Udo is an Electrical and Software Engineering graduate from McGill class of '19, now working as a Program (Product) Manager on Microsoft's 1ES Data Insights Platform. Her work at Microsoft spans across CloudMine - a pipeline of data collectors and warehousing, Sankie - a suite of AI/ML-based bots and MerlinBot - a platform enabling users across Microsoft to rapidly build engineering bots and extensions based on data. Besides her day job, she's also the chair of the Africans at Microsoft Employee network and the Program Manager for the African Impact Challenge. Through both responsibilities, she seeks to use technology to solve challenges and narrow the existing gender and racial gap in the tech industry. In her free time, you will find her with a good book - recently went on a binge of Tahenisi Coates' books, or hosting friends at her house (pre-covid) for board games and Nigerian food.
- Jennifer Ladipo is an Industrial Engineer with a passion for leading more young women into the creative world of STEM. She combined her love for mathematics and writing to create thestemgirl, an initiative aimed at encouraging young girls to view themselves in both a feminine and scientific light through storytelling. With four published books and more on the way, she continues to find new ways to describe what fun STEM can be. Jennifer believes it is important for youth to have role models to help them visualize their passions and follow through with future goals. Her current role as National Programs Manager at Actua is focused on initiatives that encourage girls and Black youth in STEM. Whether it be through science fiction or outreach programs, she is dedicated to showing youth the wonder of natural phenomena.
Questions? Email us at wiser@ualberta.ca.