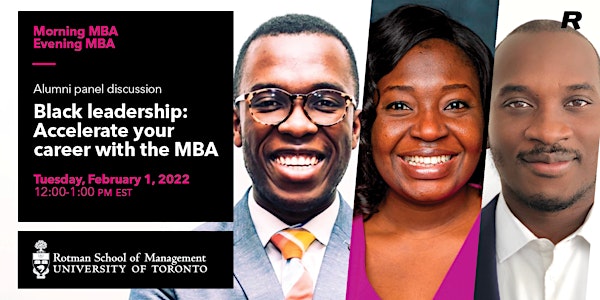 Black Leadership: Accelerate Your Career with the MBA
At the panel discussion and info session, you will hear from powerful Black alumni from Rotman's Morning/Evening MBA program
About this event
At this panel discussion and information session, you'll hear from powerful Black alumni from Rotman's Morning/Evening MBA program for working professionals. Find out what to expect from the program and the leadership opportunities that are available to you.
Whether you're just starting to think about an MBA, are checking out several schools, or are working on your application, feel free to join us and get to know some remarkable members of the Rotman community.
Speakers:
Toyin Okezie-Mba, ACCA, MBA - Compliance Advisor, CPP Investments
Michael Bosompra, MBA - Director of IT - Digital Go To Market, Master Data, & Sales Operations, P&G
Tunde Agboola, MBA - Manager, Corporate Development, Definity Financial
____________________
Five things to know about the Morning/Evening MBA:
Offered before or after business hours, the program allows you to immediately apply your learning at work. No need to quit your job to study!
You'll master business fundamentals while also benefiting from the experiential, hands-on learning opportunities you need to grow as a leader.
And you'll build a network of professionals that is yours for life.
Over $1 million in award funding is available. Last year, over 80% of the class received an entrance award. The sooner you apply, the better your chances.
You're not in this alone! Our Recruitment & Admissions staff will work with you on your application.
For more about the Rotman Morning/Evening MBA, see our website.
____________________
In this short video, panelist Toyin Okezie-Mba considers her experiences at Rotman.